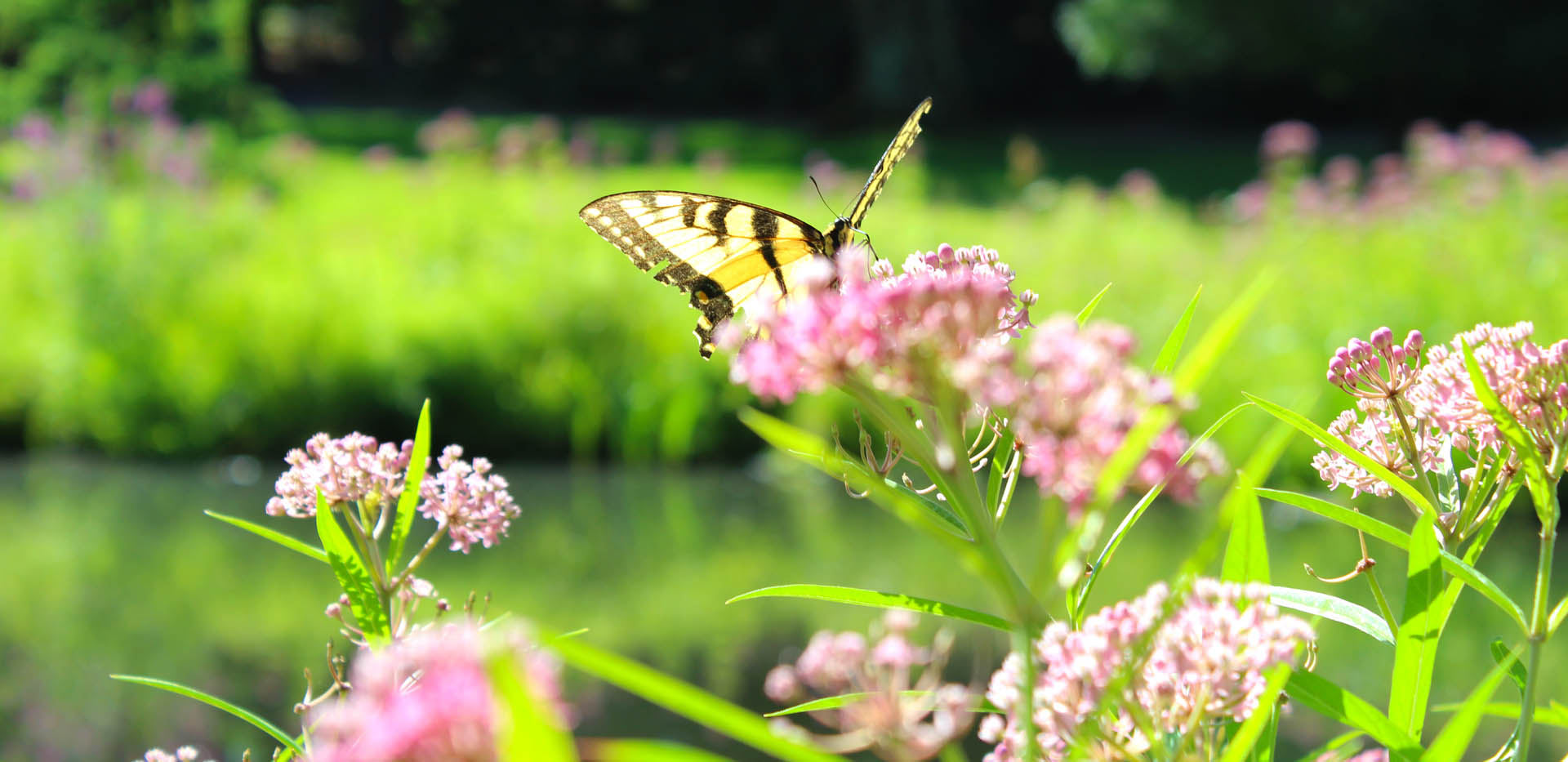 Asclepias (milkweed) planted around our ponds provide an irreplaceable resource for Monarch butterflies to perpetuate their species. Unfortunately the loss of milkweed nationally is severely impacting the Monarch population. The milkweed also serves as a valuable nectar resource for bees and other important pollinators.
Making A Greener Estate…In More Ways Than One
For most estates, being eco-friendly or "green" simply means efforts such as using energy efficient lightbulbs, purchasing produce that doesn't use pesticides, and basic recycling practices. Pleasantdale Château, however, does all of this and much more.
Having a unique natural oasis preserved amongst the otherwise densely-populated northern New Jersey area, we have developed a great appreciation for the natural environment and the significance of maintaining its beauty.
Wherever possible, our groundskeeping and landscaping uses low-impact environmentally-conscious practices. We also maintain natural preserved woodlands on the estate filled with hundreds of old-growth trees and indigenous shrubbery, as well as ponds and meadows. All of which contribute to healthier air and ozone as well as providing habitat for birds and other small creatures native to the area.
As a historic property, preserving the original architecture while continually reducing our carbon footprint and reducing our energy expenditures is a grand challenge. However, through painstaking and costly efforts, we have had great successes in improving our efficiencies and lightening our footprint.  In a recent competition organized by the Environmental Protection Agency in which we competed against 6,500 buildings nationwide, we finished #1 in our category. The green effect of our efforts is equivalent to 132 metric tons of pollution eliminated annually for just the Chateau alone. Additional energy efficiency and conservation efforts for other buildings on our estate have netted us an additional 61 metric tons of pollution eliminated annually. And, our "Petite Chateau" conference center is a fully Energy Star-rated building.
Efforts are constantly ongoing to improve the eco-friendliness of our estate without ever inconveniencing our guests or allowing any noticeable changes to the beauty or comfort of the Chateau.
Beyond these efforts, we also operate a fully-functioning farm on the estate that provides an abundance of naturally-grown, hyper-local, fresh ingredients for our kitchen, not just providing a healthy supply of food but also reducing the carbon impact of the food delivery infrastructure, eliminating the need for boxing and shipping thousands of pounds of produce each year. For more information about our farm, please visit our "Farm at Pleasantdale Chateau" page.
Seedlings sprouting in one of our greenhouses on the grounds of our estate, destined to produce vegetables for our kitchen.