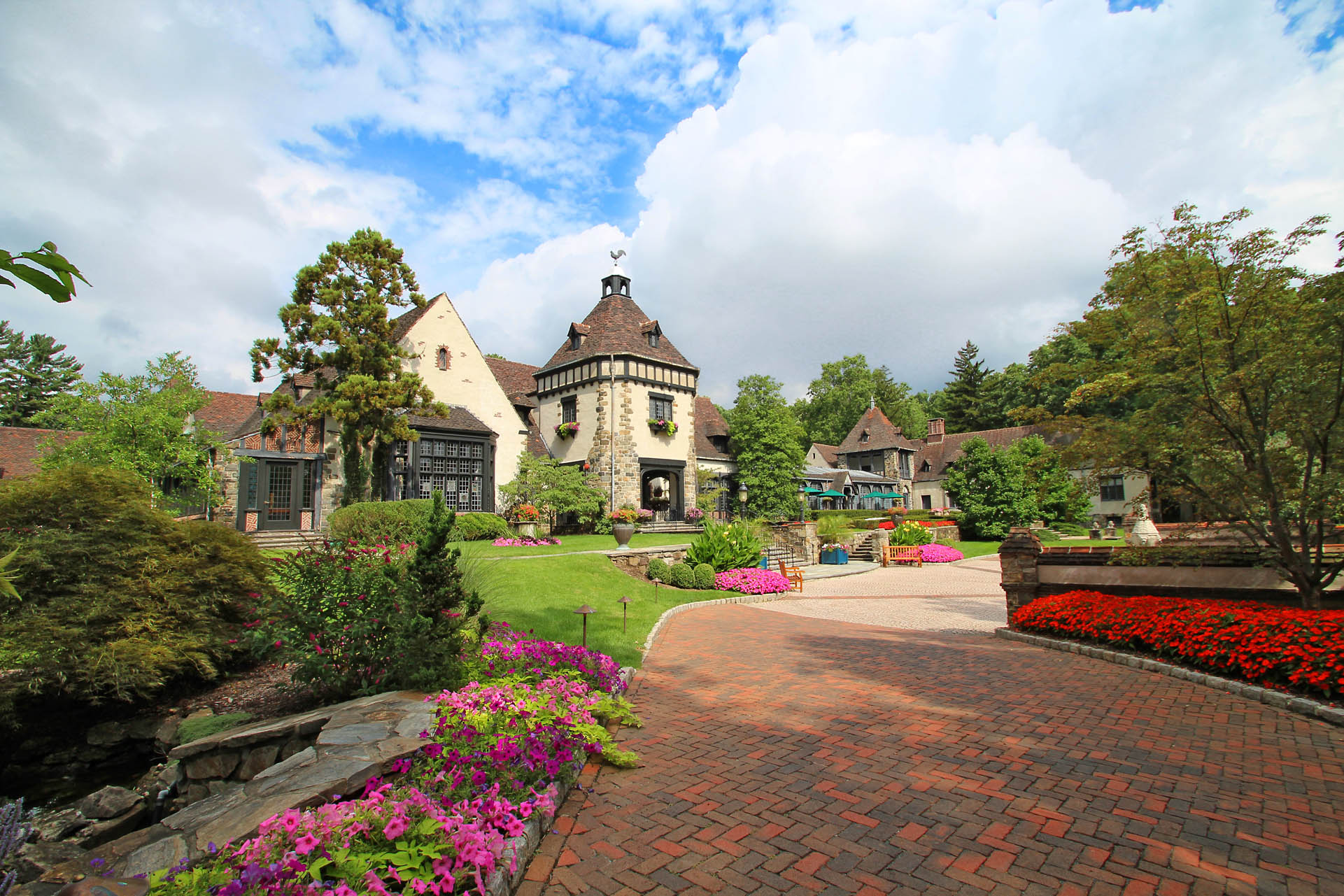 Pleasantdale Chateau: New Jersey's Acclaimed Corporate Event Venue
Pleasantdale Chateau continues to rank as one of New Jersey's most renowned special event venues. For corporate and business events, Pleasantdale Chateau exceeds expectations with our beautiful scenery, elegant spaces, and sophisticated staff. Situated on forty acres of luxurious greenery and conveniently located in West Orange, this historic estate will be sure to create a memorable experience for all of your guests. Over the years, Pleasantdale Chateau has mastered the art of event planning and hospitality. As one of three Knowles Hospitality's properties, we have served businesses in the local areas including Montclair, Florham Park, and Summit. Being located in a central part of the state, Pleasantdale Chateau serves as the best location to gather all of your corporate partners and employees for celebrations, business meetings, team building events, and seminars.
Whatever kind of party you are looking to put together, the estate staff is here to support you with our elegant private rooms, panoramic grounds, and 5-star dining options. Our event planning specialists will plan all aspects of your event, helping you customize details and create a professional setting for employees and guests of honor. With our experience in orchestrating numerous events, you can rest assured knowing that your business meeting or corporate party will run seamlessly. Pleasantdale Chateau is dedicated to elevating your event with our team of attentive service staff – just one of the reasons why our estate is recognized as one of the most sought out venues in the tri-state area.
Sophisticated Conference Meetings and Events in Northern New Jersey
Pleasantdale Chateau delivers the perfect backdrop for conference meetings, company training sessions, and industry summits. The available rooms at Pleasantdale Chateau can accommodate varying party sizes and offers the ability to customize seating arrangements, layouts, and tables.
Our team has organized events for a wide range of clients including Fortune 500 companies, local legal firms, and non-profit organizations so we understand the importance of putting together a coordinated event. The hospitality and event staff will ensure smooth and easy transitions between guest speakers, presentations, and dinners to produce a welcoming and relaxed environment for all guests to enjoy.
Beautiful Fundraising & Networking Event Spaces in West Orange, NJ
Fundraising and networking events serve as great platforms to bring you together with others that align with your company. Pleasantdale has worked with many non-profit organizations in the local New Jersey area and we have realized how fundraisers and networking events differ from traditional corporate meetings. Our special event staff will work with your schedule to ensure that all details are incorporated with ample planning time.
Pleasantdale Chateau estate has served as the perfect meeting point for corporations from all over the state including Hoboken, Fort Lee, and Hackensack. With proximity to New York City, you will be able to host your fundraiser or networking event at our location, which blends the natural New Jersey landscapes and the fast-paced elements from the city. Guests coming from across the state and NYC will marvel at the architecture and dining options your event has to offer.
Top Multi-Day Business Retreats & Team Building Events in West Orange, NJ
The estate on the Pleasantdale property acts as the perfect space for team building events and multi-day business retreats. Not only do these events help boost company morale, but they are essential details in today's business environment. Many local businesses have used our estate for their events because of the natural appeal that contrasts their everyday work and office life.
For the warm spring and summer months, Pleasantdale Chateau offers limitless options for your next outdoor corporate event. Over the years we have been able to execute organized lawn games, group gatherings around our firepit, and events in our game room. To raise the experience to new heights, Pleasantdale also offers massage and spa services – the perfect way for businesses in northern New Jersey to say thank you to employees!
Holiday, Christmas & Annual Parties at Pleasantdale Chateau
From holiday parties to annual celebratory company events, let Pleasantdale Chateau transform your event. Our event specialist will assist you in making your corporate party ideas a reality. With our list of vendors, you will be able to construct any type of celebratory event. Whether it's an intimate group dinner or a large-scale corporate party, we will be able to match the message you would like to send to partners and employees. At Pleasantdale Chateau, we have seen the appreciation and responsiveness guests from northern New Jersey have of their company after attending yearly events at our estate. For your corporate holiday, Christmas, or annual celebration, bring together the company culture and individuals at Pleasantdale Chateau where our staff will blend all of the elements that reinforce your brand in a fun and positive atmosphere.
Dining Options for Corporate Events at Pleasantdale Chateau
Compliment your next corporate event with farm-to-table approach dining options by Knowles Hospitality. Our culinary team makes this possible by using locally sourced products and ingredients. Pleasantdale Chateau features our farm where you can find fresh produce all year round. Pairing fresh ingredients and our skilled culinary team, Pleasantdale has been able to take our menus to a new standard. No matter which Knowles property your business event takes place at, you will be guaranteed exceptional plates at every location. For your business event, our culinary team can craft the best possible menu specific to your gathering.
The Professional Standard at Pleasantdale Chateau
To create a professional corporate event, the dining options and event space need to be equally exceptional. At Pleasantdale Chateau, we believe that it is possible to have both elements. By having your corporate event or party at the estate, you will be able to sit back and enjoy the ambiance without worries. With years of experience, the Pleasantdale team looks forward to helping clients living in Millburn, Short Hills, and Chatham build new memories at your next conference or corporate party with our elegant rooms, extensive menus, and remarkable landscapes. For more information about our available corporate event spaces, contact us by dialing (973) 731-5600 today.