ACTIONS WE ARE TAKING REGARDING THE CORONAVIRUS
---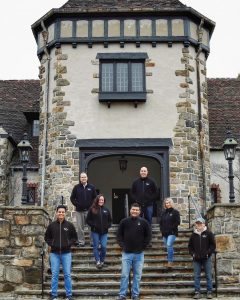 UPDATE: Standing in the sunshine on the grounds of our secluded estate it would almost be easy to forget the challenges currently facing us all, but for the knowledge that our many clients & their loved ones are relying on to us to offer some sense of comfort & reassurance that the special moments they've planned so carefully are saved. Which is why, through it all so far, we've been hard at work non-stop doing the complicated math of rescheduling events in the best ways possible & dealing together with the rightful emotions of it all. With a venue where the planning has gone on for months in advance, we're nonetheless attacking the challenge head-on to assure everyone that Pleasantdale Chateau will host their celebration just as beautifully at a new time.
But rather than speak to the tests we've all been put to, as a venue that exists to create joy, we look to the powerful reminders that this pandemic has provided. In not having a chateau bustling with smiling, laughing guests or seeing our staff's enthusiasm ramping up to "showtime", there is an overwhelming sense of why we do what we do. We often talk about the place & the people we do it with & for, but truly no other occurrence has brought us closer to that hitting home than now. Missing seeing the thrills we bring into people's lives; seeing it in their delighted expressions, in their deep bear hugs, in their losing themselves in the moment–That rings resoundingly across our peaceful estate. Seeing our staff, who've truly become our family, taking care for one another & finding resolve amongst each other to attack these challenges, is also truly remarkable to witness. We continue to draw increased devotion to our calling & to the people we call our guests…who soon become friends.
Walking the halls of a chateau that has stood for over a century, we think of the challenges that the world has faced through those times. Our perspective & patience grows on this solid foundation of longevity & resilience. And like the person who laid the cornerstone of our building, we too are now busy laying the groundwork for a time–we all hope soon–that we get to do again what we love for all those we've come to cherish.
---
As a business that values the health and safety of all of our guests/clients and staff, we wanted to address any concerns about our facility's safety and reassure our each of you that we are and have been taking the necessary steps to prevent the spread of disease due to the recent outbreak of the Coronavirus (COVID-19) and a harsh flu season across the globe.
Following are some on the steps that we have implemented as a team to protect our guests/clients, and staff members:
Staff are required to hand wash and use our sanitizing stations (in-between courses)
Staff is required to wear gloves at all times especially while serving food to our guests
We have implemented a no handshaking or kissing policy among our staff members
Conducting thorough cleaning of all areas using lysol and other disinfecting solutions
Housekeeping staff is taking extra precautions while cleaning overnight rooms and all of the common areas
Kitchen staff have been and are washing hands more often and wearing gloves while preparing food
Encouraging employees who are not feeling well to seek medical attention as soon as possible
Prohibiting sick employees from working
We have hand sanitizing wipes for guests upon arrival
We hope by taking these precautions it will make Pleasantdale Chateau a healthier and safer environment for all of our guests/clients and staff members.
For our guests, we encourage the same level of vigilance to monitoring their health and due consideration for fellow attendees of an event. For anyone feeling ill or who has an inclination that they are potentially falling sick (or has concern that they may have been exposed to a virus) we strongly request opting out of coming to a public gathering, erring on the side of caution. For anyone originating from a known exposure cluster area, either inside or outside of the country, we urge your choosing to opt out of attending an event of with us. Discretion in these instances is thoughtful to all involved. Even if you've already RSVP'd to an event, we as a venue will appreciate your sense of caution and we're certain that your event's host will receive your cancellation of attendance with appreciation for your thoughtfulness.
In this time of concern, we appreciate everyone's sense of caution and extra vigilance so that we are able to still effectively provide positive, celebratory experiences for our guests and be a place where joy and fun can be had by all. By all of us doing our part and being considerate of others, everyone can benefit with having a little bit better peace of mind in knowing that care for health and safety is not overlooked.
All of us at here understand that this issue is cause for concern to many, and we offer our deepest sympathies to those who have already been affected. Rest assured that as circumstances continue to develop, one thing will remain the same: We will make our decisions with the health and well-being of our guests, employees and the communities in which we live and work as our highest priority.
The Pleasantdale Chateau Team is monitoring the situation closely and we are doing our best to stay updated and educated on disease prevention. The situation is evolving on an everyday basis and we will take all of the measures to follow the government's and Centers for Disease Control and Prevention's (CDC) protocols accordingly.
Thank you all for helping us to continue to be a place of gathering for life's special moments.