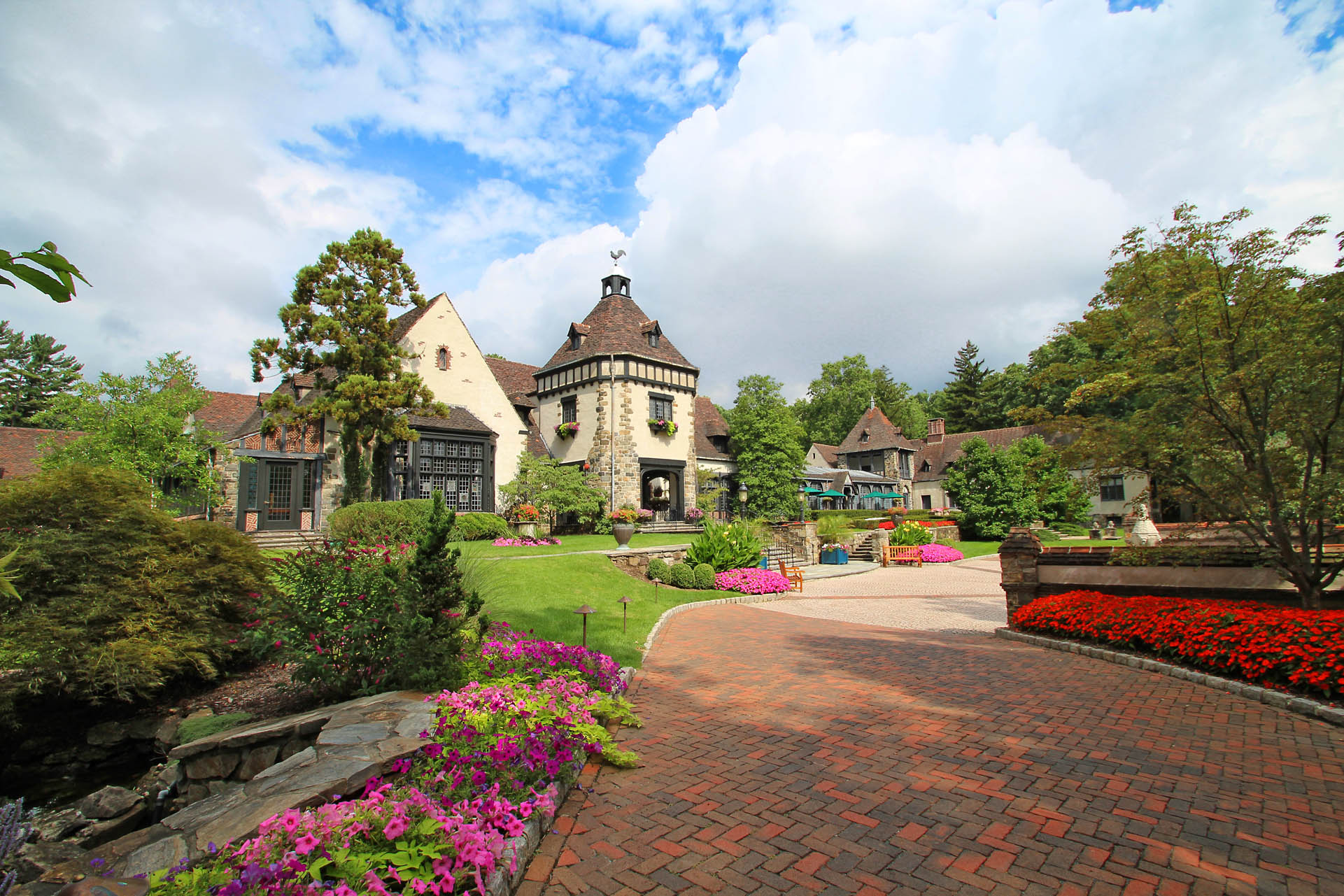 Same-sex couples living in New Jersey know how difficult it can be to locate a gay-friendly wedding venue that can handle all of the necessities from invitations and decor down to the cuisine and music.
Gay, lesbian, and transgender couples in the surrounding Montclair, Morristown, and Saddle River area need a reliable wedding venue for their enchanting big day. Since opening its doors as a venue to host life's most spectacular events, Pleasantdale Chateau has consistently achieved praise from respected organizations and professionals at the pinnacle of the industry. Wedding receptions at Pleasantdale Chateau are events you must see to believe. Our event specialists create a magical environment in which to celebrate and welcome your guests. From the sheer grandeur of our grounds and the Chateau itself to the lavish cocktail hour and the exquisite dinner reception, all aspects of your special day will culminate in a fairy-tale experience come true.
Pleasantdale Chateau's exceptional team of wedding planners is available when you need them to discuss LGBTQ+ specific decor, wedding color preferences, same-sex fashion tips, and advice on deciding on a specific theme. Leave it to Pleasantdale Chateau to take care of your event's essentials, so you and your partner can focus on what's most important.
How Can I Feature Colors on the LGBTQ+ Flag in My Same-Sex Wedding?
Pleasantdale Chateau embraces diversity and works closely with you in creating the wedding of your dreams. Show off your LGBTQ+ pride on your genderqueer wedding day with the fun color palette. Pride colors represent your beautiful community, so why not display them for everyone to see? Incorporate the LGBTQ+ rainbow subtly with a colorful wedding cake. When the special cake-cutting moment comes, surprise your guests with rainbow layers and imagine how those photos will turn out.
Use decor as a way of incorporating gay pride with rainbow flower bouquets, napkins, balloons – the list goes on. Forget subtle and go big by having both of your bridal parties wear solid colors, one each color of the LGBTQ+ rainbow to stand beside you and your partner during vows. At Pleasantdale Chateau in NJ, our professional wedding planners will work closely with you and your partner to ensure everything is exactly how you both want it from colorful decor to a delicious wedding cake.
How Can Same-Sex Couples Coordinate Wedding Attire?
Both you and your future partner want to wear gowns or suits for your magical genderqueer wedding day – without clashing. Dresses crafted with the same materials look incredible in photos and help to keep the entire wedding look cohesive. Androgynous and gender-neutral couples thinking about veering off the classic white wedding shade should try to find a common color for both of your looks with accessories such as boutonnières, ties, and shoes! Even dresses and suits that share similar features – color, material, and trim – should complete the ensemble because this will give your LGBTQ+ wedding the cohesion you need with the freedom you want. Masculine men and women can go for tailored suits either with fun, vibrant patterns or something that holds a simpler and sleeker design. Floral print, stripes, and polka dots are all excellent options for men and women who want to stand out on their wedding day without outshining their partner.
Known throughout the New York City Tri-state area and beyond as an enchanting, lavish venue, and having earned a reputation for fine dining, service, and award-winning cuisine, Pleasantdale Chateau ensures that every celebration of love and commitment is carefully executed with the highest attention to detail. Let us plan your dream same-sex wedding while you both worry about finding your fantasy gowns or suits. We believe the most important tip is to wear something that makes you feel good. Nothing screams happiness like two confident, charming souls coming together on their wedding day.
Hosting A Celebration with New Jersey's Best Same-Sex Wedding Venue
Same-sex couples living in the nearby New Jersey area including Asbury Park, West Orange, and Franklin Lakes do not need to struggle to find the perfect wedding venue that does it all. At Pleasantdale Chateau, our attentive event and wedding planners and 5-star chefs will ensure that the backend of your LGBTQ+ wedding runs smoothly so that you and your partner can focus on having fun. It doesn't matter if you're looking to celebrate your same-sex wedding with an over-the-top event or a small-scale meeting with just close friends and family because Pleasantdale Chateau can handle all accommodations. With decades of experience under our belt, your wedding with Pleasantdale Chateau will be one that your guests will never forget.
At Pleasantdale Chateau, we believe in happiness for all because love is love. LGBTQ+ guests of Pleasantdale Chateau also have the opportunity to enjoy an overnight stay with us in one of our 30 rooms on the estate. Our brides and grooms are offered a complimentary bridal suite within the Château for the night of their wedding. Every room is unique, maintaining the rich character and authenticity that could be expected from a historic French chateau.
We make it our top priority to create the night of your dreams the way you and your partner want while keeping to strict deadlines. Are you looking to host your gay celebration at the #1 same-sex wedding venue in New Jersey? Dial (973) 731-5600 today to plan your beautiful same-sex wedding at the renowned Pleasantdale Chateau!