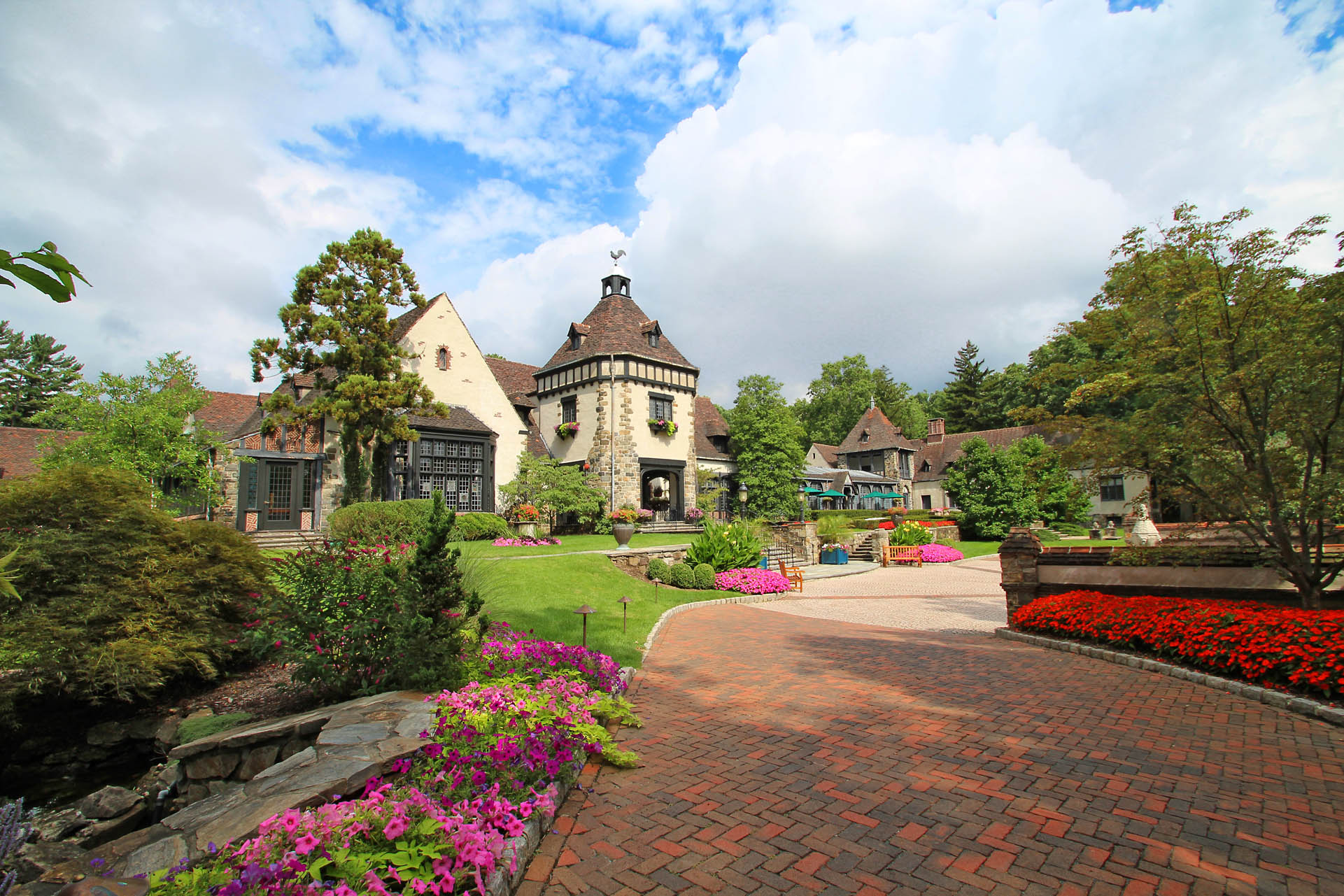 For newly-engaged NJ Asian couples looking for luxury and flawless service, the gorgeous Pleasantdale Chateau is the Gold Standard in weddings. Conveniently located in West Orange, Pleasantdale Chateau, a luxury special event venue, has hosted thousands of weddings. Supported by our breath-taking outdoor spaces and oversized ballrooms, the Pleasantdale Chateau estate can easily accommodate traditional or modern Asian wedding celebrations with guests from 200 to over 1,000+.
Having happily served couples from the Paramus, Montclair, and Cedar Grove areas, the Pleasantdale Chateau wedding planning team takes ample time to better understand the importance of incorporating Asian cultural and traditional themes appropriately. If you and your fiancé want to incorporate Japanese, Thai, Vietnamese, Chinese, or even Korean wedding customs, while highlighting American themes, the wedding event coordinators at Pleasantdale Chateau will help deliver an unforgettable experience. From the grounds to the fascinating architecture, personalized service, expert cuisine, and so much more, our wedding venue estate delivers the finest in world-class wedding events.
What is the Appropriate Attire for a Traditional Asian Wedding?
For modern-day Asian brides and grooms, wearing traditional and cultural wedding garments honors your family and ancestors. For Asian couples in northern New Jersey looking to incorporate important cultural themes in their wedding, understanding how to design a cohesive environment becomes daunting. Traditional Asian wedding wear can often be reserved for the formal wedding ceremony. When partnering with Pleasantdale Chateau, Asian brides and grooms can feature their cultural elements, while still incorporating a western-like reception. For traditional Korean brides and grooms, guests can expect to see both wearing a hanbok with floral embellishments or reflective patterns. The bride may typically choose to wear a pink or purple hanbok and guests can be encouraged to wear similar lightly colored outfits. Traditional Chinese brides can wear a qipao, often in a bold red, and can switch outfits throughout the wedding day.
Guests at a traditional Chinese wedding typically remain encouraged to wear light-colored outfits to symbolize the bride and groom's new life together. Japanese couples will both wear complimenting kimonos, with the bride wearing white and accessorized with a headdress. For receptions, Japanese brides may change into a brightly colored kimono or choose to wear a western-style gown. Contemporary Filipino brides also wear western-like white gowns and may bring in traditional elements with stylistic features that mirror the traditional Filipina gown.
High-end and popular Asian wedding dress designers such as Vera Wang, Manish Malhotra, and Yumi Katsura have been driving forces in the industry, blending contemporary and traditional designs into their wedding gowns. Brides often looking to these prominent wedding designers for inspiration, find themselves aligning their colors based on their wedding outfit. For brides looking to showcase the intricate designs and details of your wedding day outfits, rest assured that your Pleasantdale Chateau event planners will make you and your partner the focal point of your big day. Paired with our wedding planners, you can be sure to build the wedding of your dreams and celebrate the important cultural elements you and your partner hold close.
Can I Incorporate Tradition into Modern Asian Weddings Ceremonies?
At Pleasantdale Chateau, our wedding event specialists will carry out every meticulous detail. For Asian-American couples that do not choose to wear traditional wedding garments, they can find comfort knowing that traditional rituals or aspects can still be highlighted in the wedding venue. With breathtaking elegant ballrooms and mouthwatering menus, the Pleasantdale Chateau team can deliver the traditional Asian wedding décor for every guest to enjoy.
Whether Asian couples look to incorporate traditional flowers, such as lilies, the hibiscus, cherry blossoms, or detailed symbols, Pleasantdale Chateau's wedding event planners will guide you along the décor process. With spacious outdoor ceremony spaces and opulent reception spaces, our wedding planners can accommodate varying party sizes and keep larger events centered for seamless transitions from ceremony to reception. Even better, the Pleasantdale Chateau offers awe-inspiring landscapes to highlight momentous celebrations such as the traditional Chinese tea ceremony for both families to come together.
Let Pleasantdale Chateau Host Your Traditional Asian Wedding Celebration
The wedding experts at Pleasantdale Chateau stand ready to help Asian couples successfully plan a picturesque traditional wedding. Our wedding specialists create a magical environment in which to celebrate and welcome your guests. With a convenient location just 14 miles outside New York City, Pleasantdale Chateau earned a high reputation as the premier luxury Asian wedding venue for the tri-state area. For more information on our available rooms and dates, contact our wedding specialists at (973) 731-5600. We look forward to helping every Asian couple blend traditional and contemporary elements for the wedding of their dreams!