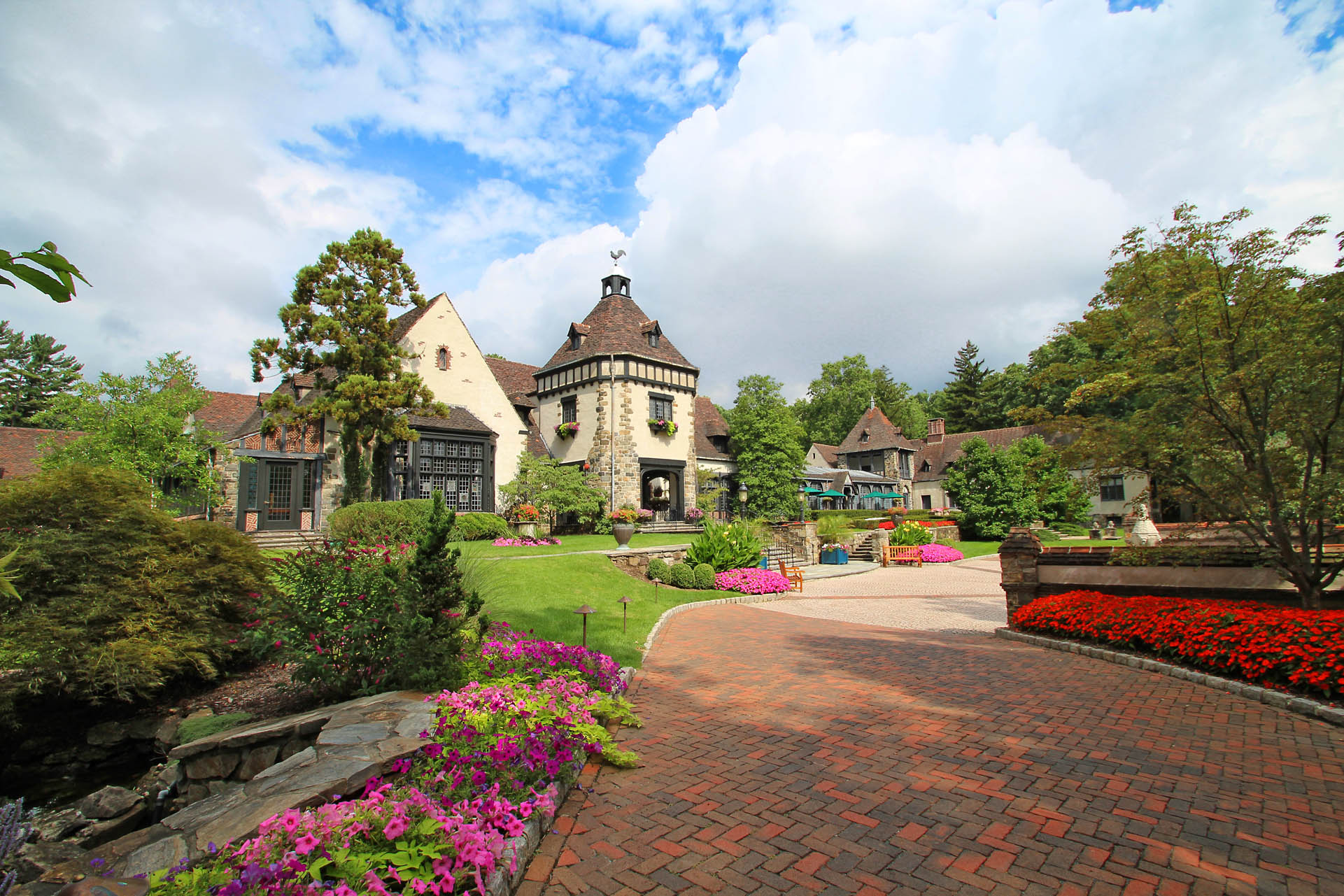 For Indian couples looking to plan their upcoming wedding, Pleasantdale Chateau goes above and beyond to implement traditional Indian rites and include cultural elements with utmost sophistication. For over 50 years, Knowles Hospitality has served local couples from the Piscataway, Parsippany, and Franklin Park areas, making the Chateau of the most sought-after event space.
Supported by our breath-taking outdoor spaces and oversized ballrooms, the Pleasantdale Chateau estate can accommodate wedding parties from 200 to 1,000+. Rest assured knowing that the event planners at Pleasantdale Chateau will help you coordinate every aspect within your multi-day wedding including your traditional Jaimala ceremony or your Sangai engagement ceremony. If you and your groom are seeking to incorporate Hindu, Muslim, Sikhi, or a blend of traditions, our wedding planners will sit alongside you to create easy transitions for your special Indian wedding.
A Guest's Guide to Traditional Indian Wedding Fashion
Guests attending a traditional Indian wedding will often be encouraged to wear Indian garments. Women assisting special ceremonies such as the Jaimala can be seen wearing different variations of the traditional sari or lengha while men will often don traditional tunics. Garments for men and women can be made from luxurious-feeling cotton or silk fabrics. For guests who are uncertain where to begin when it comes to dressing for an Indian wedding, it can always beneficial to do additional research after reading the invitation dress code. In Indian and Hindu culture, the bride often wears an opulent red and gold lengha or sari during the main Jaimala ceremony, while the groom will wear a complimenting tunic with similar embroidery or patterns. Other guest wedding colors to avoid include black and white, as these symbolize bad luck in Indian culture and are typically worn to funerals.
With local specialized shops in Iselin, Edison, and the central New Jersey area, guests can find the guidance they need when shopping for traditional Indian garments. As brightly colored clothing is encouraged, guests should wear garments in festive colors such as vibrant yellows, oranges, pinks, and blues. Women should not be afraid to accessorize heavily with bangles on both arms and large earrings as they will most likely fit right in with the events taking place. Paired with the right accessories and traditional Indian outfits, guests at Pleasantdale Chateau will be able to immerse themselves into the culture alongside the happy couple.
Fashion, Themes & Tradition: What Should I Expect at an Indian Wedding?
When preparing for an Indian wedding, friends and extended family should note that traditional Indian weddings may have events that span over three days. For most Indian couples, three days is usually the standard. Although most guests that are not immediate family members typically choose to attend the Sangeet pre-wedding ceremony and the Jaimala, it will be important to coordinate outfits accordingly for events on different days. Often, guests attending events on all three days will decide to rent or purchase traditional garments as opposed to varying with western-styled clothing. Guests prepping for an Indian wedding should look into casual and traditional options in different vibrant colors for a fresh look during each event. Women can also mix and match when it comes to accessories by opting for an all-gold look. This can help lighten bags if traveling to Pleasantdale Chateau from out of state.
During the ceremonies and receptions, guests should expect to see opulent décor and a lively atmosphere. With important symbols scattered throughout the spaces, guests will be able to share the special day on a deeper level. One of the most stand-out aspects that stays with guests long after the celebrations continue to be the heightened Indian fashions. Famous Indian bridal fashion designers such as Anita Dongre, Abu Janu Sandeep, and Ritu Kumar inspire brides with their innovative styles and modern twists on tradition. Their timeless looks exemplify exactly what most Indian brides seek to radiate on their wedding day – beauty and elegance.
For Indian couples looking to incorporate traditional themes, the spaces at Pleasantdale Chateau offers you a wide latitude of creative freedom. Individuals that want to incorporate a blend of Indian-American themes will work directly with our Indian wedding event planners to ensure a seamless experience between each important event. Couples seeking to celebrate all three days of their wedding at Pleasantdale, our ballroom spaces, and spacious outdoor settings make the perfect setting for special entrances such as the groom's Baraat. When it comes to preparing for the celebratory events, our expert wedding event planners can help guide Indian couples through the process. With a vast knowledge of rich color palettes and décor options, the Pleasantdale planners will help Indian couples produce an elevated atmosphere and tone. From mandala and lotus symbols on invitations and place settings to jasmine flowers in centerpieces and wedding garlands, Indian couples have endless options to honor their Indian or Hindu traditions.
Pleasantdale Chateau: New Jersey's Premier Indian Wedding Venue
The North Jersey area, known for its diverse populations and scenic outdoor landscapes, has encouraged individuals from all over the state to seek out the best venue for their upcoming event. Pleasantdale Chateau, the luxury special event wedding venue located in West Orange, has successfully planned numerous events for a wide arrange of clients. Located adjacent to Eagle Rock Reservation, the Pleasantdale Chateau location is easily accessible for guests coming from New York City or the local tri-state area.
The wedding event planners at Pleasantdale Chateau remain ready to help Indian couples across New Jersey coordinate their multi-day wedding. We will be there to answer all questions from guests including inquiries about overnight accommodations, dress codes, and directions so everyone will be prepared for your event. As the planning process begins, Pleasantdale staff will be there every step of the way to ensure that every aspect is handled. From menu selection, ballroom options, and religious ceremonies, our wedding event team will exceed your expectations.
For more information on how Pleasantdale Chateau can help build the traditional or contemporary Indian wedding of your dreams, give us a call at (973) 731-5600. We look forward to planning your memorable Indian wedding!