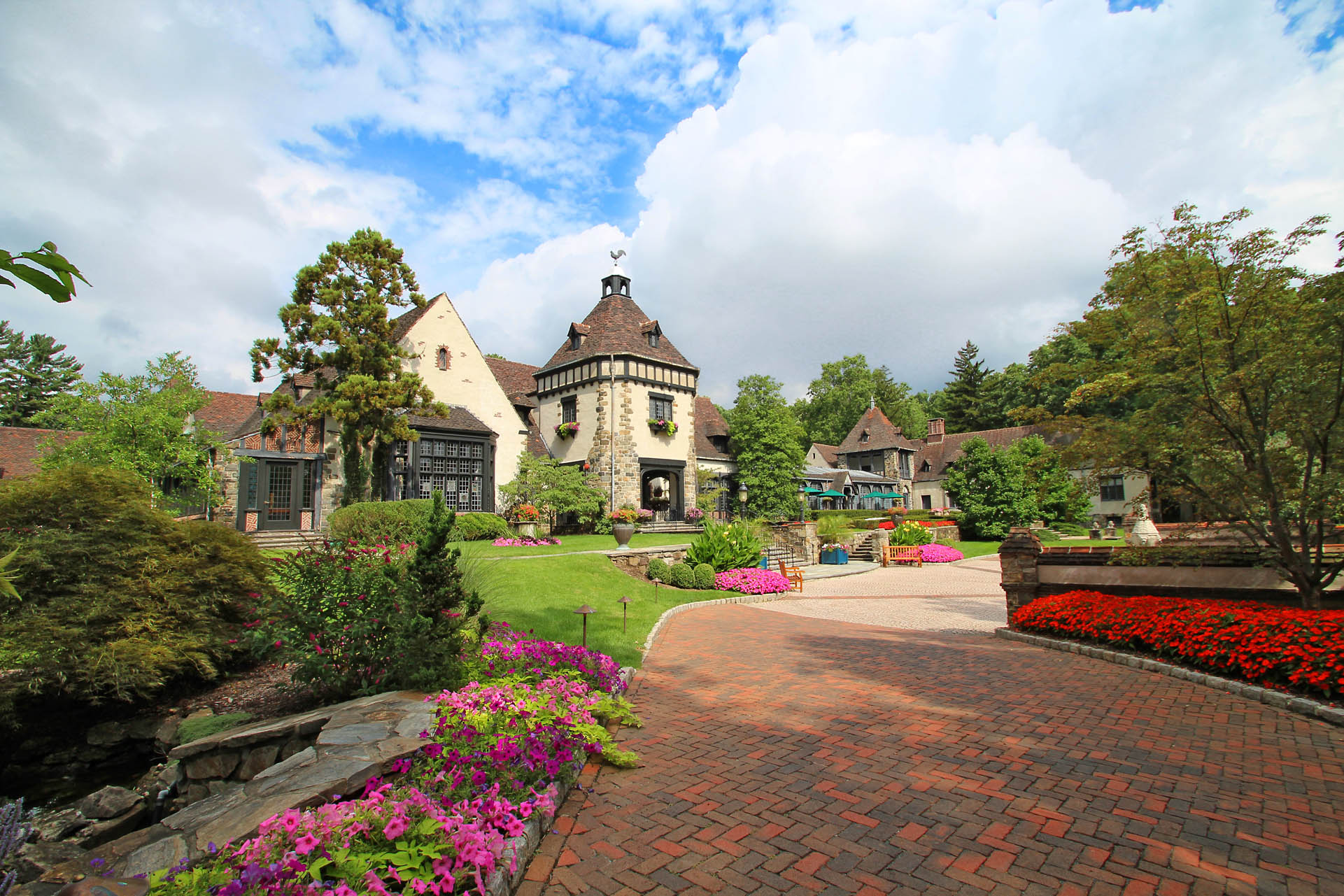 Welcome to Pleasantdale Chateau, northern New Jersey's most luxurious and recognized venues for weddings and other special occasions. Having hosted and been a part of many famous events, Pleasantdale Chateau is sure to provide the right event space for every couple. Our rich history, lavish ballroom, and spacious outdoor area will bring a level of sophistication and class to your next event. With indoor and outdoor options for ceremonies and receptions, we can accommodate any wedding size and party. Our highly trained staff is here to make sure that your special day is exactly what it should be – elegant and memorable.
Get ready to experience the best scenic views northern New Jersey has to offer. This French chateau mixes elegant and classic styles that offer the perfect backdrop during all four seasons. Our landscaping details will shine through and offer a whimsical passage when family and friends arrive. Make your day even better by selecting the farm-fresh dining options Pleasantdale Chateau's very own chef has to offer. With a farm located on the estate, we use locally grown ingredients in all of our dishes. Whether your wedding is a grand indoor ballroom event or a small gathering with friends and family, Pleasantdale Chateau's customizable options make it one of the highest-rated luxury event venues in New Jersey.
The Best Outdoor Wedding Venue In Northern New Jersey
Trying to find the best time to have your high-end outdoor wedding? Pleasantdale Chateau holds a renowned reputation for astounding views and scenic outdoor ceremony space. Choosing to have your ceremony outside will leave guests talking about your wedding for years to come. Incorporate nature into your wedding theme and be surrounded by a picturesque meadow and the chateau's remarkable 900-tree greenery during your ceremony. Let the water in the background serve as a highlight for pictures and a point for guests to visit before and after the ceremony. Pleasantdale Chateau serves as the perfect setting for luxurious weddings during any of the four seasons.
With ample space for creativity, let your theme shine through with your own personal touches. Our grand estate is built to accommodate any idea couples bring to us. Your ideal wedding day should be stress-free. Planning an outdoor ceremony can be daunting; but at Pleasantdale Chateau, you and your partner can rest assured knowing that changes can be made for an indoor ceremony should the weather take a last-minute turn.
High-End Same-Sex and LGBTQ+ Weddings For NJ Couples
Pleasantdale Chateau is proud to welcome couples of all different backgrounds. Whether it's a lavish wedding celebration or small civil union, choosing the chateau will leave you with the freedom to make your wedding day the event of the year. Embracing the diversity each couple brings, our trained staff works with all couples so that every element is incorporated and done so with great attention to detail. Having experience in hosting same-sex and LGBTQ+ weddings, we are driven and dedicated to making your opulent wedding day the best it can be.
Every couple that walks through Pleasantdale Chateau – regardless of sexual orientation or gender – matters to our team. We focus on meeting the specific needs couples have so that their friends and family are taken care of on a day that can seem busy and hectic. With amazing staff, highly recognized dining, and our famous estate, see how Pleasantdale Chateau can serve in hosting the luxury wedding of your dreams.
The Top Jewish Wedding Venue In New Jersey
At Pleasantdale Chateau, it's our job to ensure that every couple has the best experience at our estate. Welcoming couples of all backgrounds and faiths, we can guarantee smooth transitions between religious ceremonies and the reception. We understand how important traditions are and want to be there for your every need with elegance and sophistication.
Jewish couples may opt to have their wedding ceremony outside during fall or summer as it leaves the perfect backdrop for pictures. Highlighting elements like the breaking of the glass and the Chuppah, our outdoor space puts into perspective the importance of religious ceremonies. With such a large space to work with, couples can put their personal touch on the outdoor venue – while being able to move it inside if it rains. The friendly staff is always made available so that each step in your wedding is taken seriously from the ceremony to the late-night reception.
New Jersey's Best Venue For Asian Weddings
At Pleasantdale Chateau, we are always ready to support couples looking to highlight traditional cultural and religious elements into their wedding. We understand the importance of incorporating these elements may be to family and friends and are open to the ideas couples have to offer. The blending of families is a beautiful moment that many wish to embrace during the ceremony and is another detail that Pleasantdale Chateau will help you carry through. Our open-minded and skilled staff will be there to guide the bridal party and guests as they take part in your special day so that you can relax and celebrate the love between you and your partner.
We want you, your partner, and the ideas you wish to highlight to be the center of attention at your wedding. If you want to plan a traditional Chinese, Japanese, or Middle Eastern wedding at Pleasantdale Chateau, you can be sure that the farm-to-table dining options, outdoor scenery, and staff will provide the best environment for your high-end wedding.
Create The Luxury Wedding Of Your Dreams At Pleasantdale Chateau
Your wedding day is one of the most important days of you and your partner's lives. Choosing Pleasantdale Chateau as your luxury wedding venue will leave you with options to truly make love the central theme at your wedding. We are proud to serve every couple from the nearby area that comes through our doors.
Enjoy the awe-inspiring views during every season and rest easy knowing that we will cater to all your needs on your special day. No matter what kind of wedding you're planning, you and your partner are our number one priority. We promise to focus on everything else so that you and your partner can enjoy everything Pleasantdale Chateau has to offer. Having served couples from North Caldwell, Short Hills, Millburn, and the nearby area, we look forward to working with every excited couple that comes through our doors. Dial (973) 731-5600 today to connect with our event coordinators, and start planning your next high-end special event.