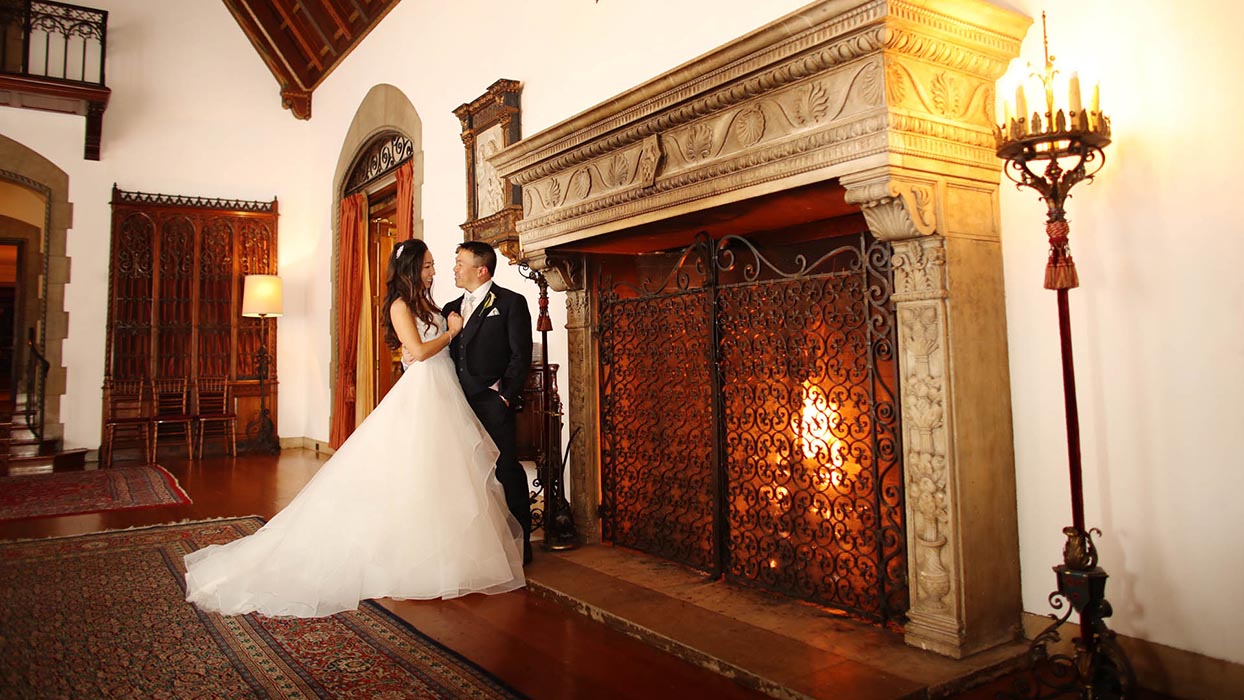 As one of the world's most exclusive estates, Pleasantdale Château offers an enchanting experience straight out of a fairytale. Our expertise allows us to take on wedding orders of all shapes and sizes. Religious traditions and cultural values remain a central part of Asian weddings and we are delighted to listen to all of your wedding plans. With flawless flexibility and immense attention to detail, our event specialists are devoted to giving you the wedding of your dreams inclusive of your culture. For a day that you will always hold close to your heart, choose Pleasantdale Château as your affordable Asian wedding venue.
The Best Asian Wedding Venue in New Jersey
It's not uncommon for Asian brides to change into multiple gowns on their special day. Prepared to be pampered in our glamorous private bridal salon. Our bridal salon provides the bride and her party with a luxurious place to prepare and freshen up. It also allows the bride to make seamless outfit transitions so that she looks and feels her best in every dress.
Nothing defines an Asian wedding better than extravagance. Whether you're planning for a guest list of 700 or 50, our Grand Ballroom is guaranteed to live up to its title. With astonishing vaulted ceilings and over-the-top enchanting ambiance of our Grand Ballroom, your wedding reception will be nothing short unforgettable. A magical night awaits!
We Make Culture Personal
Described by the New York Times as "Brooklyn West," Maplewood embraces a small-community lifestyle with its famous downtown area and diverse population. Maplewood's downtown area is full of shops, movies, restaurants, and parks. There are a variety of activities to do and different people to meet. The diversity of the city is not limited to race and gender but it also embraces sexuality with the creation of a gayborhood. No one will feel isolated or out of place regardless of what they identify as. Residents and visitors can take advantage of the resources provided by the city such as the Maplewood Community Pool, the South Mountain Reservation, and the Burgdorff Center for the Performing Arts. The community even provides activities for children such as youth sports, camping, and a special needs program. Residents can take a short ride to midtown Manhattan using the NJ Transit, and visit Times Square.
Whether you choose to take a contemporary twist or remain true to your cultural roots, we take great pride in providing couples with versatile options. At Pleasantdale Château, the possibilities are endless. We understand the importance of culture and embrace its uniqueness. Our event specialists will work with you to personalize anything from cuisine to ceremony.
Every bride deserves a fairytale wedding and Pleasantdale Château happily accommodates for all of your wedding plans. From age-old traditions to modern takes, you happily ever after is at hand. For a day full of enchantment, extravagance, and love, we invite you to Pleasantdale Château for your Asian wedding. Dial (973) 731-5600 to connect with our team today!