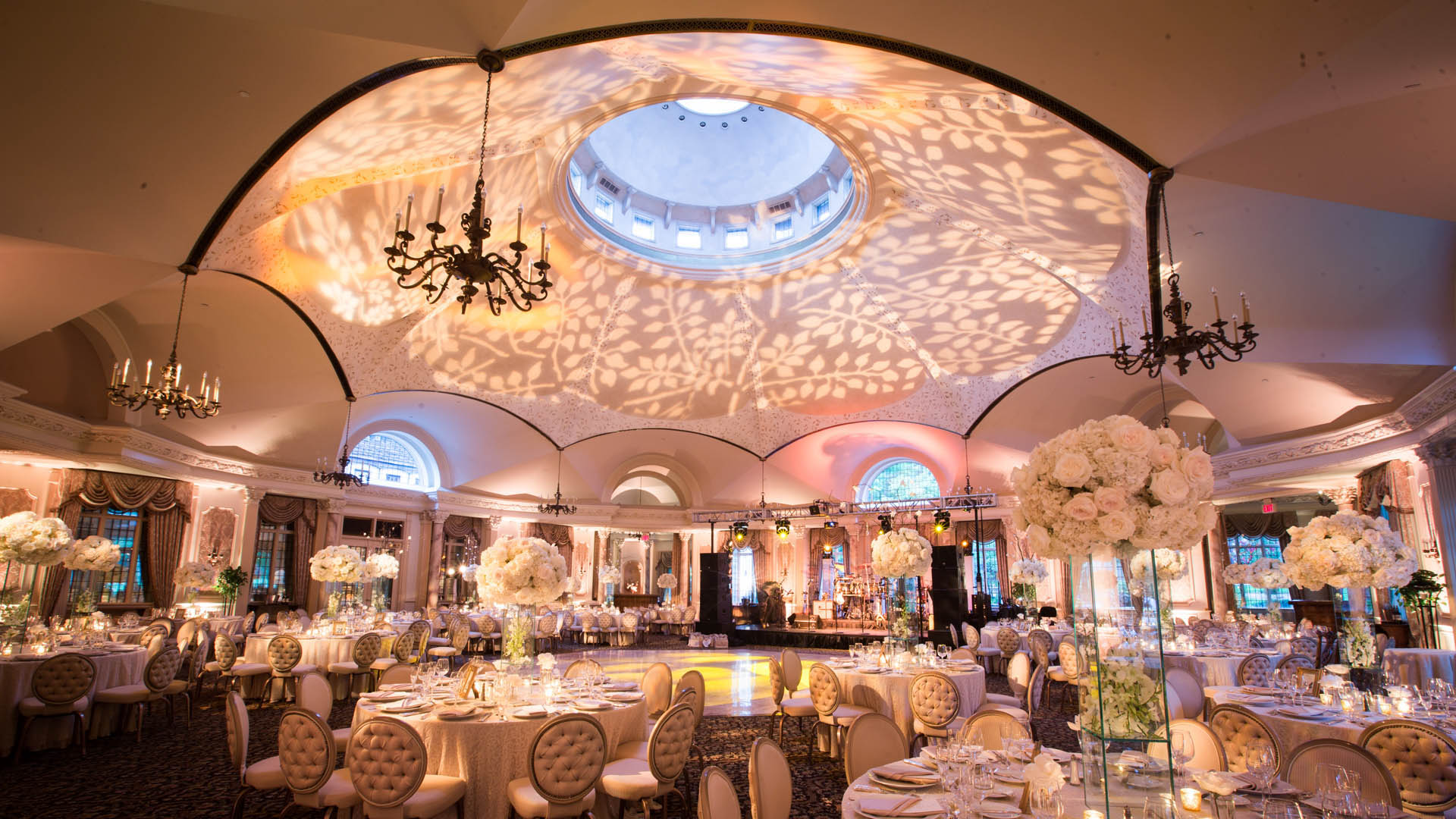 Every girl dreams about her fairytale wedding. With elegant grounds, blossoming gardens, and scenic backdrops, Pleasantdale Château can make those dreams come true. Our event specialists are focused on personalization and set to provide you with a wedding unique to you. We are delighted to cater to all of your cultural desires such as traditions, rituals and ceremonies. From breaking the glass to Hora (chair dancing) your Jewish wedding is in good hands at Pleasantdale Château. Allow us to give you the Jewish wedding you've been dreaming of.
Our Venue Delivers Elegant Jewish Weddings
Pleasantdale Château delivers a personalized ceremony inclusive of all Jewish traditions from all sectors such as Orthodox, Reform, Conservative, or Secular. Whether you opt for a picturesque outdoor ceremony or choose to exchange vows in our gorgeous ballroom, we are happy to accommodate for all of your ceremony customs including chuppahs and circling rituals.
From ceremony to reception, our expert staff is here to assist you through every step of the way. A Jewish wedding is not complete without the traditional Hora dance. A visit to our Grand Ballroom provides the perfect setting for this tradition, in which newlyweds are hoisted up on chairs and singled out for celebration. With beautiful vaulted ceilings and elegant design, this ballroom is the ultimate backdrop for your lavish reception.
Customization Made Flawless
Sometimes referred to as the "military capital of the America Revolution," Morristown holds rich history within its borders, making it one of the most compelling places to live in northern New Jersey. With local attractions such as the Morristown National Historical Park and Washington's Headquarters Museum, the quaint town has a stellar reputation for its outdoor attractions and noteworthy Morris School District. Tucked away along interstate 287, Morristown gives residents the conveniences of a city, but within the parameters of a small-town community. With local shops, dining options, and growing nightlife, Morristown residents can often find everything they need within walking distance. As young couples continue to establish themselves in Morristown, the downtown area reflects the forward-thinking community that this town encompasses. As a suburb of New York City, Morristown has direct train access to Hoboken and Penn Station for commuters and visitors from all across the Tri-state area.
For couples and families seeking a local, luxury venue for their wedding day or upcoming private event, let Knowles Hospitality take care of all the details. With three different venue locations located in the local West Orange area, Morristown residents can find the fine dining and elegance they seek for their next special occasion.
We pride ourselves in our ability to customize and shape your wedding into exactly what you've always pictured. Our friendly professionals work closely with couples to design, plan, and manage all of their wedding dreams. From a kosher dinner menu to tablescapes, we are determined to give you a wedding that's both elegant and meaningful to you. Known for our world-class wedding events, we are devoted to giving you a foundation for a lifetime of happiness.
Your wedding is one of the most cherished days of your life. At Pleasantdale Château, we make tying the knot an unforgettable experience. For a venue that's committed to cultural customization and upscale elegance, we invite you to Pleasantdale Château for your Jewish wedding destination. Dial (973) 731-5600 to connect with our event coordinators today. Mazel Tov!