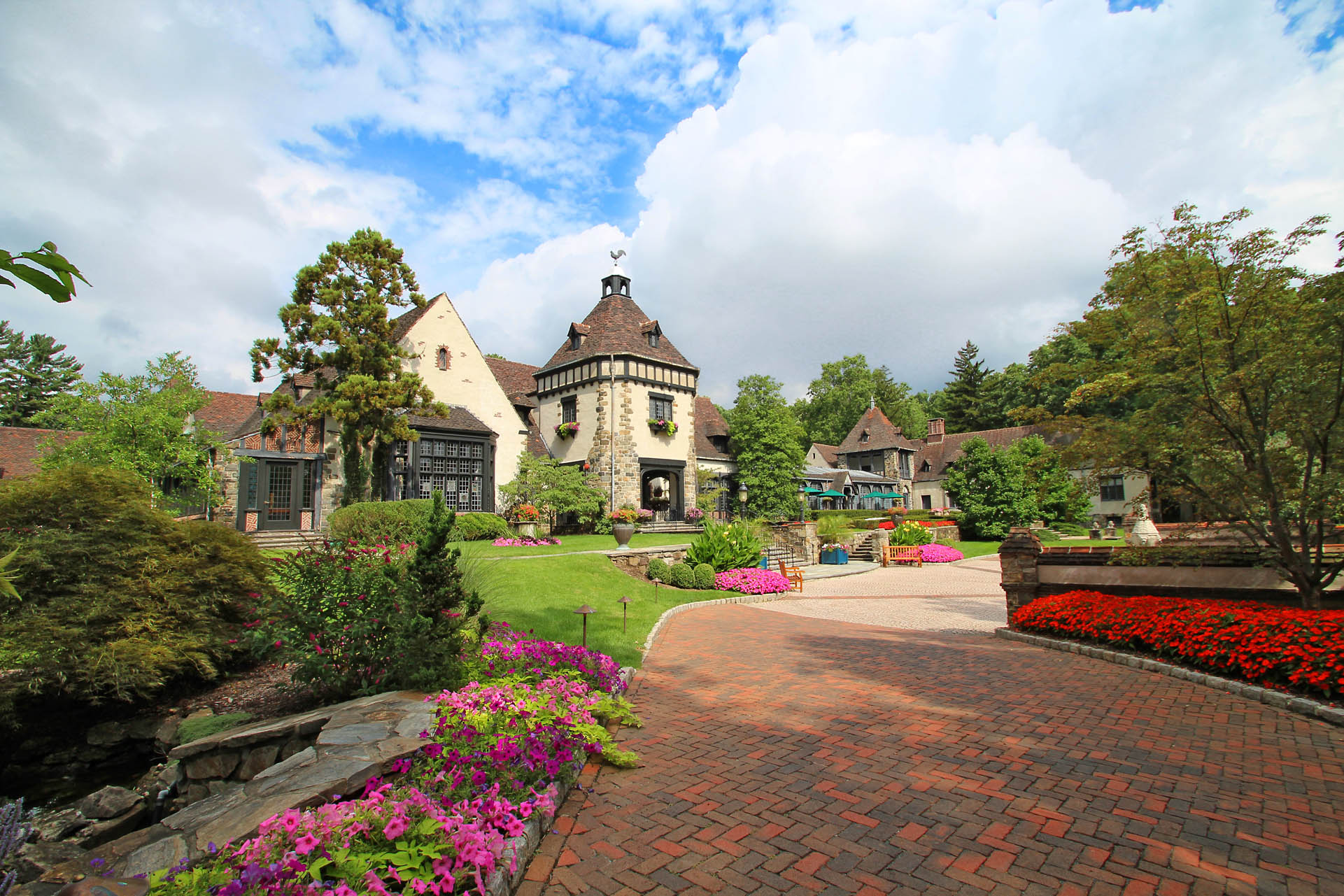 Picture yourself standing at the altar in a beautiful outdoor garden with the love of your life, surrounded by the most important people in your life. Luckily, our venue is the perfect location for NJ-based couples. The Pleasantdale Chateau services brides and grooms from across New Jersey including nearby Morristown, Ridgewood, Millburn residents looking to plan and celebrate an outdoor wedding ceremony and reception to remember. We offer the most spectacular views of the New York City skyline and blossoming flowers lining every step down the aisle. The professional wedding event planners at Pleasantdale have years of experience under their belts and know what brides and grooms are looking for in an outdoor wedding venue.
How Can I Plan an Outdoor Summer Wedding?
High-end outdoor weddings are one of the Pleasantdale Chateau's unique specialties. While the sunlight peeks through our 900-tree garden at dusk, the moment the light reflects off of the water is unforgettable. As you walk down the aisle on your wedding day in the Summer months, you'll be surrounded in this blissful moment by the gorgeous views of mother nature as you take. Take a walk across the lake on our wooden bridge and enjoy fresh air under the charming outdoor gazebo. Summer weddings can bring the heat, so it's never a bad idea to be prepared. Ask your wedding coordinators for seasonal menus because heavy food may not mix well with the outdoor heat. Serve your guest's fresh fruit and frozen cocktails, so they can cool off and enjoy the day. Inform guests to dress light and be sure to provide heat relief with fans and an air-conditioned indoor seating area. Also, send out wedding invitations earlier than normal to notify guests before they plan any big Summer trips.
At Pleasantdale, we take outdoor receptions seriously. We offer the couple of the hour the opportunity to make a grand entrance and arrive by helicopter. We also can off you a magical event or plan an overnight experience as our guest. We take into account what the couple wants from the beautiful venue and décor, down to the music and delicious cuisine. Our rustic theme and copious amounts of wildflowers spread out across the property make the Pleasantdale Chateau an excellent choice to have an outdoor wedding, no matter Spring, Summer, or Fall.
Known as the Garden State due to its involvement in the agriculture industry, New Jersey calls itself home to almost nine million residents. This large state filled with activities from multiple major shopping malls to delicious restaurants within a 25-mile square radius is also known for its excellent education system. Ranked as one of the top choices for excellent school districts, this makes New Jersey the ideal location to raise a family. The endless options for parks and hiking trails like the Appalachian National Trail and the Delaware Water Gap National Recreation area make NJ a pleasant place to reside, whether it's alone or with a growing family.
What's the Best Way To Plan A Small Outdoor Wedding?
Planning a wedding is no picnic in the park. Whether you are looking for a high-end, over-the-top event with hundreds of guests, or you want a more low-key ceremony with only your closest friends and family, Pleasantdale is the right place for your wedding. Let our scenic views of the NYC skyline and miles of woody grasslands be the perfect space for your small outdoor wedding. Our expert wedding event planners know exactly what couples are looking for when it comes to small-scale wedding events and have decades of experience on how to execute your big day. While the clock is ticking, it's best to ask for help when planning your wedding whether it's from the Pleasantdale wedding coordinators or a close friend.
The most important thing to remember when planning your small outdoor wedding is to stay true to your style. Keep your vision in mind and be sure to let your team of wedding planners know. Pose in front of our exquisite indoor pool finished with gold trim columns or visit our incredible outdoor garden filled with a plethora of gorgeous flower. It's also important to consider weather mishaps. Rain or shine, your wedding will still hold the same meaning, so always prepare for the forecast!
Scenic Outdoor Wedding Venue in New Jersey
Guests living in the Saddle River, Maplewood, and Livingston area know Pleasantdale Chateau as the top wedding venue in the state. Allow our team of event coordinators to assist you in planning your outdoor wedding ceremony and reception. Trust us to execute the wedding of your dreams in a timely manner under your direct guidelines and rules. When you choose to have an outdoor wedding, you're allowing yourself a bigger capacity for guests, more room for beautiful decor, and extra space for outdoor activities. Leave it to the Pleasantdale Chateau to take care of the heavy labor while you worry about enjoying your wedding and dancing the night away.
At Pleasantdale Chateau, we know how stressful it can be planning an outdoor wedding. Between choosing the right venue, sending out invitations on time, and deciding which season is right for you, can feel overwhelmed. Fortunately, the experienced Pleasantdale wedding coordinators are guaranteed to ensure your outdoor garden wedding is executed exactly the way you want it. Call (973) 731-5600 to begin planning your beautiful outdoor wedding today!