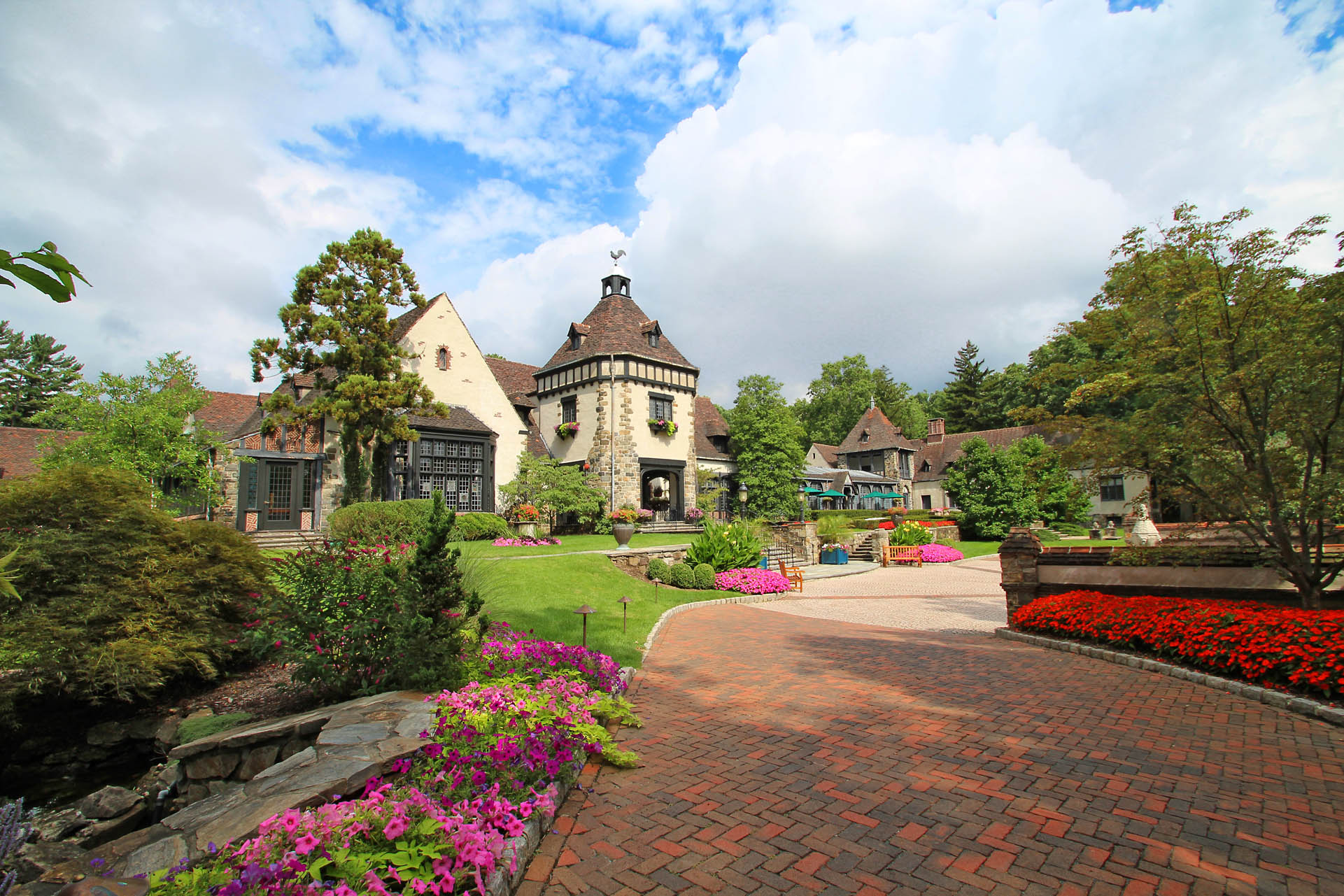 Formerly the private home of an industrial magnate, Pleasantdale Chateau is now one of the world's greatest estates for high-end special events. Our establishment is the most exclusive, private, and sought-after venue for weddings, private social events, and corporate meetings in the country. Pleasantdale Chateau is one of the leading venues for extravagant weddings on the East Coast where our international clients select us as their host to accommodate visitors from all around the world. We are proud to be New Jersey's top luxury wedding venue for Jewish, Asian, LGBTQ, and Indian weddings.
Pleasantdale Chateau provides exquisite designs throughout our estate, which are not imitable at any other event venue. From the outside, we maintain beautiful acres of land of which display botanical gardens, ponds, and meadows, with accents of exotic blooms and fields of cascading greens. Our indoor setting exudes an authentic and genuine sense of historic aesthetics. Each extravagant room emanates an exquisite ambiance and evokes the spirit and elegance of an earlier time – some rooms with richly color tiles, others upholding glass ceilings with mosaic pillars, and some even soar thirty-five feet high with Scandinavian chapel roofs. Leading up to the estate, the scenic drive through the property further enhances the regal, yet inviting nature of Pleasantdale Chateau.
Unique Wedding Venues
While hosting your wedding on our grounds, our team will make your luxurious wedding personal and unique while delivering a magnificent celebration that meets your style – whether we hold your celebration at a wedding hall, large wedding venue, or an outdoor wedding venue. At Pleasantdale Chateau, we will provide a full-service luxury wedding venue to make this day stand out from all the rest.
Our event specialists are with you throughout this whole process as they create a wedding reception that tailors and tends to your every need. Our experts provide invaluable assistance in making your lavish wedding unique and flawless. They are leaders and innovators in the industry when it comes to creating inspirational, dream weddings from beginning to end, making every detail unnoticeable. We ensure every detail is carefully sought out to be perfect. From getting ready with your bridesmaids in our private bridal salon to making a grand entrance as a married couple, to the magic of your first dance, to tossing your bouquet from our balcony, your entire wedding day experience will be fulfilling.
Our expert chefs are ready to serve you with our personalized menus, ready to accommodate your tastes and budget. We are sure to present you and your guests with remarkable, indulgent dishes as memorable as the wedding reception itself. Our Pleasantdale estate operates a fully functioning farm on the grounds, which provides our chefs with no shortages of fresh, vine-ripened ingredients. Our team is sure to create one of a kind culinary creations specially made for you from cocktail hour to dessert.
We are happy to deliver ultimate service acclimate to your budget, as we acknowledge that 24 hours may not be enough. We understand the importance of sharing your wedding experience with friends and family throughout the entirety of your special event. Our estate is uniquely and readily equipped to create an experience for every wedding couple and their guests that expands beyond a one-day wedding celebration at the Chateau. From hosting rehearsal dinners before the day of the wedding, and sumptuous brunches, lunches, and dinners the day after, we are always prepared to provide for our guests days on end.
From collaborating with our specialists to our exemplary dinner reception, and everything between, all aspects of your special day will culminate in a fairy-tale experience. Our five-star service and delectable cuisine are ideal for an important milestone. Our well-experienced planners ensure a successful, memorable wedding sure to exceed your expectations when it comes to your style and budget for this jubilant occasion.
Wedding Hall
If you are searching for a wedding hall large enough to seat all your guests, then Pleasantdale Chateau is the right event venue for you. Our opulent Grand Wedding Hall is more than able to offer an event space abundant to accommodate the number of expected guests to attend. Our wedding venue is one like no other as we provide an ambiance that could not be better suited for an occasion as special as this one. Pleasantdale Chateau's Grand Wedding Hall is extravagant as this room emits a great sense of unity in its design and aesthetics.
Weddings in our Grand Wedding Hall have a fascination all on its own. The reveal of the room as guests walk in creates a feeling of awe that is easily seen in their eyes as they look up to the ceiling to a view of the multitude of arched coves encircling the room, supported by ornate columns and intricate moldings. The design of the room subtly reinforces the symbolism of the wedding ring as the concept of the circle symbolizes unending love, unification, and commitment that will last a lifetime.
The Grand Wedding Hall at Pleasantdale Chateau is the only rotunda of its kind. This particular wedding hall is an architectural marvel constructed with an intricate pattern of concealed wood timbers to form its high vaulted ceiling and central glass dome. The refined decor and exquisite panels of woven fabric create a refined, romantic setting. For an even more perfect setting, when bathed in light, the wedding hall creates a marvelously warm environment.
With our wedding venue, you are getting more than a room. Our wedding hall is thoughtfully designed to represent the love, devotion, and commitment that come with a marriage ceremony. Our aesthetics is sure to complement and befit any other idea you have in mind for your wedding reception. Our distinctive details impart a sense of charm, as our goal is to arrange an atmosphere that is not only geared towards your style but also augments the symbolism of marriage itself.
Best Wedding Venue
At Pleasantdale Chateau, we are more than willing to host and provide for as one the the east coast's best high-end wedding venues. Pleasantdale Chateau's sophisticated atmosphere pairs flawlessly with nature's element of outdoor fields to form the perfect setting for your special day, no matter how grand the scale of the commemoration. Pleasantdale Chateau has been a venue of choice for celebrating the most important events. Our upscale venue's timeless architecture and elegant ornamentation – both inside and out – make for an intimate and romantic wedding venue for our soon-to-be betrothed couples. As one of the best wedding venues, we are here to make lasting memories.
Pleasantdale Chateau is an ideal event space for those in search of a private and intimate celebration with their loved ones. Situated on forty acres of gardens, woodlands, meadows, and ponds, this historic estate is a rare find that offers serenity and seclusion. Our location is perfect for those seeking a luxury wedding venue. Through our gatehouse entrance, you are immediately immersed in a secluded, private, and tranquil area. Here you are veiling away from everyday life by acres of land with centuries-old oak trees, stonewalls, and a dozen of majestic plantings. What you see from a distance is only the beginning of what Pleasantdale Chateau has to offer.
As private as our outdoor estate is, our interior venue is just as sequestering, which is perfect for a close and personal wedding venue. Our warm and welcoming entry hall vaunts intriguing details of 17th-century tile floor from Spain, elaborate limestone columns, and a luxuriant crystal chandelier. This is all just a first glimpse of our venue yet to reveal throughout the Chateau. Our warm greetings do not only come from our quaint aesthetics, but also our attentive staff. At Pleasantdale Chateau, best wedding receptions are our expertise. As you enter through the doors of our venue, we ensure to tend to you and your guests with the utmost personal care. It is our mission to ensure every guest receives our full attention.
The grand, but intimate wedding venue sets the stage for the most memorable and incomparable experience. The old world composition and exquisite interiors of Pleasantdale Chateau evoke a timeless sophistication that other wedding venues cannot reproduce. Pleasantdale Chateau is no stranger when it comes to outstanding service no matter the size of the audience. The best wedding venues are always crafted with the utmost personal care to ensure every little detail is taken care of all while delivering your ideal wedding celebration with those you are closest to. Unforgettable moments await at Pleasantdale Chateau.
Outdoor Wedding Venue
Not only are we popular for our impeccable indoor wedding venues, but we are just as well known for offering ideal outdoor wedding venues. We offer unrepeatable outdoor wedding ceremonies with our charming ambiance and incomparable scenery. Pleasantdale is one of New Jersey's most iconic outdoor venue locations because of its engaging setting and uniqueness in its scale and design. Our venue is unbeatable when it comes to our picturesque background. You are sure to have a wedding like no other with our outdoor venue.
An outdoor wedding at Pleasantdale Chateau is a special experience – one that no person can quite describe to its full extent nor find at any other wedding venue. Waiting at your footsteps is truly nature's best offerings. The grand experience of our estate bestows a beautiful meadow with formal gardens, manicured grounds, refreshing streams, expansive ponds, walking bridges, and charming gazebos. Not only that, but a grand French chateau stands in the background, which contains fine details of antiquity engravings. We guarantee that you will undoubtedly have a garden wedding like no other with our outdoor wedding venue – no matter the time or the hour of the day.
At our outdoor wedding venue, you will come to find that our superlative backdrops and breathtaking views offer once in a lifetime photo ops just waiting for someone to capture the moment. The way the light reflects off the water, the way the sun peeks through the trees, and the enchanting view is revealing as you walk down the aisle. Whether the sun is fully shining or eclipsed, you are sure to have the most ideal wedding imaginable. It is truly a blissful view to take in from any angle.
We commit to making your wedding truly unique and special with our paramount outdoor wedding venue. With our very own landscape filled with nature's finest fields of green and captivating views, we uphold a reputation with our guests of memorable and mesmerizing experiences at Pleasantdale Chateau. We host thousands of weddings at our establishment with our elegant and enticing beauty of an estate. With our enchanting outings filled with beautiful gardens, ponds, bridges, and gazebos, we guarantee a picturesque wedding experience to capture the beauty of your special day. Your most special day will be absolutely unforgettable at Pleasantdale Chateau.
Event Spaces At Pleasantdale Chateau
Pleasantdale Chateau offers you the most ideal event space and first-class amenities for making your day run as smooth as possible. From our perpetuate landscapes, to historic architecture, to personalized service, to expertly fashioned cuisines, and so much more, our estate delivers the finest in world-class wedding events. Our dedication to professional service and attention to detail is unparalleled in the industry. We remain committed to ensuring that your entire wedding experience is one that you'll remember and treasure for a lifetime.
Our consummate service and diligent attention to detail will help bring you to feel at ease and poised knowing our team will attend to every facet of your day with absolute perfection. From the decor to the delights of our culinary preparations, you will find our consistency of attention up to scale with white-glove hospitality. We pride ourselves on surpassing high standards and creating a truly distinctive experience that is befitting our reputation of a world-class elegant event destination. Tasteful, exquisite, and perfected from beginning to end, call Pleasantdale Chateau at (973) 731-5600 to graciously assist you in hosting your ideal luxury wedding.