2012 Wedding Trend: Top Choices in Wedding Rings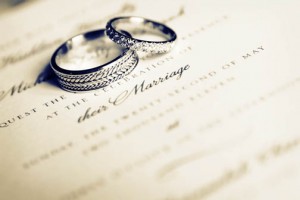 Your wedding ring will stay with you for the rest of your life, so it's important to give plenty of thought to matching your ring style to your personality. With so many gorgeous wedding ring designs out there, you'll need to explore a wide range of rings to find the one that suits your wish for a romantic ring, or a classic ring, a modern ring, or an artsy ring.
Here are the top trends in wedding rings to help you make your decision:
Choose a ring made of metals that have been ethically-sourced, not the metal equivalent of 'blood diamonds.' Many of the top jewelry companies, such as Tiffany and other luxury jewelers have signed onto a 'No Dirty Gold' campaign that advocates avoiding any jewelry mined in unsafe, inhumane locations and conditions. Ask your New Jersey jeweler about rings' classification, to help you avoid 'dirty gold' rings.
Look into lightweight metals, such as tungsten, which is a top wedding trend for couples on a budget.
Look at wedding rings with colorful gemstones, such as rubies, emeralds and the Kate Middleton-inspired sapphire previously worn by Princess Diana. These colorful stones in brights or blush colors, such as citrine and aquamarine, are now finding their way into wedding rings for the bride, perhaps to coordinate with colored stones in the engagement ring.
Consider chocolate diamonds, which come in a range of light brown to a richer brown, caramel shades and

goldens. These are a top wedding trend this year.

For the groom's wedding ring, classic is back, with smooth bands of white or yellow gold now being chosen, as is the groom's ring designed in hammered metal to give a touch of visual interest to the ring.
Heirloom wedding rings are now being worn by couples who either wish to save on their wedding budget or wear a ring that holds great sentimental value. These rings may be worn as-is, with just a fitting to help it fit perfectly, or they may be re-modeled, such as adding new wedding ring diamonds or gemstones, or switching out the ring setting.
Cultural design wedding bands such as the Claddagh ring are available in many modern designs, growing in popularity.
Wedding ring engraving is more popular than ever, with couples engraving surprise messages to each other, such as a single word that reminds each of the other, or a phrase, their names, or simply the wedding date and their initials.
 Since the ring does last forever, couples are choosing upscale designs from top ring designers, even creating their own wedding ring designs, and the bride and groom are choosing their own unique styles of rings, not trying to wear matching sets as often as we've seen in the past.
Photo credit: ©2012 Berit Bizjak, Images by Berit, Inc.