Dealing with Bad Weather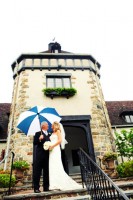 We've had our share of dramatic storms here in New Jersey, and especially when those storms create travel havoc and power outages, brides and grooms can go into a panic about their wedding day. So the best way to help keep Mother Nature from ruining your wedding is to choose a wedding venue that offers both outdoor gardens and celebration spaces and indoor reception ballrooms that can allow your experienced venue staff to move your outdoor ceremony into a gorgeous indoor space, and also provide you with a sensational cocktail party room to precede your reception. So no matter what the weather does on your wedding day, you know that all of your wedding settings will be stunning and perfectly arranged and decorated without your guests ever knowing there was a different Plan A before your wedding Plan B.
The top wedding venues prepare for all types of storms, from rain to snow to winds, and watch the weather reports as intently as you do so that the switch to Plan B can be enacted in plenty of time for swift arrangement of your celebration space.
Your part of dealing with bad weather is helping your guests with their travel plans to the best of your ability, such as calling the hotel where they'll be staying to ensure late check-in for every guest in your room block. That takes a bit of pressure off of them, and you can simply post to your Facebook page where your guests will see that you've arranged later check-in times, so that no one has to worry about losing their room reservations.
If you planned on outdoor wedding photos, many brides and grooms who wind up with a rainy day are opening up huge, colorful umbrellas –a big wedding trend –and still having their portraits taken outside in the wedding gardens,  with the umbrellas sharing the story of how their love conquered even an unseasonable rainshower, and of course, a larger collection of umbrellas can get your bridal party members and families in your outdoor wedding photos as well.
If the rain stopped in time for your outdoor wedding ceremony to continue as planned, you'll likely be happier wearing flats instead of heels, since a good rain can make the ground soft enough for your heels to sink into the moist ground, which can make your walk down the aisle awkward. If you're wearing pretty flats for your ceremony, you can change into your designer wedding shoes for the inside portion of your celebration. Some fun-loving brides slip into colorful gardening boots for their post-ceremony photos, as a way to share the story of their rainy day wedding not getting them down. And in a snowstorm, couples will also head outdoors into a winter wonderland for their wedding portraits, some even wearing colorful gloves and pretending to throw snowballs at each other. (Save the snowball fights and snow angel pictures for your Trash the Dress photo sessions, since you don't want to be wet and cold at the start of your celebration!)
Whatever the weather throws at you, you can turn into a fun part of your wedding day, leaving the logistics of your wedding setting and setup to your wedding venue staff and your wedding coordinator, so that you can just make the most of your wedding day from start to finish.