Top Trends in Quinceneras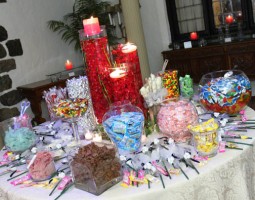 A quincenera is the biggest bash in a young girl's life and a rite of passage that calls for a spectacular celebration, often with hundreds of family and friends invited to share in the festivities, from the quincenera ceremony to the changing of shoes before the first dance. At the top banquet halls in New Jersey, quincenera celebrations are growing more elaborate, more stylish, and trendier as girls and their families key into the top quincenera trends for an unforgettable party. Here are the top 'quince' trends to consider for your upcoming celebration:
A banquet hall with different party spaces, so that you can theme your celebration rooms, such as an all-red décor dinner space and an all-leopard print candy bar room.
Popcorn buffets have been named one of the new top trends for teen parties, with long, bountiful tables designed in vibrant colors, animal print or other designs offering flavored popcorns such as cheddar chipotle, caramel pecan, chocolate chunk, and other flavors. Guests scoop their choices into oversized cones or baggies and enjoy their popcorn treats during the celebration, or take their popcorn home as a favor. Add popcorn balls to the mix, again in gourmet flavors, and create signs announcing each popcorn type's flavor.
Candy buffets are still a top trend in quinceneras, with professional candy bar companies personalizing the sweets buffet with the girl's top choices of candies, including oversized lollipops, dipped marshmallows, retro candies, and other candy choices. The candy buffet can be a vibrant, brightly-colored collection in all one shade like bright pink or bright green, a mix of blue and purple, or yellow and red, or it can be all white with silver accents, as some of the top candy bar trends show now. The candy buffet is given a cute themed name, and signs are often posted at the party venue directing guests to the candy bar area.
Ice cream sandwich buffets are also hot, with guests choosing from a large collection of cookies, such as chocolate chip, oatmeal and other flavors, then choosing their ice cream flavors for inside the sandwich, then choosing the mini candies to roll or press into the outside of the sandwich. The result is a personalized, portable version of an ice cream bar, and guests enjoy customizing their ice cream sandwich.
Chef-prepared food at stations. From empanadas to tacos, an interactive station with a chef freshly-preparing menu items is a top trend.
Vintage style, with lots of lace. Quincenera color schemes aren't always vibrant colors. A new trend for parties is romantic lace and British royalty-inspired parties.
Gray shades. Cool slate grays are on trend as well, creating an urban-chic, sophisticated color palette for quinceneras, say party-planners. Accenting gray linens are silver metallic centerpiece vases, and the guest of honor might even wear a silver or gray dress to match her party venue.
Surprise dances, choreographed by the teen or by a professional choreographer allow the guest of honor and her friends to put on a performance, and now – inspired by YouTube viral videos, teens are planning more than one surprise dance. She and her siblings might take over the dance floor, and even parents are getting involved in the fun.
Costume changes. The quincenera girl of honor will of course put a lot of thought into the design of her primary gown, but she might also change into a second-look dress for the later stage of her party, or into a theme dress for her spotlight dance.
Quincenera party themes include Old Hollywood, Paris, winter wonderland, butterflies, favorite movies, or simply colors and patterns like the trend for pink and black leopard print that's popular now. Again, different rooms can have different themes, and your wedding venue's design or outdoor spaces might inspire a themed area as well, such as an outdoor garden being a fairy princess party space.
Photo booths are still going strong, with lots of fun props for guests to use in their group shots.
And party menus and drink menus include signature items named after the guest of honor, or named to work with the party's theme.