How To Plan A Bachelor Party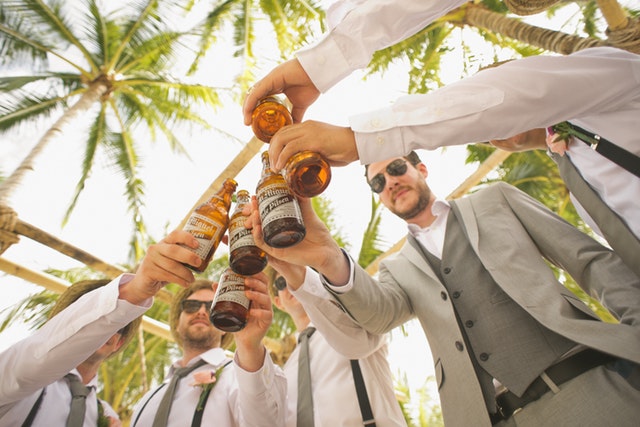 Just as every bride looks forward to her pre-wedding festivities, every groom-to-be looks forward to his bachelor party. It's the last hoorah for him and his closest buddies to come together for one usually epic celebration. Whether he wants to relax poolside with a cigar or have a boy's weekend in a big city, The Manor has expert tips to throw your guest of honor a bachelor party he will never forget from planning a trip to outlandish customs.

Who to Invite?
As the groom approaches one of the biggest and most important days of his life, it is the best man's responsibility to determine the most important guy friends in the groom's life. This includes taking into account the grooms closest childhood friends, college friends, brother-in-laws, cousins, and colleagues. Furthermore, make sure invitees are over the age of 21 because typically bachelor parties can involve alcohol, smoking or rowdy activities.
Bachelor parties typically include only the groom's closest male friends, so try to aim for inviting about ten people. Keep in mind; whisking the groom away for a destination party location may not be in everyone's budget; between airfare and hotel, it can get expensive. Thus, gauge your invitees and know that a few men may decline to participate in the party festivities.
Picking The Right Location
To ensure that the groom would be onboard with the night or weekend festivities, typically the best man determines what events would be appropriate based on the groom's personality and interests. You can also run ideas past his fiancé and close family.
Common local and low-key bachelor party ideas include an opulent steak dinner at the groom's favorite restaurant or high-end restaurant, this option is ideal for a more laid back atmosphere and conversation. If the groom enjoys sports, an afternoon at the golf course smoking cigars and putting out on the green with your best friends is a great way to spend your bachelor party. You could also gather a larger group to watch his favorite sports team play. You can tailgate and purchase deluxe-boxed seats to a home game or travel to an away game making a "guys weekend" out of it.
For a groom that wants to turn it up and party big perhaps traveling to popular destinations such as Las Vegas, Miami, Austin, Chicago or Mexico is more up his alley. Instead of staying in a hotel, why not rent a house for a weekend? You can also rent a yacht to cruise around or go fishing.
Bachelor Party Etiquette
To ensure the bachelor party does not get expensive, once you confirm invitees, it is important to discuss a budget before booking anything. Typically all participants chip in to help pay for meals, alcohol, lodging, and car service. You can split costs accordingly. Do your best to make sure the groom does not open his wallet.
It is also customary to not take pictures at a bachelor party. The night should be fun and stress-free. No need to take pictures that may cause humiliation to the groom or any of the groomsmen for fear of catching a not pretty moment on camera only to surface later. Be courteous and leave the cameras at home and enjoy the comradery among men.
Bachelor Party Gifts From The Fiancé
During many bachelor parties, it is customary for the fiancé to surprise the groom and his groomsmen with bachelor party gifts. Typically these gifts consist of a fancy bottle of liquor or nice cigars to be present in the hotel room upon arrival. For a more creative gift, brides-to-be often craft a beer cake, building 3 tiers with beer and tying together with a ribbon. Alternatively, to help a hangover, brides-to-be can crafter hangover kits, which include: Gatorade, Tylenol, mouthwash and eye drops. Furthermore, the groom and his men can sport custom attire with hats or a groom appropriate shirt, "Buy me a brew before I say I do" tee. Any of these gifts are a kind gesture that all will enjoy and a way for the bride-to-be to encourage a good time.
Celebrating the Groom
Successfully planning a bachelor party is knowing how to get the groom to relax, let loose, and ultimately honor him on his final days of being a free man. By selecting the right company to foster a good time, booking an appropriate setting, and adhering to bachelor party etiquette, you will be best suited to plan one memorable bachelor party. For more ideas planning all pre wedding events, contact The Manor today.