The Best Wedding Suits & Styles for Men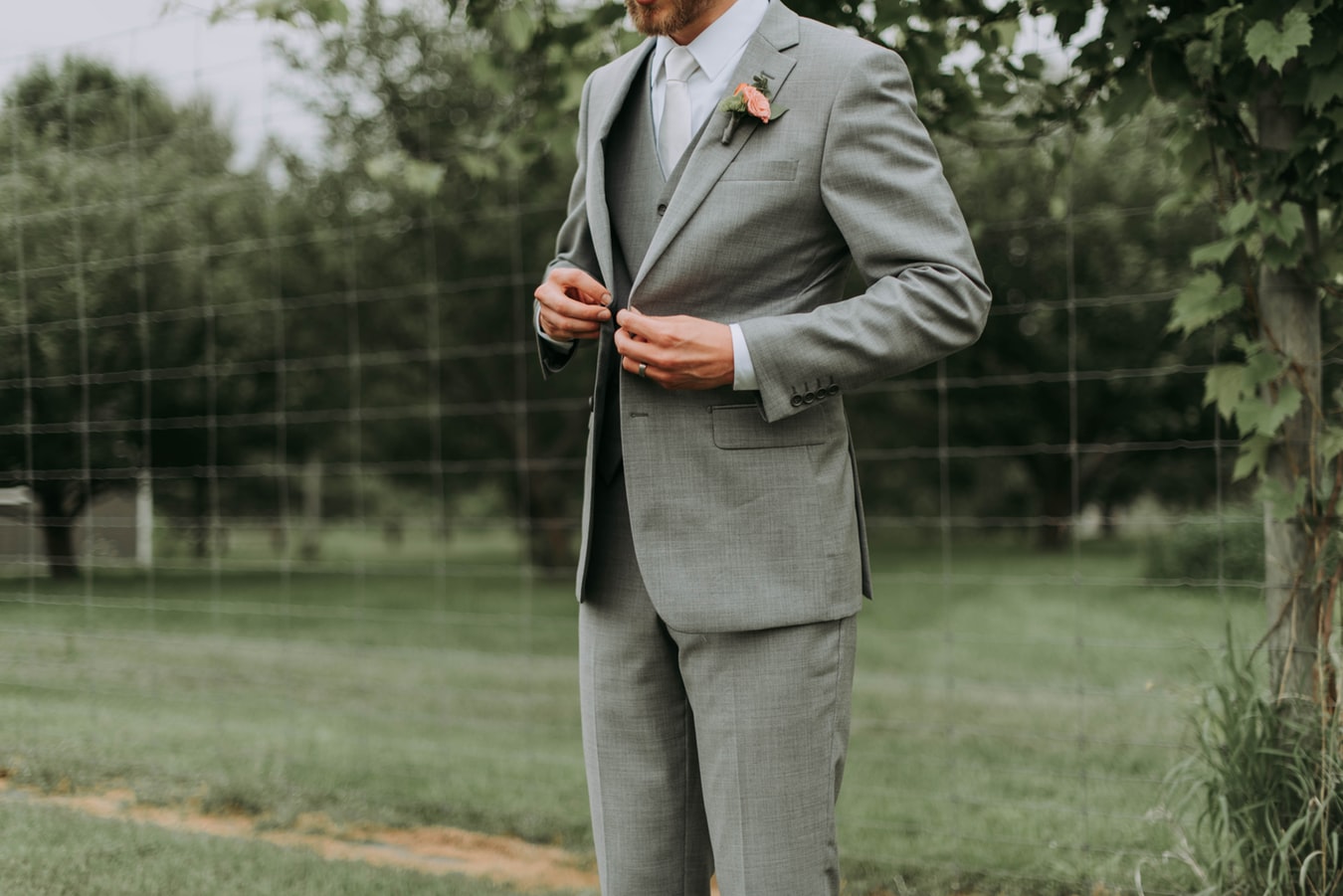 With all the excitement built up around the bride for her wedding, we tend to forget about an important part of the wedding – the groom. Brides and bridesmaids usually take total control over their weddings, making it more about the women in the room on this special day. We often forget it's the groom's special day too, so we want to help those lucky men have a say in their wedding. If you're a groomsman or a male friend of the bride, we want to give you our advice on the best wedding suits and styles for men. Here is our ultimate guide to buying a wedding suit.
Choosing The Right Fabric
Silks, satins, velvets, linens, are probably words that mean little to you as a groom looking to purchase a suit for your wedding. However, understanding these materials is crucial for choosing the right style of suit for that special occasion, while staying comfortable and sophisticated. Impress your wife by educating yourself about the different options you have. Before we dive deep into some of our favorite suit styles, always keep your color scheme in mind. Consult your wedding planner and future wife before selecting a specific color.
Black & White
The first and most classic style of wedding suit is the black-tie/bow tie option. We love this style because it's the most traditional and it looks good on everyone. This timeless look consists of a black tuxedo or suit, black tie or bow tie, white button-down, white pocket square, oxford shoes, and a boutonnière. This option is perfect for the most formal type of wedding, most typically held in a gallery or ballroom.
Bow Tie + Suspenders
For the more casual, relaxed, and fun groom, the bow tie and suspenders combination is a winner. Some men don't like suspenders, but others love them. They are a twist on a traditional style of wedding look, taking inspiration from the 1950s. As long as you're willing to keep a belt out of the picture, suspenders are a classic accessory that spices up your white button-down shirt and slacks. This dynamic duo also doesn't require a sport coat or blazer making it perfect for spring and summer weddings.
No Tie
If you're planning a beach or destination wedding, the no-tie look is definitely one of your best options. This sexy and simple look only requires a suit and a dress shirt. Since you're in warmer weather, you should look for lighter fabrics such as linen or cotton-silk. This is also perfect for grooms who don't want to be uncomfortable due to their tie or bowtie. Although less formal, the no-tie outfit is the perfect look for a groom, especially when you pair it with the right boutonnière.
The Three-Piece Suit
For a groom who wants a bit more versatility, the three-piece suit is the right choice for you. Best for a fall or winter wedding, the three-piece suit is pretty self-explanatory. It consists of three pieces that are all the same material: the jacket, the vest, and the pants. This style of suit comes in many colors, making it easy to tailor it to your wedding season and color scheme. It is available in many fabrics such as flannel or tweed for a fall wedding or linen for a summer wedding.
Suit & Tie
Last but not least is the most common type of wedding suit – the suit and tie. This option comes in many colors, patterns, and fabrics, allowing the groom to let his personality shine by mixing a fun tie with a sleek jacket. Keep it simple by only wearing the pants, jacket, white button-down, and tie or spice it up with a lapel pin, tie clip, and fun socks. Just make sure you don't go too overboard with all the options.
Be The Best Groom With The Manor
It doesn't matter what style of suit you choose to rock at your wedding, it's going to be a special day for you. Although the bride might steal the show with her once-in-a-lifetime dress, we want the groom to look and feel his best. For more ideas and styles on the best wedding suits for men, or help with your caterers, venue, décor and more, turn to The Manor.  With experts on all things wedding, The Manor will help you throw the perfect wedding that you'll never forget.  Call today at 973-325-2060 and let's talk weddings!