How To Plan A Halloween Themed Wedding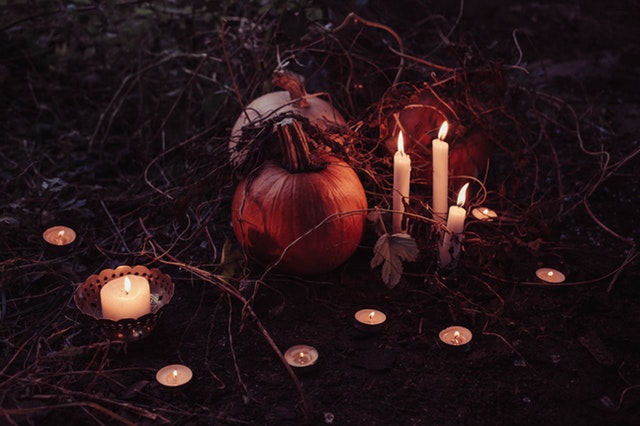 Theme weddings are gaining popularity especially weddings happening on or around All Hollow's Eve. Perhaps you and your spouse met on Halloween, or share a unique love for the spooky holiday, rest assure a Halloween themed wedding can be tastefully planned to ensure it is eerie and elegant as opposed to gruesome and ghostly. The wedding planners at The Manor share how you can incorporate Halloween festivities and décor to create one Spook-tacular wedding.
Mysterious Halloween Invitations
Crafting unique wedding invitations that fit your Halloween theme is a must. You can get clever with invitations in the design of tarot cards to show some Halloween magic. Conversely, invitations using a black paper layer of a spider web, tombstone or creepy cemetery gate encourage guests to lift and take a peak to find the details of your wedding. Furthermore, create a vintage scroll for guests to untie and open announcing your wedding.
Frightful and Festive Food
The menu items for your Halloween themed wedding can both reflect an eerie theme and be tasty. For entrees, serve typical food dishes with a Halloween twist such as eyeball tacos featuring two dollops of sour cream and black olives, or serve spooky spider deviled eggs. For Hors Devours, wrap mini hot dogs in thin strips of a crescent roll to resemble a mummy. Incorporate the fall festive foods with roasted pumpkin slices coated with cinnamon, balsamic vinaigrette, or garlic. In addition, butternut squash and cauliflower soup typically creates a spider web shape and has a sweet taste. You can also highlight your Halloween theme in beverages such as serving punch in a cauldron witch's brew or adding a dash of Grenadine to cocktails. For a memorable guest favor, gift trick or treat bags of candy as your wedding favors or a candied apple.
Wicked Wardrobe For Your Bridal Party
It is important that the attire of the bride, groom, and wedding party fits the Halloween theme but also meets the elegance of a wedding. Keep the dress whimsical and spooky by adding touches of color and antique embellishments. For the bride's makeup, use a smoky color for eye shadow and a deep plum lip color. Bridesmaid's dresses look ravishing in shades of gray or all black. In addition, bridesmaids can wear dark-hued sashes clinched at the waist with an embellished brooch to look scary and beautiful. Ring bearers and flower girls can wear hints or Halloween with orange sashes and bow ties. Likewise, groomsmen can wear orange ties or bowties with skulls. In addition, the groom may wear a top hat.
A Coiling Ceremony
From a ring bearer carrying the rings in a miniature coffin to lit pumpkins lining the aisle to your wedding march played in a minor key by an organist, there is much you can conjure up for a memorable wedding ceremony. Recreate an Oak Lane cemetery archway when exchanging vows. Also, candles are central to Halloween, so be sure to spread them throughout your wedding ceremony, such as the vow exchange. Consider floral bouquets of deep red calla lilies with black feathers or red roses wrapped in black silk.
A Haunting Reception
Create an enchanted atmosphere by hanging antique chandeliers over the dance floor and drape with fake cobwebs. Cover tables in spider web tablecloths in dark purple or gray hues to add a fun and touch to the reception space. For a more elegant approach, use white pumpkins, gold skulls, and black sequins to dress tables. Candelabras are essential for a Halloween themed wedding, especially in the color black.  Furthermore, dim lighting for the entire evening with lite candles adds a subtle spooky mood.
Also, adding slithering smoke to the dance floor enhances an air of ghostly happenings.
The DJ can play classic Halloween music such as "Monster Mash," "This is Halloween," and "Season of the Witch" just to name a few. Furthermore, light the area around the DJ or musicians with Pagan candles to get in the Halloween spirit.
Have a Halloween-themed photo booth with a classic Halloween-themed movie scene as the backdrop. You can also have Halloween props for guests to play with like a witch's hat, broomstick, mummy costume, or zombie mask.
Till Death Do You Part
A wedding is a milestone event. But adding a Halloween theme to your wedding can make it extravagant from the floral arrangements to the menu and wedding venue. The wedding planners at The Manor can help plan all the fine Halloween details of your special day to ensure your wedding displays undying love and devotion.