How To Create A Thanksgiving Themed Menu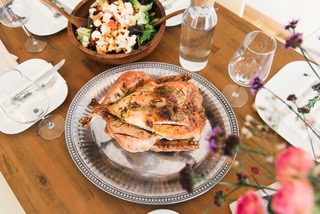 November parties offer cooler weather, autumn foliage, spiced scents and a transition into the holiday season. Not only is November a sought after time to spend quality togetherness with loved ones, you can also incorporate elements of the Thanksgiving holiday— before the holiday! Whether you are celebrating a sweet sixteen or a corporate event, the party planners at The Manor suggest how to create a savory Thanksgiving-themed menu that will please all your guests.

Appealing Thanksgiving-Themed Appetizers
Thanksgiving-themed appetizers are a scrumptious idea to offer at your cocktail hour. As a fabulous host, you can offer cold appetizers such as heirloom tomato platters, featuring bright red, juicy yellow and vibrant green tomatoes. This colors platter adds to the fall theme, taste fresh, and are healthy and light. You can top with fresh mozzarella or burrata for a delicious appetizer. Similarly, serve cold, classic deviled eggs topped with a sweet-tangy relish.
For a sweet take on potatoes, sweet potato rounds are easy-to-serve and are definitely Thanksgiving themed. You can cut the sweet potatoes into bite-sized rounds then let marinate in brown sugar and syrup. You then have the option to grill or roast the potatoes. Top the rounds with spiced nuts. A unique take on a Thanksgiving dish is to serve bacon wrapped stuffing bites. Another sweet treat is to include Thanksgiving Chex mix including kettle corn, pretzels, cranberries or candy corn, and Bugles to make the mix. Your guests will love having a sweet and salty snack combination.
The Best Thanksgiving Themed Cocktails
With the autumn season brings fun favorite spices that you can shake up into the perfect cocktail. What's better than a new take on classic favorites for your wedding guests to sip and enjoy? Better than eating a candy apple, try serving up sweet apple pie on the rocks or caramel apple moonshine. For an extra sweet adult beverage, you can delight guests with a pecan pie martini. Too sweet? Change it up and offer guests a tart twist with a cranberry Moscow mule. You can also spruce up your champagne toast with a splash of apple cider and cinnamon. These fun and colorful drinks will add to your Thanksgiving-themed menu.
For non-alcoholic beverages that pair well with dessert offer cinnamon or hot-spiced apple cider, pumpkin spice hot chocolate, salted caramel eggnog, and hazelnut or pumpkin-flavored coffees.
An Extraordinary Main Course
A Thanksgiving-themed menu is not complete without staple favorites. A tasty soup starter will definitely help to bring out the Thanksgiving feel by offering creamy butternut squash.
Feature your main course in a whole new way with a Turkey at a carving station complete with other meats such as chicken, ham, or beef and don't forget the gravy bar; so that guests can choose their appropriate topping. Similarly, featuring a potato bar is a creative way to allow your guests to really enjoy their dining experience. Have guests select from roasted, sweet potatoes, cheesy potatoes, classic mashed potatoes, sour cream mashed potatoes, or maple brown sugar mashed sweet potatoes or baked potatoes— with all the fixings.
Serving seasonal mixed vegetables such as honey roasted carrots, broccoli, roasted asparagus, and Brussels sprouts complete the main course. You can include roasted green beans with Parmesan and basil or spinach casserole as side dishes. You can also top these dishes with pumpkin seeds and cranberries for extra flavor.
Featuring Classic Thanksgiving-Themed Desserts
It would not feel like Thanksgiving without pie, or better yet, a pie bar. Be sure to include slices of all the classics such as pumpkin pie, apple pie, pecan pie, and coconut cream pie. Furthermore, you can highlight the pumpkin flavor by serving pumpkin cheesecake balls, pumpkin magic bars, and pumpkin praline bread pudding. For a twist on traditional parfaits whip up salted caramel apple parfaits for single serving delights.
Creating Your Thanksgiving-Themed Menu
Choosing the right Thanksgiving-themed food for any party or wedding menu will add a special touch of thought. Thanksgiving themed food and drink will give your family, friends something to remember and savor. As New Jersey's leading venue featuring exquisite culinary chefs and dining rooms, contact the wedding planners at The Manor to plan your upcoming party.