How to Plan your Wedding Favors on a Budget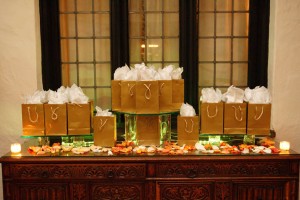 Giving great wedding favors is a big wedding trend in 2015, as more wedding couples love the look of pretty little gifts offered as treats to their wedding guests, and as in-the-moment gratitude gifts for attending their big day. We're a global society, with more wedding guests traveling from afar to attend a wedding in northern NJ, so there's a 'thank you for traveling all this way to be with us' element of wedding favors now.
Plus, the wedding favors shown on Pinterest and on top wedding blogs are just so lovely! Wedding couples are putting more thought into what their wedding favors will be, and while favors are one of the lowest wedding costs, you'll still want to make the most of your wedding budget by choosing stylish and trendy wedding favors that look more expensive than they are:
Offer edible wedding favors. You might bake cookies or brownies on your own, spending just a few dollars for ingredients, or you might buy a box of brand-name cookies like Entenmann's or Little Debbie – using a coupon to make it even less expensive – and wrap cookies to present as favors. Wedding guests love getting a snack to enjoy on the way home, and edible favors can be chosen to work with your wedding's theme or season, such as maple-flavored brownies for a fall wedding in NJ.
Ask your wedding venue if some of your wedding dessert items, like zeppole that are so popular at NJ weddings, trendy wedding macarons, cookies and other treats can be packaged up and set out as wedding favors by the wedding venue's exit.
Offer mini potted flowers. Local NJ garden centers offer tiny potted flowers for just a few dollars apiece, and these delicate blooms are pleasing wedding favors.
Offer flower seed packets. Again, your local NJ garden center displays racks of small flower seed packets that can tie into your garden wedding theme, or work just as well as bridal shower gifts. Use that wedding trend of variety to give guests their choice of several different kinds of flower seed packets, and affix a personalized DIY label to the packets without covering planting instructions on the back.
Offer scoops and take-home baggies or containers at your wedding venue candy bar. A colorful candy bar is a top trend in wedding dessert hours, and when you add craft store-bought scoops and baggies, cones or containers, guests can select their own take-home favors from the bar you've already paid for.
Shop locally at NJ stores. When you buy wedding favors at nearby stores and small businesses, you support the local economy and avoid paying shipping fees for your wedding favors.
Use coupons and coupon apps at your craft store, to get a percentage off your purchase, making some of your wedding favor wrapping supplies free.
Use credit card reward points to get gift cards to the store where you'd like to buy your wedding favors. The points you've accrued in your other wedding purchased might add up to a $25 or more gift card to a craft store or other shop, and you'll then use this gift card to get your wedding favors for free. Just look into this far in advance, since it can take weeks for your Reward Points gift card to arrive in the mail in time for your use.
Buy candies in bulk at your nearby party supply store, and divide your supply into wedding favor bags or mini boxes, for budget savings.
Shop holiday sales for wedding favors that are non-perishable. For instance, Black Friday sales can let you buy non-edible favors for a very low cost. You then just store them away until your wedding day. You might save 50 percent or more on your wedding favors, and cross this task off your wedding to-do list sooner.
Skip the custom-ordered personalized ribbon imprinted with your names and wedding date. It's not a necessity.
Think twice about printing out very colorful favor labels. Printer ink can be very pricy, eliminating any savings you wish to get from a wedding DIY project.
Make a donation to your favorite cause, and print up a sign to display at your wedding venue, letting guests know that you've made a donation in their honor. It's now a big trend to add to this a basket of candies, so that guests get a little something to take home with them.