How to Plan Your Wedding Day Transportation on a Budget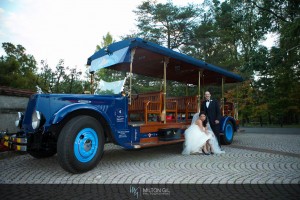 Gliding up to your wedding venue in a spectacular stretch limousine, and getting those Just Married kiss shots in the back of a Rolls Royce can be part of your wedding dream, and you can arrange wedding day transportation on a budget to make that dream come true:
If you'll have your wedding ceremony and wedding reception take place at the same wedding venue, a top wedding site in NJ that offers both beautiful wedding gardens and an elegant wedding ballroom, you won't need to hire a limo or classic car to transport you between two locations on your wedding day. You might, then, just hire a car to whisk you both away from your reception at the end of the night, cutting your wedding transportation costs lower.
Compare wedding transportation packages carefully to be sure you understand all hourly and overtime fees, plus extra expenses like tolls and tips included in their contracts.
Plan your wedding day transportation carefully to determine how much time you'll need, such as just a ride from your wedding reception venue to your home. If you book your car for too few hours, pricy overtime fees will cost a lot.
Just hire a luxury car for the two of you, skipping limos for your bridal party. A big trend in weddings now is for the wedding party to travel together in someone's decorated SUV, which makes for fun photos and keeps your costs lower. The same goes for parents' rides; they are more often travelling on their own, and we do see that the mother of the bride is joining the bride and her father in the limo ride to the ceremony, and the two of them hop on the hotel's shuttle bus or ride with relatives or friends to the reception.
Ask your wedding transportation company for the price lists of each of the types of cars in their fleet. In many cases, a regular limousine costs less than a stretch limousine, and provides the same VIP feel on your wedding day.
Ask your wedding transportation company if a black limousine costs less to rent than a white limousine. This may be the case, and an added perk to hiring a black limousine is that your wedding dress looks beautiful in contrast to the black car when you're stepping out of it at your wedding venue. And with top wedding dress trends including off-white dresses, you will also look better in front of a black car if you're wearing an ivory wedding dress.
Ask your hotel for free use of their shuttle bus to transport wedding guests. Most of the top NJ hotels will gladly offer use of their shuttle bus for wedding couples when they book wedding room blocks at that hotel.
If you'll hire a wedding party bus, ask about off-season discounts and other special rates to cut down on the cost.
Know your transportation company's tipping policy. If you've already paid a gratuity as part of your package, it would be a wedding budget mistake to tip your driver again (although many of our NJ wedding couples say they like to tip a great driver more, on top of already-paid gratuity, when the driver is wonderful to them.)
Keep an eye on the clock, and have a responsible friend notify you when it's time to leave your wedding reception. You don't want to miss your departure time and, again, wind up paying overtime (unless you're having such a terrific time at your wedding that it's not a problem at all to pay the overtime fee!)