Including Tweens In Your Wedding Party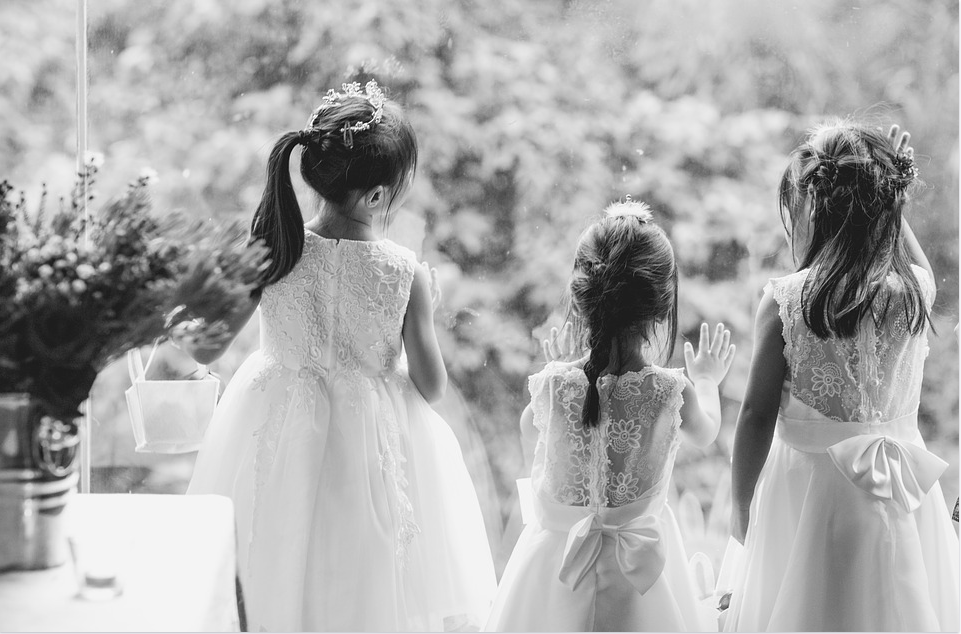 Having young teenagers (or tweens) in your wedding is very exciting for the junior members, but can become challenging for brides and grooms alike. It can be particularly difficult to exclude eleven through sixteen-year-old if they are close family members or the child of an important friend. Certain couples may feel tweens may lack the maturity necessary to fulfill the role of the bridal party, but that children are too old to be a traditional ring bearer or flower girl.
Wedding planners at The Manor can include youngsters into your wedding to make for the most memorable, enthusiastic and energized attendees. By entrusting preteens with unique roles, couples give them a chance to help you shine in the center spotlight.

Having A Junior Bridesmaid In Your Bridal Party
Giving that tween girl the honorary title of Junior Bridesmaid can do wonders for her confidence. She will have more responsibilities than a flower girl, but still have older women to espouse and adore during the wedding. To give your Junior Bridesmaid that feeling of inclusion, give her the same dress as the bridesmaids, with age-appropriate customizations. For example, tailor certain necklines for your junior bridesmaid or give her lower heeled shoes.
Include your junior bridesmaid in as many wedding activities as possible. Bring her along with the other bridesmaids on wedding gown shopping day. Invite her to the bridal shower, assuming it's for all ages. Since she's probably not invited to the bachelorette party, maybe see a movie or get lunch with her alone, to make her feel treasured and special. On your wedding day, invite her to dress with the other bridesmaids before the ceremony. Have one of your trusted bridesmaids help with her makeup. When introducing the wedding party at your reception, give her a special entrance along with the other bridesmaids.
Creating The Role of An Usher
Tween boys often don't want "the kid roles" like a ring bearer. By making a tween an usher, you can give him responsibilities without overwhelming him. An usher can wear a suit or tuxedo like the rest of the other men in the wedding party, or you can take advantage of the wedding's design and give him an outfit that matches your wedding colors. Since his job will be seating guests at the wedding, he should stand out from the crowd. Give him specific jobs throughout the event. For example, he can hand out wedding programs or songbooks, escort guests into the wedding space, or hand out wedding favors as they leave.
Tween Girls and Boys: General Wedding Attendant
If you've invited tweens that are old enough to drive, they can help with the logistical side of your wedding day. They can pick up flowers or favors or deliver the catering for your reception. Having younger tweens? They can provide kitchen silverware for cutting the cake, keep track of the guestbook, or help retrieve items around the venue. Any role you assign will be of importance.
Do you have a lot of young children attending your wedding? Hiring a babysitter can help keep the other kids calm and out of trouble. Try to reserve a table at your reception for this group and a row of seats for them during the ceremony. Your tween will have fun helping the children and enjoy the wedding as well. Be sure to give your tweens a special shout-out during the reception. Invite them to any pre-wedding activities if they are appropriate, and make them feel as special as possible.
Assigning Tweens A Vocal Role In Your Wedding
Giving a tween a speaking role in your wedding can make the event extra memorable. Make sure your tweens are enthusiastic about being in front of an audience. At that age, you do not want to put pressure on them that they cannot handle. Make sure they feel comfortable in the wedding space and with a microphone. Be gentle, but do not be afraid to give feedback, since this is your special day after all.
During the ceremony, particularly confident tweens can read scripture or poems. They can let guests know when to take their seats at the start of the ceremony. If they have musical talent, they can play or sing a song as well. Vocal roles can teach tweens about responsibility, the importance of practice and give them confidence for the future.
Planning Your Wedding Party
Including tweens in your wedding can make the day particularly memorable, especially when they are grown and look back at photos. Also, a hand in your big day helps to make a tween feel important and adds that layer of lightheartedness to the stress of the day. Located in Northern New Jersey, The Manor is home to over 10,000 traditional weddings. Our wedding planners can help place your tween in the perfect role. Start your wedding planning today by contacting NJ's top wedding venue today.