How To Plan A Winter Wedding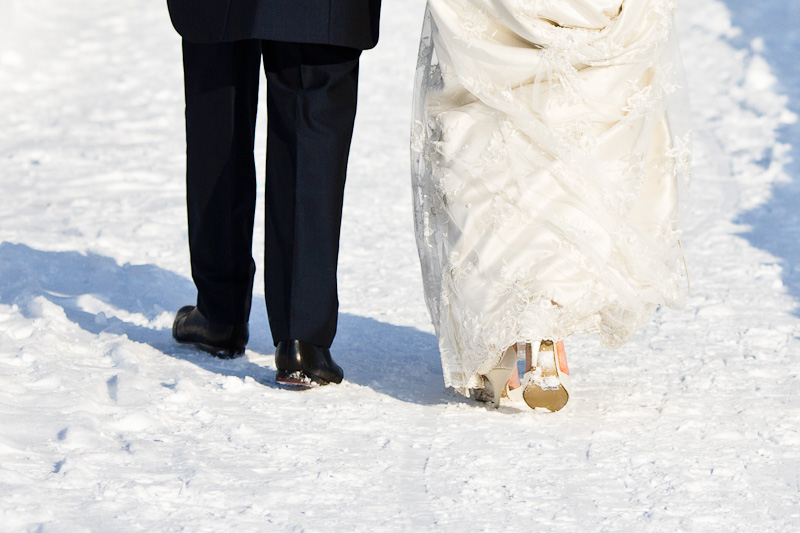 Temperatures are dropping, snow is falling, and your wedding day is steadily approaching. The magic, beauty, and stillness of the season make winter an ideal time to marry. With a backdrop of glistening icicles, a snow-kissed bride, and the warm glow of your devoted lover to keep you warm, the wedding planners at The Manor can help create a romantic and sentimental winter wedding. Couples, use this guide to bring your dream winter wedding to life.

The Classic Winter Color Palette
If you've always dreamed of a wedding featuring snowflakes, frosted branches, and soft lighting, embrace the nature of the season by tying it into a unique color scheme. When you hear "winter wedding" most people associate colors such as deep reds and burgundy, black and white, or silver and gold. However, there are plenty of other beautiful accent colors that will look beautiful alongside your wedding décor. From the guest invitations, centerpieces on tabletops, place cards, and even your bridesmaid's dresses consider the following winter wedding color combinations, which can best create eye-pleasing contrast and elegance when paired together:
Bright colors: Classic purple, pale lilac, teal, and bright royal
Colorful hues: Light violet, baby blue, hot pink, and white shores
Metallic tones: Dark eggplant, silver, rose gold, and raspberry
Muted hues: Dark ivy, pewter, winter berries, and champagne
Monochrome colors: Deep purple, cherry, meadow flower, and pale lilac
Winter Dresses and Accessories
Despite the chilling temperatures, having a winter wedding shouldn't leave style out in the cold. When dressing for a winter wedding, gown options include strapless, capped sleeve, three-quarter sleeves or long sleeve bridesmaid dresses will look stunning no matter what sleeve length your choose: even better, it's also an easy way to winterize your dress. The dress fabric is also an important factor to consider. Choosing silk dresses can help to hold in heat and ball gowns can offer extra layers for warmth. Regarding bridesmaid dresses, traditional color options for winter weddings call for deep hues, jewel tones, and pastels such as soft pinks and blues.
A winter wedding is a perfect time to accessorize for photo shoots that will keep you warm and your bridesmaids looking extra classy. Perhaps the best accessory for a winter wedding is an elegant high-quality shawl or luxurious fur scarf to drape over during outdoor photo sessions amidst glistening snow. Furthermore, this chic and timeless accessory also makes a memorable bridal party gift.
Weatherproofing Your Big Day
What will you do if there's a blizzard on your wedding day preventing travel? Couples need to consider the worst-case scenario; the best way to prevent wedding disaster is to ask the "what if" questions while searching for your vendors. Make sure to ask your venue, photographer, videographer, and DJ about complications brought on by inclement weather. Will your vendors allow you to reschedule for another date at no additional cost? Will they be available on your new wedding date? If not, will they reimburse?
If you must reschedule your wedding, you may find it challenging to coordinate your existing vendors for a different date. It may be a wise idea for couples to consider getting wedding insurance. Most policies will protect you against losing your deposit from a weather-related cancellation; thus, you can book an available vendor for your new wedding date without having to pay extra.
Regarding your RSVPs, couples should prepare themselves for a smaller turnout. More specifically, elderly and out-of-town guests may decline a winter wedding invitation due to concerns over icy conditions hindering transportation.
Wedding Planning Around The Holidays
While planning a winter wedding can be exciting, if you are setting your date in December it is important to be mindful of holidays such as Hanukkah, Christmas, and New Year's Eve because your guests may have other plans. If you decide to hold your wedding over a holiday weekend, be sure to send your invitations out in advance.
The wedding planning also extends after your wedding celebration. Are you planning an international honeymoon? If so, watch out for skyrocketing prices near the holidays. Couples may save money by waiting for a less busy time or have a domestic honeymoon destination within driving distance. Furthermore, the demand for vendors such as florists can be extremely high for flowers near Valentine's Day.
Start Planning Your Winter Wedding
These ideas will surely warm up your big day. Our wedding planners look forward to making sure your winter wedding is as romantic and elegant as you have imagined it to be. For more wedding planning tips and trends, contact a top New Jersey wedding venue near you today.