New Trends in Wedding Invitations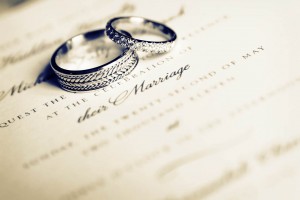 The arrival of your wedding invitation shares much more than just the date, time and location of your wedding. When guests see the lovely rustic elegant design of your invitation, or the Old Hollywood flair of your chosen design, they get even more excited about attending your wedding and sharing in your big day. The design of your wedding invitation, from the colors to the shine to textural elements like lace, makes the first big impression of your wedding, and today's top wedding invitation designers have established fabulous new wedding invitation trends for 2014-2016:
Lace, damask and pearls. Conveying a sense of romance, lace, damask and pearls combine in new, modern ways that aren't overly feminine, yet still capture a soft effect, made timeless by the inclusion of intricate lace patterns and precious pearls. Actual lace may be used on the wedding invitation cover, or as a fabric 'wrap' to the invitation, or the wedding invitation card may be imprinted with a lace design overall or on a portion of the card (such as the bottom third or the corners.) Pearls, too, may be tactile or a printed pattern on the card, made to look 3D.
Florals. Flowers were a top wedding invitation design in early 2014, and they continue to add beauty and elegance to invitations, in full, bloomed styles and as tiny floral accents. Floral motifs can range from elegant to rustic to one of the top trends in wedding design: shabby chic.
Vintage: Evoking a 1920s-1930s Great Gatsby feel in a wedding invitation, this trend includes ivory-hued cards, pink or peach rosebuds or bloomed rosebuds, rounded-edge cards, and distinctively old-time fonts.
Old Hollywood: Particularly popular right now as a top wedding theme is the Old Hollywood feel, with rich reds and silky textures, ornate designs and gilded accents, calling to mind the glory days of glamour and the luxurious lifestyles of Golden Age screen goddesses. Old Hollywood wedding invitations are sophisticated and stylish, luxurious, and timeless.
Classic Elegance: Think damask patterns in black-and-white, or in black-and-ivory, in many color pairings. Monograms, filigree and lace also work together to create a rich, elegant wedding invitation look.
Sparkle: Many of our NJ wedding couples love their sparkle, opting for bling on their wedding invitations, as well as on their wedding cakes, and in their wedding ballroom linens. Sparkle in a wedding invitation is often seen as cards tock with shimmer to it, metallic font or motifs, metallic-accented invitation inserts, invitation wraps or overlays, and envelope liners made of glittery papers. Sparkle often conveys a sense of celebration, particularly for an evening wedding, but may also be used in daytime wedding invitations.
Stripes. Bold, thick stripes and angular chevron stripes top the list of wedding invitation trends for 2014-2016, as more couples embrace graphic patterns. The wedding trend of navy blue adds a nautical feel to wedding invitations and wedding décor, and chevron stands out in vibrant shades of orange, yellow and pink in summertime, and rich jewel tones like purple for fall and winter.
Burlap. The rustic wedding trend has evolved this year into a more sophisticated, formal look than last year's pastoral feel, and burlap remains in this year's wedding invitation trends, as a fabric backing for invitations, or as fabric lining packaged wedding invitations.
Graphic motifs. Wedding invitation motif trends include gold leaves and laurel wreaths as nature-inspired elements for indoor and for outdoor weddings, and top wedding trend chalkboards also join the list as a top wedding invitation design element.
Accessories. Wedding invitation accents include personalized overlays such as sheer vellums, personalized liners and seals, and bling-accented belts or ribbon ties embracing the invitation.
Photo wedding invitations. You might think a card with your photo on it is just for a Save the Date card, but new trends in wedding invitations invite wedding couples to incorporate their engagement photo or a new couple portrait into their wedding invitation design.