Tips and Ideas for your Wedding Placecard Table
Your wedding guests enjoy being handed a cocktail or champagne flute when they first enter your wedding venue, but one thing they're looking for is their placecard telling them which table they've been assigned to.
In the past, guest placecards were quite basic, names written on tented papers, set up on one big table. That often caused a logjam of guests looking for their names, turning this early moment of your wedding into a bit of a stressful experience, and not much of an impressive one. But now, wedding designers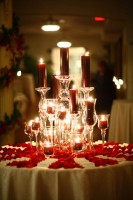 have turned the guest placecard arrangement into an art form, creating a stunning display as well as making the process easier for guests.

Here are some top tips for designing your wedding placecard table:
Offer two placecard tables, especially if you have a large wedding guest list, so that guests can more easily reach the tables.
Design your placecards to be arranged on a large round table, with placecards lined up in a starburst effect from the center of the table to the ends of the table.
Design your placecards to be arranged on a large square table, again with guest placecards lined up in neat rows.
Center your wedding placecard table with a tall floral arrangement and candles and have placecards extend out from that pretty décor.
Go vertical. Instead of printing out placecards, write guests' names under table numbers on a tall sign. Some top wedding décor trends include guests' names written on a tall windowpane, on a tall mirror, or on a vintage-chic chalkboard. Guests simply read the 'sign,' and they know where they will be sitting…and with whom.
Most importantly, choose a font that's clear enough and big enough for guests to read, so that there is no slowing-down of guests' placecard-spotting. Big print lets them find their names more quickly.
Some top trends in wedding placecard design include:
Guest placecards clipped to hung lengths of wire or lace, affixed securely so that guests can unclip their cards without wrecking the display.
Guest placecards inserted into cuts made in corks.
Guest placecards set atop a bed of fake snow for a winter wedding.
Guest placecards attached to potted succulents or potted herbs or flowers.
Guests' names and table numbers written on smooth, polished river stones.
Guests' names and table numbers written on clean, polished seashells.
Guest placecards affixed to craft store-bought starfish.
Guest placecards standing up on wires from a grassy planter.
Tiny silver frames with guest placecard information inside each frame.
A top placecard trend: guest placecards attached to ornate metal keys, placed on the table or hung in an orderly fashion from a stand.
Guest placecard sticking up on a pick inserted into a macaron or mini donut.
Guest placecard inserted into a glass photo frame coaster, that doubles as a take-home favor.