The Most Popular Wedding Color Palettes for Spring 2015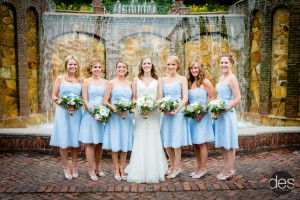 Wedding couples are putting a lot of thought into their wedding colors for spring 2015. After all, wedding colors set the tone for a beautiful wedding scene, with soft, muted shades creating a sense of romantic elegance and bright wedding colors creating an energized scene of excitement and vibrance.
A top wedding color trend is selecting colors that bring out the beauty of the wedding venue itself, taking a glamorous wedding ballroom and bringing out its colors and its architecture to make the venue even more spectacular. So when you tour your wedding venues, inside and outside in the wedding gardens, take note of the colors you see around you. Take lots of photos, of the space overall and of pretty details like the molding, grand staircases, fountains, chandeliers and other stunning features of your wedding venue, to help you select a wedding color palette that creates a beautiful look and feel in your wedding location.
Another top wedding color palette trend is to choose not just two wedding colors – as wedding couples from past decades did, but three, four or five wedding colors. Selecting a variety of your wedding theme colors lets you build even more beauty into everything from your wedding flowers to your linens, invitations and more.
Here are some of the top wedding color palettes for 2015:
Light pink, light peach, soft green and ivory. This is one of the top vintage wedding color schemes, with soft, pastel shades conveying a romantic, eras-old effect perfect for the top wedding trend of a vintage elegance wedding theme.
Pistachio, pink and vibrant yellow. A spring wedding color palette that's still soft and pastel yet has that pop of the bright yellow to add a touch of energy to a wedding's design.
Celestial blue, white and gray. Celestial blue is the term for a light, icy blue that has some gray undertones, a pastel coloration that brings in the new, popular neutral shade of gray.
Watermelon, pink, bright yellow and white. These four shades pop with a sense of candy, adding a vibrance that can be reflected in your signature wedding drink, among other wedding details.
Soft lemon, coral, sage and bright green. Yellow is one of the top wedding colors for springtime, and in this palette, a softer shade of lemon lets the brighter coral stand out.
Turquoise, light blue, light pink and bright pink. The ocean shade of turquoise creates a magical water feel for your wedding, especially if you choose ombre shades.
Light pink, sea foam green and beige. This wedding color palette is perfect for the soft pastels of spring, and bring a sense of a beach wedding, especially popular for wedding couples who don't wish to marry on the beach but still love the feel of these shades, and the memories they evoke from family vacations down the shore and romantic island getaways they may have enjoyed as a couple.
Bright pink, navy, light pink. Navy is another top wedding color standing out for spring weddings, as 'the new black' in wedding trends.
Orchid, lilac, sea foam green and purple. Mixing purple and green is a top wedding color palette for spring 2015. Especially since you have access to so many pretty light, bright and jewel tones of these colors to choose from.
Caramel, cappuccino, berry and tan. This mostly neutral color scheme seems like it would be more of a fall wedding color palette, but it's among the top trends for spring 2015 wedding colors, with the caramel colors creating warmth and a 'delicious' color scheme to carry through your wedding details.
Strawberry, lighter pink, terracotta and putty. The pink shades add sweetness to the earthy terracotta and putty shades, perfect for spring.
Tangerine, green and blue-gray. Orange is a standout in spring, with tangerine adding brightness to last fall and winter's deeper cinnamon shades of orange.
And then, there is always the option of going with a monochromatic wedding color palette, since ombre is still a top wedding trend, and mixing lighter to darker shades of one color creates a unified wedding color scheme. This spring, top colors to blend in bright to deep shades are blue, green, orange, yellow, coral and of course pink.
There are very few limitations when it comes to your wedding color palette choices. The right blend of shades will just feel right to you, and when your floral designer or wedding coordinator adds one extra shade to your chosen trio of colors, the entire palette often springs even more to life. So do be open to color suggestions from your wedding professionals; they have a lot of experience with the top wedding color trends and with 'dressing' the best wedding venues in NJ.