What Is the Perfect Number of Guests for a Wedding?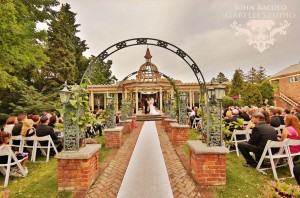 Creating your wedding guest list is one of the most exciting wedding tasks you'll undertake early on in your planning. As you record the names of your family, friends and colleagues, you'll undoubtedly feel blessed to have so many loving relatives and fabulous friends to share your big day with. But before you write down hundreds of names on your guest list, be sure to keep a few important guest list rules in mind:
Your guest list size will influence where you can have your wedding ceremony and wedding reception. Each top wedding venue in NJ has a set capacity for the number of guests that can be comfortably and safely entertained in each of their wedding ballrooms, celebration rooms, and garden wedding settings. Established wedding venues have to adhere to the rules set by the fire marshal, and they know how many guests can comfortably sit, dine, and dance in their wedding ballroom or outdoor wedding venue. If, say, you have 500 guests on your wedding guest list, you may find that certain ceremony locations cannot fit your guests, and those locations would have to be scratched off your list. And just the same, if you have 75 wedding guests, a wedding ballroom that fits 1,000 guests may feel too cavernous for such a small guest list. The number of guests on your guest list configures into the number and size of tables set up in your wedding ballroom, and you always want to be sure your guests are seated comfortably, and can move between your guest tables easily, to get to the wedding buffet, bar, and dance floor with ease.
Your guest list can spark family drama. If you decide to cut off your wedding guest list at your second cousins, you may be the first one in your family to do so. Parents can get angry about perceived family slights, or even 'looking like we can't afford a big wedding,' and pretty soon, relatives are gossiping about who is and who isn't invited to your wedding. So, for you, the perfect wedding guest list size is one that allows you to invite all of the Must Have guests in your family, as well as your closest of friends who you want to share in your day. While a large guest list can create wedding budget issues for you, there are plenty of ways to adjust the rest of your wedding plans to allow for your most treasured guests to share in your day.
Be true to your wedding wishes. If you have 700 wedding guests, will you be able to visit table-to-table with them all during your reception? It is a wedding etiquette must to table-visit and greet all of those guests who have traveled to attend your big day, so be sure that your oversized wedding guest list won't have you table-visiting during the entirety of your reception, missing out on dancing to the songs on your wedding playlist. You may feel far happier about having a smaller guest list, so that your wedding is an intimate affair for just your closest relatives and friends, all of whom you're able to visit with. Twice or three times. And dance with, and chat with. Your perfect wedding guest list allows you to enjoy your big day with your guests, not just hug them for a second and rush on to the next people awaiting you with envelopes in their hands.
So, in short, the perfect wedding guest list size is one that creates a relaxed, comfortable, and social experience for you and for your guests, one that works perfectly with the wedding venue capacity, and one that suits your budget, whether or not you have to adjust your budget in other areas to make room for more loved ones.