Top New Wedding Trends 2014: Wedding Menus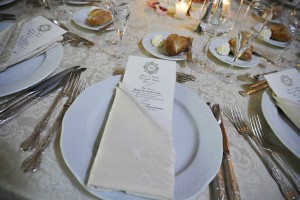 Brides and grooms put a very high priority on their wedding menus, wanting their guests to enjoy delicious foods in a great variety, but they also want their wedding menus to be personalized, themed, and, especially, fun.
The top trends in wedding menus at the top wedding venues in New Jersey include:
Interactive stations. Delectable gourmet foods become even more exciting to wedding guests when a chef or server stands behind the station, preparing foods to order or serving guests' choices of plated hot or cold hors d'oeuvres. Guests who consider themselves to be foodies, or who are fans of shows like Top Chef, find it very enticing to watch the chef in action, putting on a show, and making their food choices an experience.
Spicy foods. Wedding menu elements with a bit of heat are very much on trend for 2014, with sriracha sauce leading the way in trendy wedding food choices, as well as spicy peppers and spicy sauces. Chefs can tailor guests' plates from mild to spicy to extra-hot, so that everyone enjoys their wedding menu elements to the fullest.
Classics. For cocktail party stations, buffets and sit-down meals, one of the leading trends in wedding menus is classic menu options like roasted chicken, pan-seared salmon, Chateaubriand, and other iconic fine dining foods that guests enjoy at weddings; moreso because they may not prepare such dishes for themselves all too often. So a blend of classic dishes and upscale gourmet cuisine with a fine dining flair creates the perfect wedding menu.
Organic foods. Wedding couples want the freshest, tastiest foods, and they request organic, locally-sourced ingredients for their wedding menus. Farm-to-table menus are a top trend this year, with colorful produce and organic meats on chefs' menus.
Comfort foods. Wedding guests enjoy seeing their favorite comfort foods on the wedding buffet, at cocktail party stations, and as hand-passed hors d'ouevres. Chefs create trendy 'small bites' or small serving plates or cups of such top-trend wedding menu foods as truffle mac'n'cheese, sliders, piped mashed potato swirls with bacon and cheeses on top. Wedding couples meet with their chefs to share which comfort foods they prefer on their menu, and the wedding catering manager at the top wedding venues add expert flair to each dish.
Garden party fare. At the top garden wedding venues in New Jersey, garden party fare such as tea sandwiches are hand-passed along with glasses of champagne for a Great Gatsby-inspired celebration, an outdoor wedding setting enhanced by an upscale serving style.
Regional foods. If the bride or groom originally come from another region outside of New Jersey, such as Texas, the south, Boston, the Caribbean, India or other locations, it's a top trend to incorporate signature cuisine from that region into their New Jersey wedding menu. So, a classic, fine-dining wedding menu of lobster and filet mignon may be elevated by a station of Boston-style clam chowder, or by an authentic Texas barbecue station, and other dishes that share the couple's favorite places with all of their guests.
Sushi. Wedding menus include the classics like California rolls, as well as creatively-named unique sushi such as shrimp tempura with a mango wrap, avocado and salmon roe. Guests who perhaps do not eat meat, or are on gluten-free diets, appreciate having many gourmet options to enjoy.
Late-night snacks. After hours of dancing, guests love to see a new presentation of food items in the later hours of the reception. Top trends for late-night bites include mini pizzas, sliders, tacos, gourmet-spiced fries, and also desserts such as a sundae bar, and cookies with shots of milk or mini milkshakes.
Non-traditional desserts to join the wedding cake. This year's top wedding dessert trend is pies, either classic-sized pies, or mini pies such as cherry, blueberry, and other flavors tailored to fall and winter.
Talk to your catering director and/or chef at your chosen top New Jersey wedding venue to incorporate your favorite foods, perhaps cultural dishes, and a variety of wedding guest-pleasing food options served all throughout your wedding celebration.
The legacy of a wedding is determined by how great the food was, and you have a say in your exciting food stations, classic and creative wedding menu dishes, and especially the last foods your guests will taste at the end of your wedding day to make a long-lasting impression of your perfect wedding day.