New Jersey Wedding Venue Trends: Amazing Architecture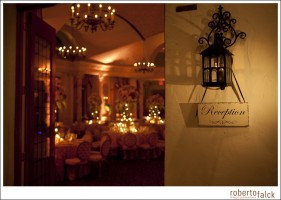 When searching for your perfect wedding venue from among the top wedding venues in New Jersey, you likely have a wishlist of the features that your wedding location will offer, perhaps a wedding garden, a pond, fountains, only hosting one wedding at a time. But there is another category that's become a big trend among New Jersey wedding couples: architecture.
Having seen breathtaking wedding photos on Pinterest and on the top wedding blogs, wedding couples want to have those same images of themselves standing in front of a dramatic floor-to-ceiling window, and they want the same manor or castle feel on their wedding day. So they're looking at wedding venues that are sights to behold, with architectural details that resemble a royal wedding setting.
Here are some of the top wedding venue architectural trends:
High ceilings. With high ceilings, you get the feel of being in a palace ballroom, especially when those ceilings are majestically-detailed. In daytime, those details stand out, and at nighttime weddings, lighting effects may be projected up onto those lofty ceilings, creating a magical effect that's likely to get their wedding feature in the top wedding magazines and as a spotlight Real Wedding on their favorite wedding blog. High ceilings create a feeling of opulence for a luxury wedding and again set the scene for fabulous wedding photos.
Amazing windows. Tall windows let plenty of natural light during the daytime, and they can be left open to create an indoor-outdoor wedding setting that lets guests flow from your wedding celebration out into the wedding gardens. Or, those tall windows might simply allow a view of a starry nighttime sky and a gorgeous view in the distance. Windows add style and grace to a wedding ballroom, especially when dressed with glamorous draperies.
Fireplaces. Oversized fireplaces again lend themselves to the creation of a palace wedding, and if you so choose, they can be decorated to suit your vintage-style wedding. When fireplaces are lit, guests will automatically gather on couches in front of them, and if you opt not to light them, they can be filled with flowers and pillar candles for added décor flair.
Dramatic doorways. For making your grand entrance at the start of your wedding reception, as you step into your wedding ballroom for the first time ever as a married couple, and also as an elegant setting for wedding photos. Some couples choose an especially impressive doorway as their spot for their First Looks moment and photos, with that door swinging open for the 'reveal' of each partner before the wedding ceremony.
Balconies. They need not be decorated to make a statement; simply choosing a wedding venue with balconies can create a Shakespearean effect for your wedding day.
Staircases. You might make your grand entrance descending down a grand staircase, or you might decorate those staircase rails with lush garlands of flowers and greenery for a lavish wedding look.
All of your wedding venue's breathtaking architectural elements can be enhanced by special lighting effects to make your wedding venue even more impressive to your guests, and in your photos and video.
The top wedding photographers in NJ know the architecture of the best NJ wedding venues, and they know how to photograph them in artistic styling. So after you've chosen your dream wedding venue, be sure to discuss with your photographer your wishlist of wedding day photos, to capture the glamorous setting and how stunning you both look within it.