Using Pinterest as a Wedding Planning Tool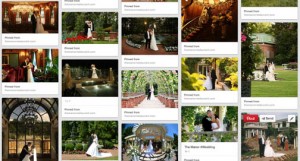 Pinterest is so much more than a collection of pretty pictures; for brides, Pinterest provides a look at the top wedding trends (so that they can decide if they'd like to follow the trends or avoid them!) in every wedding planning category from wedding gowns to wedding flowers, décor, photography, rings, and especially wedding locations and wedding food and drinks.
When you're researching and booking wedding vendors and sites, it's important for your wedding experts and wedding site managers to get a crystal-clear understanding of what you want for your wedding day. And as they say, "a picture is worth a thousand words." When you can present to your wedding experts and wedding site team a collection of images of what you want, and what you don't want, the experts to whom you entrust your wedding vision get that clear picture of what you both would like, and they can then start creating it for you, right down to the garnish on the appetizers you call a Must.
But before you present images to your wedding professionals and wedding venue experts, Pinterest can be a wonderful tool for you both to communicate to each other what you'd like for your wedding day, and you both also enjoy the ease of pointing to a photo and saying, "I definitely don't want that." You'll partner on every wedding detail, and grooms say they don't mind sitting in front of Pinterest to add a level of fun to the wedding planning process. Some grooms say they found the perfect wedding element that eluded their brides for weeks, saving the day, and making a dream wedding element possible.
Pinterest allows wedding couples to share their wedding venue photos and other wedding design elements with their bridal parties, friends and family members near and far, through their public Pinterest boards, and Pinterest now allows users to create private boards where they can pin their wedding inspirations without giving away all of their Wow Factor ideas to wedding guests before the big day. They get to organize their wedding décor, food, fashion and beauty details, and still get the excitement of 'the big reveal' on the wedding day.
Private Pinterest boards can also be a place where bridesmaids can pin their ideas for bridesmaid dresses,  for your consideration, providing an easy-use, easy-share method for making that all-important decision about the dress. You won't get large-file emails from a bridesmaid and then have to email it to every other bridesmaid. Pinterest bridesmaid inspiration boards save you time and aggravation, and you'll reach a decision on your bridesmaids' dresses in less time.
The same goes for private Pinterest boards where the parents can post their suggestions for your consideration, and bridesmaids use private Pinterest boards to share images for your bridal shower…keeping those pictures from you!
Don't forget that Pinterest is also a great location to find images and video of the honeymoon spots you're considering. The images, comments and videos posted here go beyond what you'll see on the honeymoon resort's website, giving you terrific insight into what it might really be like to go there. So Pinterest might help you find your dream honeymoon spot.
And Pinterest images can also help make your wedding registry even better, with terrific housewares and linens pinned by strangers, only to wind up as additions to your gift registry.
And then there's the wedding food, wedding cake and signature wedding drinks, all plentiful on Pinterest and of great use when you're talking with your wedding reception venue's catering manager, pastry chef and bar manager. A mouthwatering Reception Pinterest board can be easily called up on your smartphone or tablet while you're meeting with your wedding menu experts, and your dream wedding menu comes to life on your big day, matching and often exceeding that initial image you found on Pinterest.
And brides also say that Pinterest was a great de-stressor. When wedding stress built up too high, they turned to Pinterest to find cheerful and calming quotes, images of relaxing scenery, meditation mantras, and fun images related to their hobbies, a total distraction and a nice escape from the demands of planning a wedding.
Lars Johnson, general manager, Pleasantdale Chateau