Wedding Trends 2014: Making Your Wedding Extra-Fun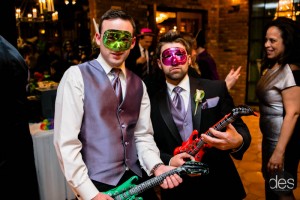 Wedding couples say that their top wedding priorities include a particular trend: they want their wedding to be fun. For themselves and for their guests. (According to the wedding industry survey site, TheWeddingReport.com, 68% of wedding couples say they want their wedding to be 'Fun', a greater number than couples who wish for their wedding to be 'meaningful' as their top wish! So Fun is definitely a popular wedding trend.)
At the top wedding venues in New Jersey, couples plan unforgettable weddings, tying the Knot in style and elegance, with a big dose of Fun added to their wedding day details. They want joyous, laughing, smiling guests who are happy they traveled to attend the nuptials.  They want to show their friends and family a terrific time, and they want photos and video to capture all the action and joy of everyone in the room, from the youngest guests to the oldest. Among the top trends in upping the 'Fun' quotient at your wedding are the following:
A fabulous welcome. Guests will of course be captivated by the beauty of the wedding venue as they drive up, but an elegant, VIP ambiance is really achieved when guests are greeted by servers bearing trays of champagne or colorful signature cocktails. Wedding couples are increasing the fun factor of this first impression by giving their signature cocktails fun names, like 'You Made It! Margaritas' and ''Took You Long Enough' Long Island Iced Tea,' or any drink given a sweet and romantic name like 'The Happy Couple' as offered by your smiling servers at your wedding venue. Another fabulous welcome might be an energetic musician or musical group playing outside the entrance to your wedding venue, or in your wedding gardens. An unexpected, unique musical act shows guests that this wedding is going to be fun, with lots of great surprises.
Personalized wedding signs. Signs on chalkboards are a top wedding trend for 2014, with wedding couples going beyond the usual 'Welcome to our Wedding' wording to have their signs say something more personalized and perhaps funny, like 'Now it's a party…you're here!' Signs can be placed at the wedding venue entrance, in hallways, out in the wedding gardens, even in the wedding ballroom, announcing station themes. These wedding sign messages add your voice to your Big Day, and are quite fun for guests.
Interactive food stations. With friendly, entertaining chefs creating gourmet cocktail party menu dishes, showing off their skills and putting on a show, guests are given an experience as they await their custom-prepared dishes. At the top wedding venues, multiple stations may be manned by chefs, with drink pairings also offered to make each station even more fun and adventurous for guests.
A creative introduction into the room. You and your bridal party might be announced into the room in the style of an NFL game announcer introducing players, sharing each VIP in your bridal party by name and where they went to school…including the little ones. Or, choose an introduction-into-the-room song for each group of your wedding VIPS: a song for the ladies, a song for the men, a song for the parents as they enter the room to cheers. It's also a trend to have your bridal party dance their way into the room, but be sure your bridal party members are comfortable with that choice.
A wedding video. Surprise guests with your wedding-beginning video montage. Wedding guests often expect to see the montage of your baby photos through your growing-up years and into your dating days, but think about something more fun and creative, like a re-enactment of your first date (taken at the restaurant where you had your first date) plus voice-over 'thoughts' from each of you. Guests will laugh at the funny observations you both share, and you can add in bridal party members walking by the scene (even if they weren't there in real life) with their voice-over thoughts shared as well. Re-enact the groom asking the bride's parents for their blessing, and let parents share their voice-over thoughts in the video, making them stars of the show as well. A wedding that starts with laughter is sure to be a dream wedding experience for all.
Excellent music. Whether you have a wedding band or a wedding deejay, or surprise performances by talented musicians, it's a fun trend to give guests a show, with crowd-pleasing song choices and seamless blends of a playlist. Choose songs beyond the 'usuals,' tapping into some classics that your group recognizes from their younger days, and of course, consider the top wedding trend of playing cultural songs that fill the wedding ballroom dance floor.
Excellent entertainment. From cigar rolling experts to fortune tellers, belly dancers, salsa dancing groups and other live acts, today's top trend is to bring impressive entertainment into your wedding venue's ballroom, and especially outside into a garden wedding location.
Slow dances. Wedding guests who have dressed up for your day enjoy sharing a few slow dances with their sweethearts, so tell your wedding entertainers to add a few extra slow songs to the playlist during the dinner hour and just after it, and then again at the end of the reception, slowing things down and allowing guests who may have hit it off with one another to perhaps have the first slow dance of their potential relationship.
Choreographed dances. You've seen choreographed wedding dances on YouTube and on top wedding websites and top wedding blogs. The wedding couple, their bridal party and perhaps their parents show off their choreographed dance moves in an impressive and fun performance, something different than the usual first dances, to increase the Fun Factor at a wedding.
Kids' dances. Child guests can easily get bored at weddings where they don't know the songs playing, but if you give children a song of their own to sing and dance to at the start of the reception – Disney's "Let It Go" from Frozen is the top choice right now – they have fun, and you and guests have fun watching the little ones dramatically perform the song. And it all gets captured on your wedding video.
Visit guests' tables. This is a "must" as well as a fun experience for you and for guests who have traveled perhaps from afar to reach your wedding venue and share in your big day. Spend some time with each group, pose for fun photos with them, exchange hugs and kisses, and make your day even more fun for your loved ones, as well as for you.
Have a photo booth. With fun props, guests will have lots of fun posing in groups for fun, silly, themed photos. You can join them as well, or pose groups like your college friends and co-workers, even you with your grandparents or child wedding guests.