Top New Wedding Trends 2014: Wedding Gowns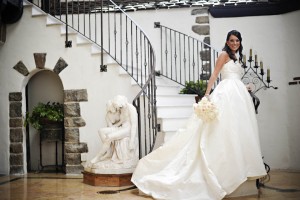 Wedding dress trends for fall and winter 2014 include some of the prettiest, most romantic wedding dress elements ever, with top wedding gown designers creating dream dresses featuring the following:
Vintage wedding dress styles. Think opulent gown styles inspired by Downton Abbey and The Great Gatsby, long, flowing dresses with intricate beading and lots of sparkle. When your wedding takes place in a manor, a vintage-style wedding dress fits your wedding setting perfectly.
Have you seen the Metropolitan Museum's Anna Wintour Costume Institute exhibit   for 2014 featuring American couturier Charles James voluminous ballroom dresses?  In a phrase:  "Ballgowns are back", with wedding dresses featuring voluminous skirts, enhanced by tiers of ruffles or fabric draping.
Fit-and-flare wedding dresses show off your curves, fitted from the bodice, over the waist and hips, and then the skirt flares out to flatter your silhouette and provide movement when you walk.
Short skirts join long, flowing wedding dresses for a top wedding trend of fall and winter 2014. Short skirts may be knee-length or above the knee, and may have crinolines beneath to provide a fun, flirty wedding dress look. Brides who wish to show off their legs, and especially their wedding shoes, often choose the new short-skirt wedding dress as their all-day dress, or as the dress they change into for their 2nd Look dress at the reception.
Lace is still a top trend in wedding gowns this year, with overall lace designs given added Wow Factor through the use of heirloom lace or modern, artistic lace designs. Another look in lace is a 2/3 lace look for a fit-and-flare wedding gown, with the bottom portion of the dress being more satiny or tulle.
Skin is in for wedding dress trends in fall and winter of 2014. Open backs are especially trendy, with lace designs surrounding the cut-out back. Modesty is key for today's elegant wedding gown designs, with more brides opting to have illusion netting covering up their chests, and lace or beading applied to that netting for added flair.
Fabric sculpture is a top trend, with heavier fabrics used to create ruffles, bows and folds resembling the artistry of a masterfully-designed wedding cake.
White dresses are back in demand, according to top bridal gown salons in New Jersey. While some brides may choose ivory wedding dresses to flatter their skin tones, a rich, clean white dress creates that "fairy tale princess wedding gown" visual sought after by many brides.
Pink wedding gowns will still be in for fall and winter, creating a beautiful contrast between the pale or deeper pink of the wedding dress and the autumn foliage or winter scene at a garden wedding. A dress in color stands out, and again may flatter the bride's skin tone or hair color.
Gold is a top trend accent color for wedding dresses, with fabric in gold tones, or as an artistic gold embroidery pattern. And since rose gold is a top trend in wedding rings, rose gold embroidery or wedding gown accents are popular for fall and winter brides.
Hand-sewn beading is intricate and dramatic this year, with seed pearls and vintage-style beads added to many of the featured wedding dresses.
Hand-cut appliques accent many gowns, in the popular motifs of floral (roses and daisies top the list,) lace and especially vine (which coordinates well with a garden wedding in fall.)
Feathers are very in for 2014, with the soft movement of the feathery accents especially popular as an all-over look on short skirts and as the accents on capes and capelets that give that Old Hollywood starlet 1930s look to a dress. Feathers are also seen on trains to coordinate with the bride's feather-accented headpiece.
Sleeves are back in style. ¾ length lace sleeves are a leading trend, thanks to Kate Middleton's iconic wedding gown at her royal wedding.
Lace flutter sleeves of spring and summer are replaced by more cap sleeves in lace for fall and winter wedding dress styles.
Lace trains are soft and emphasize movement, not starchy and stiff.
A top look in trains is a wider satiny hem to coordinate with the veil's satiny hem.
With gowns so detailed, jewelry is far more subtle. It's the dress that sparkles, not the necklace or earrings. Grooms will have to think of another gift for the bride this year…