Wedding Trends 2014: Making Your Wedding Extra-Meaningful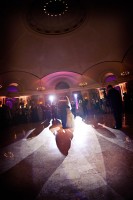 The best weddings include many personalized touches that share not only the wedding couple's personalities and favorite things, but also meaningful elements that pay tribute to the couple's parents and families, beloved relatives and their love stories, the couple's cultures and religions, and the depth and beauty of love and partnership overall. The wedding trend site TheWedingReport.com says that 66% of wedding couples say that their top wish is to have a Meaningful wedding, and here are some of the top ways that you can fill your wedding day, and your wedding venue, with extra-special meaningful elements:
Choose a wedding venue that's special to you, or to your family. It's a top trend to choose a wedding location that plays a part in your love story – perhaps you got engaged at the venue's restaurant, or perhaps you met at a friend's wedding at that same wedding venue. There's no longer an unspoken rule that you have to be First to marry in a particular wedding venue, but you certainly could be! Your wedding décor and perhaps time of day can make that top wedding venue look entirely different from past weddings you've attended there, and you get the advantage of having experienced a wedding at that wedding ballroom or in those same wedding gardens, so you know the quality of service and the location well.
Display family wedding photos, plus others. In addition to the lineup of family wedding portraits displayed on a table at your wedding venue, display non-wedding family photos and photos of departed loved ones. It's a top wedding trend to display photos that show the closeness and love of family in this photo gallery for all to enjoy. Some wedding couples create a second photo table filled with photos from their love story, from their first vacation together to the night they got engaged, with signs telling their love story for each photo.
Display family video. On the family photo table in your wedding ballroom, set up a laptop or small flat-screen that plays a low-volume video montage of your love story, as well as video from family weddings.
Display same-day wedding photos from your ceremony. One of the top new trend for wedding entertainment that is extra-meaningful is to have your wedding photographer do a same-day edit of photos taken during your wedding ceremony, and played in a montage at your reception. Guests who couldn't make it to the ceremony earlier in the day will see your beautiful pre-wedding and ceremony photos.
Create a meaningful wedding music playlist. Include songs from your love story, such as the first song you ever slow-danced to, a song your sweetheart played for your birthday, your parents' wedding song, other family wedding songs, and family-favorite songs.
Incorporate important religious and cultural rituals. In your ceremony and also at the start of your wedding reception, such as having your parents present you with good luck bread, salt and wine as your relatives have done at their weddings for generations. Older relatives love seeing the younger generations maintain, and value, cherished family rituals.
Plan special first dances. Brides and grooms are choosing meaningful first dance songs for themselves and with parents. Some wedding couples let their parents select their spotlight dance songs, to make the tradition even more meaningful for them.
Include sentimental symbols in your décor. If, for instance, your departed grandmother loved butterflies, you can add tiny silk butterflies to the floral centerpieces in your wedding ballroom, or within your décor at your outdoor garden wedding.
Choose meaningful readings for your ceremony. Again, you don't have to be the first to have a particular reading in your ceremony. It's a top trend to use the same reading from parents' or grandparents' weddings.
Choose a meaningful wedding theme. Transform your wedding ballroom into a themed scene that may transport guests to a far-away land that means so much to you and to your family.
Add a message in your program. A personal note from the two of you, thanking your parents for a lifetime of love and support, and thanking guests for sharing your wedding day, adds extra meaning to your wedding, and you can also design your wedding programs to include meaningful FYIs about your marriage role models, like listing how many years parents, grandparents, godparents and others have been married, and what you appreciate about their example for your own marriage.
Include your favorite people. Honor special guests by having them perform a reading, or a song, at your ceremony, or participate in special tributes during your reception.
End your reception with a special Last Dance, a spotlight dance for the two of you or one that gets your wedding ballroom dance floor filled, as you dance to a song with meaningful lyrics. Some couples enact this trend by having the bride choose one of the spotlight dances (First or Last) and the groom selects the other.
As you begin planning meaningful elements for your wedding celebration, you'll undoubtedly think of others, and anything that's not a natural fit for your wedding celebration can be saved for the morning-after breakfast, or used at additional events taking place on your wedding weekend.