10 Questions to Ask at your Wedding Menu Tasting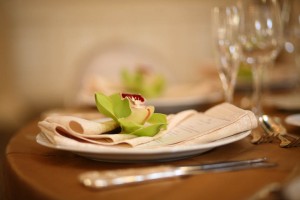 When you meet with your wedding venue's chef to create your sumptuous wedding menu, you get the advantage of the chef's many years of culinary expertise, plus your wedding chef's best advice on how to please all of your wedding guests with a cocktail party menu and reception dinner menu featuring the best foods of the season, and the top trends in wedding catering.
Here are some of the top questions to ask your wedding chef:
How many appetizers do we need on our cocktail party menu? You want to offer plenty of delicious dishes, in a range offering healthy fare, exotic wedding menu items and classics.
How many stations do we need for our cocktail party menu? Tasting stations are a top trend in weddings, and your chef can advise you on how many stations are ideal for filling your cocktail party venue with terrific options.
Can we get gluten-free and other specialty wedding menu items? Your guests may have specialty diets, and it's now considered a wedding fail to neglect your gluten-free, vegan, vegetarian and kosher-eating guests. A chat with your wedding venue caterer can fill your menu with many guest-pleasing menu offerings. Your chef just needs your wishlist.
Can we do signature food stations at the cocktail party? It's a top trend to offer His and Hers food stations at the cocktail party, incorporating your favorite dishes and menu items culled from your love story. You'll plan your signature stations and it's smart to create signs that share with guests why you selected this particular dish for your signature station.
Can we make changes to your menu? A lot of thought has gone into your wedding venue's menu, so much so that you may not want to make any changes at all. You'll get to choose from stations, hand-passed appetizers, meals, salads and more, but if you do wish to customize your wedding menu, as is a top trend in wedding menus, just ask your chef during your tasting session.
Can we do a menu for child guests? If you'll invite kids to your wedding, it's smart to create a kids' station filled with menu items like sliders, chicken fingers, mac and cheese, grilled cheese, and other foods that kids love. Of course, adventurous kids will try menu items from the regular list, but to help ensure well-behaved children, help them not be hungry; instead, give them a mix of food options.
Can we do a menu for late-night bites? At the end of the reception, guests will love your offering new menu items ideal for late-night snacking. Dishes like sliders, pulled pork and fries, donuts and other trendy late-night wedding menu bites, so work with your chef to select the perfect last tastes of your wedding celebration.
Are food trucks allowed on the premises? As a top wedding trend, food trucks parked outside of the wedding venue let guests enjoy a surprise last snack of the evening, before they head home. There are a number of top food trucks in New Jersey to choose from, but you need to be sure before booking them that your wedding venue allows outside food vendors on the premises.
Can we incorporate our favorite family recipes into our wedding reception menu? In many cases, the chef will create a gourmet version of your family's favorite dishes, helping to personalize your wedding menu. And no one will say if the chef's version is better than your grandmother's.
Can we bring home any wedding menu leftovers? In many cases, your wedding venue will happily box up fresh helpings of your wedding meal and desserts for you to enjoy together on your wedding night, or for the next day's lunch before you depart for your honeymoon.