Wedding Dessert Trends for 2016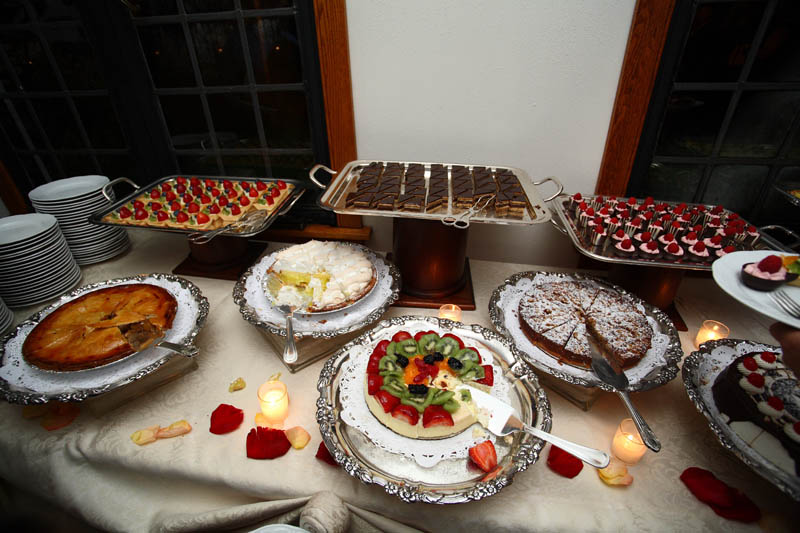 You've seen those scrumptious-looking wedding dessert bars on Pinterest and Instagram wedding accounts, and you're likely inspired by the tremendous collection of new wedding dessert trends. As much as guests are enthralled by your gorgeous wedding cake, they're looking forward just as much to your dessert hour, especially when your NJ wedding venue displays those mini pastries, mousses and cultural desserts so beautifully.
To further help inspire your wedding's showstopping dessert hour, we've collected the top dessert trends for 2016 weddings:
Pies. Drawing from in-season fruits so plentiful from NJ family farms and NJ farmer's markets, wedding pies range from classic apple pie, blueberry pie, cherry pie and more, and cream pies like chocolate cream pie, coconut custard pies and key lime pie.  What makes pies so popular at weddings? They evoke wonderful family memories, such as the pies served at your family holiday dinners, a beloved signature pie made by your grandmother, and a pie you may even be known for perfecting. Speaking of perfection, your wedding venue's bakers create stunning pies with the best of ingredients, and again, presentation is key, with delicious, flaky pie shells and lattice-topped designs. Guests may make pies for themselves, but they're always happy to enjoy professionally-made pies created by the best NJ bakers and pastry artists. Add to this trend mini pies displayed on tiers as the perfect single serving and an impressive array of flavors, plus pie pops for a grab-and-go dessert, and your wedding dessert bar is on-trend.
Mini desserts. With small plates being a top foodie trend of 2016, the allure of little bites extends to wedding desserts. Small cubes of Napoleons, fudge, brownies, mini pie shells filled with chocolate mousse swirls or Chantilly cream topped with a few blackberries or raspberries make a big impression on wedding dessert bars in 2016. Again, it's a grab-and-go dessert, or a fill-your-plate with several dessert option that guests love.
Pastries. Cream puffs, eclairs, cannolis, Napoleons – the traditional pastries you've seen at your favorite NJ bakeries get a gourmet presentation by your NJ wedding venue's pastry chefs, again displayed as work-of-art collections so popular that they are often shared on Instagram using your wedding hashtag. These NJ-favorite desserts especially please your non-NJ wedding guests who love experiencing authentic Italian desserts at your wedding.
Throwback desserts. From bananas flambee to bananas foster, there is a return in 2016 weddings to classic desserts that may have been seen at 1950s weddings. The same wedding trend that applies to wedding entrée menus, calling for a return to classic dishes, extends to your wedding dessert menu ideas. If it was big in prior decades, it's big again now.
Macarons. This French dessert mini-sandwich, often made in the prettiest colors, is a top trend for 2016 weddings, since French-inspired desserts are a top foodie trend overall, and colorful macarons can be designed to complement your wedding colors.
Donuts. The Knot recently suggested creative presentations of donuts and mini donuts, including hanging them from pegboard hooks for a take-on vertical display. Fresh donuts made by your wedding venue's baker may be sugar-dusted, frosted, glazed, fruit-filled, Boston cream-filled and again decorated to match your wedding colors. Warm donuts may be chosen for their seasonal tastes such as apple pie filling, or paired with a shot of milk or a milkshake as a dessert duo.
Milkshakes. Call this a dessert drink, and serve them in mini glasses, freshly-made, with a trendy striped straw in the glass. Milkshakes may be made in classic flavors, as flavor blends, or spiked with a shot of liquor for your adults-only wedding reception.
Gelato. A gelato bar has taken the place of ice cream bars for 2016 wedding dessert trends, in freshly-made flavors like classic vanilla bean or chocolate, or with seasonal flavors like key lime, pumpkin, pistachio and cherry. The creamy goodness of a gelato scoop is one of the top dessert trends that works in every season.
Chocolate-dipped fruit. Top wedding experts say the chocolate fountain trend is done, but guests still love selecting from chocolate-dipped strawberries, bananas, berries, cookies and other desserts, pre-dipped and accented with mini chocolate chips, nuts, colored sugar, sprinkles and other toppings.
Fresh fruit. As wedding catering trends move toward fresh, healthy wedding menu options, so too are desserts trending toward healthier foodie fare. Bowls of gorgeous, fresh strawberry halves paired with a dollop of fresh whipped cream, plus platters of sliced tropical fruits and parfait glasses filled with berries paired with the guest's option of dollop-on pudding, yogurt, Chantilly cream or white chocolate mousse, lets guests indulge without too much guilt. Wedding guests on specialty diets especially love seeing fresh fruit on the dessert bar.
NJ Shore-Inspired desserts. Also pleasing your non-NJ wedding guests, including those who may originally be from NJ but live far away now, is a wedding dessert station featuring the best NJ boardwalk fudge and other desserts, such as taffy, and funnel cakes. Even at a formal NJ wedding venue, and not only for a beach wedding, these NJ chocolates and desserts end your wedding celebration with fabulous sweets evoking wonderful memories of the New Jersey shore.