15 Ways to Make the Most of Your Wedding Venue's Grounds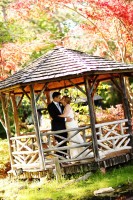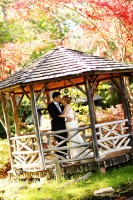 The best wedding venues in New Jersey feature beautiful outdoor spaces like wedding gardens in full bloom and stately fountains, as well as an elegant ballroom and refined gathering spaces. You'll surely want to make the most of everything your wedding venue has to offer, so we suggest planning to experience and capture your wedding venue's grounds in the following ways for your New Jersey wedding:
Videotape your first arrival at your wedding venue. Recording your drive up the wedding venue's driveway creates a beautiful memory of what you saw when arriving at your wedding venue, especially fun if you'll dress for your wedding day in the venue's bridal suite, and this arrival video has you in your pre-wedding casual attire, as your own 'Before' look.
Take group pre-wedding photos on the doorstep or on the grounds of your wedding venue ,with everyone dressed casually in a group 'Before' photo. Later, once everyone is dressed for the wedding, take an 'After' group photo in the same location in front of or on the grounds of your wedding venue.
Plan a champagne toast in your bridal suite, once everyone has gotten changed into their wedding finery and as a celebratory start to your pre-wedding photos. Your wedding venue's bridal suite has been designed as an ideal, stunning site for photos, so make the most of this environment for its privacy and beauty, namely oversized windows with marvelous sunlight.
Plan your First Looks photos in a beautiful room, or out on your wedding venue's grounds, to add extra magic to this important moment when you both first see each other. An excellent new trend is planning a version of First Looks when your parents are led into the room where they will see you in your wedding style for the first time, with their (and your) reactions captured by your wedding photographer. This First Looks opportunity can be set in your wedding venue's bridal suite or in a well-appointed private room or out in the gardens.
Gather with your bridal party prior to the ceremony, after your First Looks photos, in a private room to enjoy a pre-wedding toast.
Your arriving wedding guests can mingle in a designated area on your wedding grounds, enjoying hand-passed cocktails or champagne, before they are led to your wedding ceremony location. This creates a multi-location start as the guests' earliest experience of your wedding.
A top trend for outdoor wedding spaces, enjoyed prior to the ceremony and as the site of your outdoor cocktail party, is lawn games – easy ones like bocce that guests of all ages can play, and that parents can teach their kids for family fun.
Your ceremony may take place in your wedding ballroom, or outside in your wedding venue's gardens.
Your wedding reception itself will of course take place indoors or as an outdoor wedding on your wedding venue's grounds.
Create outdoor seating areas for guests to enjoy throughout your wedding reception hours, including couch, ottoman and table set gathering areas affording excellent views of your wedding venue's grounds and letting guests mingle in the fresh air.
Take post-wedding photos with your wedding venue's greatest architectural details and landscaping as your photo backdrops. Included in outdoor settings are photos taken by your venue's most dramatic staircases, doorways, windows, fireplace, pool, fountains, and as a top trend in wedding photo backdrops: your venue's bar, which has been elegantly decorated for your wedding.
Choose a tree on your wedding venue's grounds by which to pose for a photo, and then each time you come back to this wedding venue for friends' or relatives' weddings or celebrations, you'll take a new photo by 'your tree.'
Have your parents select their perfect wedding venue location for their own couple and group photos. In the past, parents' pictures took place where the photographer positioned them; now, they get to help style their own photos.
Follow the new wedding trend of open-air photo 'booths:' an open space with a beautiful backdrop, and a photo attendant in place to snap group photos, posting them to a photo sharing app for your review.
Instead of trekking out on the town for your after-party, plan to entertain your VIP wedding guests at your wedding venue, making it safer for all guests and letting you get right to the celebration.