Is it Smart To Use Your Wedding Venue for More Than Just Your Wedding Ceremony and Wedding Reception?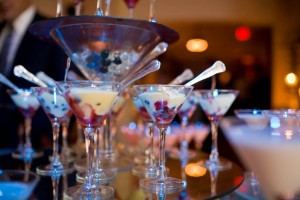 Every couple inviting their guests to a New Jersey wedding wants to create additional wedding dinners and parties that treat their wedding guests to the best dining in New Jersey, since we're known for our fine cuisine, in stunning event venues that set the stage for an enjoyable and unforgettable event during the wedding weekend. So for your welcome cocktail party, rehearsal dinner, wedding after-party and even your morning-after breakfast, your wedding venue can be the perfect place for all of those celebrations.
Would it be boring to have your welcome cocktail party at the same location as your wedding? Not at all, and here's why:
Your wedding venue has so much beauty to it on its own, so inviting your wedding guests to a day-before or night-before event lets them see the ballroom venue in a beautiful and elegant simplicity. Then, the next day when your wedding venue is transformed by your wedding floral designer's and wedding coordinator's décor, it adds even more Wow Factor to your wedding venue's look and style on the big day. You get to show off your wedding design vision as well, when you create different looks for your different wedding parties held at the same location.
Guests enjoy the ease of traveling to one event location. Even with GPS in their cars or on their phones, guests love not having to drive to four or five different locations on the wedding weekend, especially if they've driven for hours to attend your New Jersey wedding. When guests can easily reach your wedding venue for these different events, or take your hotel's shuttle bus easily arranged to transport them, they enjoy your wedding weekend event all the more.
You get to make the most of your NJ wedding venue's menu list. Instead of only getting to offer X number of the wedding venue's cocktail party stations, passed hors d'oeuvres, entrees and desserts for one event, you get to enjoy perhaps all of them in the menus you plan for each of the wedding weekend events held at your wedding venue. So, if you wish for a themed menu for your rehearsal dinner – say, an Italian menu – you can then design with your wedding venue's chef's help, an entirely different theme of menu for your after-party. This pleases wedding couples and their families very much, since everyone can get their menu picks into a wedding weekend event.
Depending upon your wedding's season and date, and the range of your plans for your multiple wedding events held at your wedding venue, your site may be willing to grant you an extra station or perhaps upgrade your bar menu, as a thank you for booking additional wedding weekend events at their location. This is not always a guarantee, but it may be possible depending on your site's availability and on your menu and bar requests.
You may get to enjoy your wedding venue at different times of day. Of course, the sun-streamed ballroom looks entirely different at breakfast than does the candlelight-filled ballroom at night for your evening wedding reception, giving you the best of all times of day for your wedding weekend celebrations, opening up more floral décor options to best accent your wedding ballroom space, as well as perhaps better use the outdoor spaces of your wedding venue – like holding your welcome cocktail party in the venue's wedding gardens during the warmer afternoon hours on a late fall or spring day. Again, you get the most from your chosen wedding ballroom's grounds when you plan diverse events at the same space.