10 Trends for Winter Weddings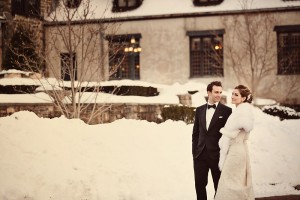 Northern New Jersey wedding venues are quite fortunate to take place in our region that more often has pretty winter days, rather than oppressive winter storms. When the snow falls, our New Jersey scenery gets a blanket of pristine white snow, pretty icicles in the trees, a clear blue sky, and temperatures that still allow for wedding photos to be taken outside on a sunny afternoon. With such pretty winter scenery surrounding our wedding venues, it's no wonder that winter weddings are a popular NJ wedding trend now.
Here are some of the top trends for winter weddings, to help you plan your winter wedding in New Jersey:
Winter wedding colors for 2015 feature lots of blues and purples as the top wedding color schemes, with monochromatic shades of light to dark blue and purple tones adding depth and elegance to weddings in the best ballrooms in New Jersey. From linens to flowers to special effect lighting, shades of blue and purple add richness to a wedding's style. Also big this year will be the Pantone® color of the year, Marsala, a brick red that brings in berry notes that deepen the décor, and also make the wine list and even foods and sauces coordinate with the wedding colors.
Lots of shimmer. A wedding ballroom glistens when the lighting and candles come more alive, reflected by shimmery fabric table linens. And wedding cakes too are accented by shimmery sugars and 'bling' accents, as is a top trend in wedding cakes for 2015. Used judiciously, shimmer adds extra magic to a winter wedding. Add shimmer to wedding invitations ahead of your big day, also completing a big wedding trend of having invitations foretell a detail of the wedding venue's décor and wedding design.
Candles and lanterns. A wedding ballroom lit up with beautiful candlelight is a top wedding trend, and one of our NJ wedding couple's most-requested wedding designs. And a new wedding trend for 2015 is the use of tall lanterns – think Restoration Hardware's upscale metal lanterns standing three feet or more high – in outside wedding spaces, and also as groupings in the corners of the wedding ballroom or other rooms of your wedding venue. Adding to the lighting and décor flair, these lanterns are also taken home by the wedding couple to use in their home décor after the wedding day.
Ice sculptures. They're back in style and more detailed than ever, with custom ice sculptures made by the best ice sculptors in New Jersey. They now go beyond the usual heart- or dove-shape to depict scenery or frames, and entire wedding bars may be made of ice, light from within and above to create a cool, glowing look perfect for winter weddings.
Comfort food. The cooler weather of winter calls for heartier comfort foods added to the wedding menu, with top trends in winter wedding menu items including soups, chowders and bisques, winter vegetable soup shooters, stews, the finest cuts of meat for wedding dinner menu options, and creamy, cheesy dishes like a lobster mac and cheese, or the top trend of a mac and cheese bar at the cocktail party. Cheeses are an especially popular wedding trend in NJ, with artisanal cheese platters taking the place of classic cheese platters of the past. Talk with your NJ wedding venue's chefs to customize your winter wedding menu, bringing in your favorite comfort foods for your cocktail party, dinner or late-night bites for weddings.
Classic meals. It's a top wedding trend for 2015 to include classic wedding meals like chateaubriand, beef Wellington, stuffed lobster, stuffed chicken, gourmet versions of dishes your parents or grandparents may have had at their weddings but are made with organic, farm-to-table ingredients, healthier versions of the classic dishes, but still entirely delectable.
Winter style drinks. Think winter brew lagers and ales, heartier beers for a beer menu at your bar, plus warming drinks like cognac and brandy, plus hot toddies for the perfect winter wedding drinks.
Wedding cakes in wintry designs. The white icing of a cake lets you create a 'snow' or 'ice' design on your cake, including piping and sugaring effects, for a cake design that works perfectly in a winter wedding theme.
Outdoor lighting. Even if guests will stay indoors at your wedding venue, those tall windows allow a view of the nighttime scenery all around the venue, so arrange for colored and accent lighting to illuminate those snowy trees, for a pretty view from the inside out.
Faux fur décor. Add faux fur throws and pillows to your indoor and outdoor couches, to make guest mingling areas more enjoyable and cozier. Then, you'll take these warm and inviting faux fur décor pieces from your wedding venue to use in your home for many years to come.