5 Ideas for a Star Wars Themed Wedding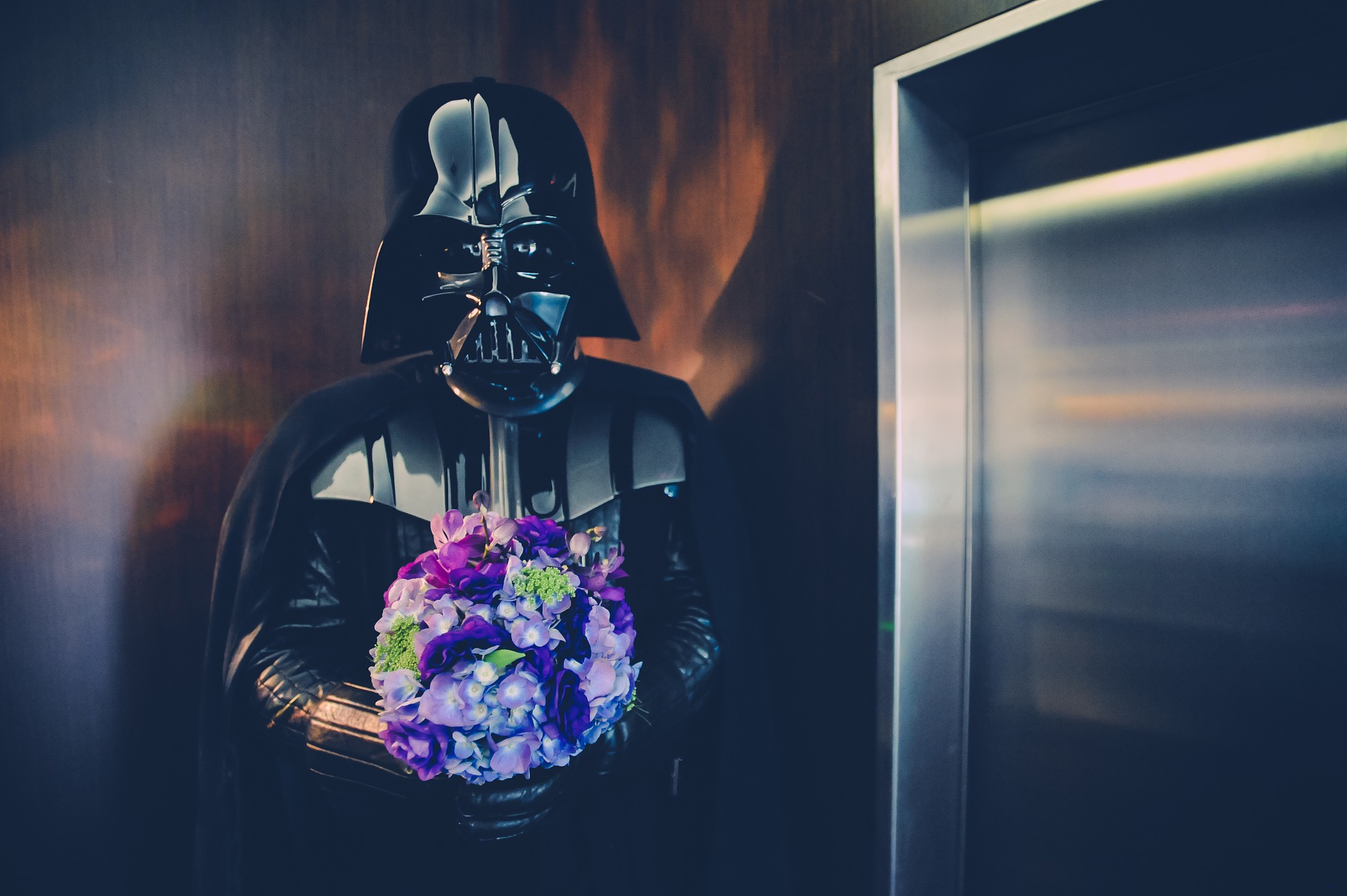 Luke, feel the Force!  Rather than planning a generic wedding celebration, many engaged couples crave a unique experience they can cherish for a lifetime. An emerging wedding trend that continues to gain popularity involves incorporating a theme centered on beloved movie franchises. If you and your fiancée are Star Wars fans, then it's a match made in heaven or in outer space! With such a big franchise with larger than life characters and imagery, it may be tough to decide what to include. From Stormtrooper helmets and lightsabers to Ewok costumes, the possibilities are endless. Luckily, the Manor has some ideas to start planning your wedding in a galaxy far, far away.

May the Forks Be With You
Swap out your boring, vanilla cake for one of galactic proportions. With so many options, it may be tough choosing how to decorate your cake. There's a wealth of iconic characters, such as Darth Vader to Boba Fett, which can lend their likeliness to a cake. Maybe turn your cake into a delicious Death Star? Or maybe you want a more minimalist route and just give your cake figures stormtrooper helmets? BB-8 cakes are all the rage nowadays, but you cannot go wrong with the heroic R2-D2, or the nervous C-3PO.
Can't decide on a singular character or planet? Go for cupcakes! These tiny vessels can allow you to incorporate all of your favorites characters and planets, so you can have your cake and eat it too! The choice is yours. Get creative and show your guests the sweeter side of a galaxy, far far away.
Out Of This World Wedding Hairstyles
Who can forget Leia's iconic buns? Princess Leia's famous hairstyle has become a cultural centerpiece that continues to endure. For the bride and maybe even the bridesmaids, posing as Leia for your wedding is a perfect way to honor your favorite princess of Alderaan. Don't have time to try and replicate the style? Simply opt for Leia-bun shaped earmuffs. Brides: you might as well feel like a princess on your special day.
Want to go for a different style from another corner of the galaxy? Padmé Amidala has hundreds, and we mean hundreds, of intricate hairstyles for you and your bridesmaids to fangirl over. Whether you want to be a queen or a princess, a senator or a general, you're sure to wow the crowds as you stroll down the aisle.
He Knows She Loves Him
One of the many iconic Star Wars moments is when Han and Leia confess their love for each other before Han's carbonite freezing. There's a multitude of ways you can incorporate the famous I love you/I know exchange into your wedding. Fill your space with banners that have the timeless words. Put them on the cake. Wear rings with the words engraved. Or maybe have the groom play the part of the scoundrel smuggler and the bride the headstrong princess and reenact the scene, incorporating them into your vows. Here's another opportunity to get really creative. It only makes sense to bring one of the most heartfelt moments in the saga to your wedding.
Join the Wedding Rebellion, and Pose For It Too
The iconic movie poster of Luke Skywalker heroically holding his lightsaber with Leia at his side is instantly recognizable, as is that of Han and Leia staring at each other romantically against a stunning icy backdrop. Why not have a little fun and recreate those iconic images with your own photo booth. Take them against Death Star or Millennium Falcon backgrounds.  Make a little challenge out of it by trying to replicate the positioning as close as you can, while some willing friends dress up as stormtroopers to mingle with the guests. The more Star Wars fans at your wedding, the more people likely to nostalgically enjoy creating what got them hyped for their adventures in space.
Punch It, Chewie!
Star Wars is certainly a great choice to choose for your hyperspace-wedding theme. If you and your partner are both in agreement, there's no reason not to have your guests hop aboard the Millennium Falcon and journey across the stars together. Become a Jedi master, a bounty hunter, or maybe an imperial officer…it's your choice! Just try not to whack anyone with your lightsaber. Looking for some other exciting wedding themes? Be sure to visit our blog for the latest wedding tips and trends!
Need help planning your wedding at the Death Star? Let the experts at The Manor deliver an out-of-this-world wedding experience to you and your guest! And remember, the Force will be with you, always.