Creating A Pinterest-Perfect Wedding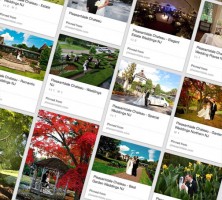 Tips For Brides About Using Pinterest for Stress-Free Wedding Planning
As we discussed in a previous blog post about Pinterest (www.pinterest.com), this virtual pinboard is a great way for brides- and grooms-to-be to collect wedding style ideas all in one place, organize your thoughts, learn wedding tips and trends, and share your wedding planning with those you love. To that end, here are a few more tips for using Pinterest to help gather creative wedding ideas and plan your ideal wedding:
1. Don't forget to take advantage of technology.
Making the most of Pinterest isn't just about re-pinning other's content, it's about drawing from all resources to add your own. To make sure your Pinterest page is comprehensive, use your phone when you're out and about to take photos and pin them, or scan swatches or magazine pages and upload them too. Add a pinmarklet ("pin it" button) to your browser for one-click pinning when you're surfing the web and/or download the Pinterest app for your phone or tablet. (httpss://pinterest.com/about/goodies/).
2. Know when to say when. When you feel like you have collected some strong ideas and covered all the bases, start narrowing your collection.
Pinterest can be addictive—we know. There are lots of great ideas out there and the next one could be the best. That can be overwhelming. But our experience tells us that the best ideas are the ones that are executed well – and that can't be done if you're still working on it the night before your wedding.  If you have to, set a date well in advance when you'll stop searching for ideas and start the vetting process. Now that you have all your boards filled – from wedding venues , invitations, save-the-dates, music, guest book ideas, place cards, bouquets, photography ideas, and every other consideration, you can start going through each. Look for overarching themes, colors, and concepts that stand out across each board. This will help you target what you like best and what inspires you most. From there, you can start deleting pins that don't match with your theme. Or, if you're worried you'll change your mind—or want to keep the boards as a memento of your pre-marriage days—you can simply create new "final" boards and selectively re-pin your own favorite pins from your original boards to narrow your preferences down to your ideal wedding. This may seem like a daunting task, but you'll find that the things you really love will become apparent to you – just like it has with the one you'll soon be walking down the aisle to wed.
3. Don't be intimidated by what you find on Pinterest.
Every bride has a budget. You will find some incredibly extravagant images, but also some very beautiful ideas that were executed at little cost. You'll find high-end and DIY; you'll find expensive and ways to make inexpensive choices looks expensive; let your budget be your guide, and you will still find wonderfully creative wedding ideas. And you simply won't be able to include every last idea you find on Pinterest, but you wouldn't want to either; the perfect wedding isn't about having everything, it's about expressing yourself through what you have.
4. Don't forget to give yourself a break from the search.
As much as it may feel like it, you won't get the perfect tan from the glow of your laptop and you're posture will benefit much more from a little yoga and a good massage than from being hunched over your keyboard. So remember to take time out for yourself to relax and enjoy some down-time from your wedding planning activities. Besides, it will always seem like there isn't enough time to plan for your wedding, so treating yourself for a few days won't hurt. You'll be in a much better mind-frame to enjoy your wedding.
Overall, Pinterest is a great tool for helping brides-to-be find endless creative ideas for planning weddings. There is also so much available on the site that it can at times feel like everything has been done before and there are no unique wedding ideas. But, we've hosted thousands of brides over many years at our NJ wedding venues, and have come to know that every single wedding is one-of-a-kind; because every bride and groom are unique and bring their own individual character to their weddings regardless of where they took their inspiration from. So take advantage of the best aspects of Pinterest to get social, get inspired, and get started on your way to happily ever after.