Flower and Décor Trends and More for a Natural Wedding Style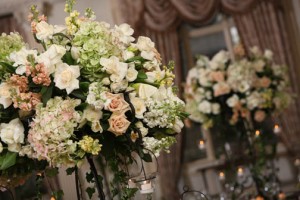 Tips For Brides to Bring Nature & Romance Into Your Special Day
In a previous post about natural wedding trends we discussed wedding gowns and bride's maids dresses, wedding invitations, and table card ideas, as well as wedding hair and makeup that we have seen gaining increased popularity in our NJ weddings. But natural wedding trends extend to so much else, especially flowers and décor.
The most direct connection to incorporating natural elements into your wedding experience, of course, is your wedding bouquet and flower arrangements, which can set the tone for the entire wedding experience. The wedding bouquet trends again focus on warmer, natural, and romantic feels, incorporating a range of options from to decadent dahlias, gardenias, peonies, and wild roses to wildflowers and even succulents.
Where we've particularly noticed the gaining momentum of the natural trend is in the great feedback we've received from our brides-to-be who have been seeking out NJ wedding venues that offer more romantic textures like woods and stone in place of more harsh marbles and gold embellishments. The trend emphasizes bringing the outdoors in, with rich woods and lush fabrics as part of the décor.  The wedding décor trend also emphasizes mirroring nature throughout the wedding design elements, such as table settings, which use woods such as cork or river stones and pebbles in inventive ways.
This top wedding trend is not just about bringing the outdoors-in though; it's also about utilizing the landscape itself. We're lucky here to have access to gorgeous, romantic outdoor spaces that highlight the surrounding natural beauty, which is why we've noticed the increasing value our brides have put on our open-air spaces. The venue you choose can be key to informing your decisions about your wedding themes and be invaluable to sparking the creativity of your overall wedding design, and ultimately, the look and feel of your special day.
The outdoors plays a strong role in natural wedding trends as it pertains to photography as well—not only as backdrop, but for inspiring your photographer and making sure he/she is in sync with your vision. Looking at our brides' photos, we've noticed a tendency toward a softer, cleaner, more natural aesthetic in bridal photography trends as well. We're seeing more candid, less contrived and posed shots along with more lush and romantic wedding photography.
Whatever natural wedding trends you choose to incorporate into you wedding celebration, you can't go wrong if you focus on making them a reflection of your own style and personalize the details to create a world that shares with each of your guests the romance felt by the happy couple.