Culinary Trends for Wedding Desserts in 2014 and 2015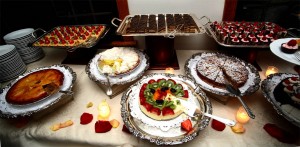 The best New Jersey weddings end with spectacular desserts. Guests have feasted on your sumptuous wedding menu throughout the event, but they always make room for desserts, especially with the new top trends in wedding cuisine offering so many tasty options. In fact, some couples love the idea of dessert variety so much that they may skip the grand wedding cake and just offer a dessert buffet or Viennese table covered with sweet indulges that make their wedding unforgettable.
Whether or not you'll have a wedding cake, here are some of the top trends in wedding desserts that you can have hand-passed to your guests, or arranged on dessert stations, or placed on a lavish wedding dessert bar:
Pies. Pies are one of the top wedding dessert trends for 2014 and 2015, bringing to your wedding such comfort foods as apple pie, pumpkin pie, pecan pie, or creamy tastes of key lime pie or coconut cream pie. Making the pie trend extra-special is the choice to offer both full-sized pies and mini-pies, even mini pies on a stick, for guests' selections.
Brownies. Rich, moist, creamy brownies take center stage in wedding dessert trends, whether offered in squares, in mini bites, or even as a brownie cake. Always remember that since some guests have nut allergies, offer both nut-free and nut varieties, and provide ID cards so that guests can choose their (safe) favorite.
Mini pastries. They're a staple at New Jersey weddings, with mini Napoleans, cream puffs, eclairs, and cannolis leading the trend in pastry desserts.
Mason jar desserts. Mason jars have been a wedding décor trend for several years, and now the Mason jar is a top presentation vessel for chocolate cream pie, sea salt caramel brownies, banana cream pies and more.
Macarons. The French sandwich cookie comes in vibrant colors, with buttercream, ganache or preserve in between the layers, and it makes for an elegant wedding dessert to arrange a tray or tiered platter with dozens of these sweet treats.
Gelato. At a gelato station, an attendant can scoop your guests' choices of classic vanilla or chocolate gelato, as well as tropical fruit-flavored gelatos, pistachio gelato, sea salt caramel gelato and other gourmet flavors of gelato.
Mini desserts. Tiny bites please guests, who can enjoy a variety of your dessert choices without too much guilt. The top mini desserts for weddings include mini tartlettes, mini cupcakes, mini cookies, mini brownies and other easy-to-pop desserts.
Cake balls. They're still popular as wedding desserts, and add color to your dessert collection when you choose white, pink, lavender and other popular colors of cake balls. They're even getting sprinklings of colored sugar and air-brushed accents in addition to dipping them in sprinkles or nuts.
S'Mores. You don't need a bonfire to serve S'Mores at your wedding. An attendant at the S'Mores station can melt classic or flavored marshmallows for your guests and sandwich them between gourmet graham crackers and a layer of rich, indulgent dark chocolate, white chocolate, sea salt chocolate or Nutella as guests custom-order this favorite dessert.
Chocolate-covered fruit. The chocolate fountain may be an outdated trend at weddings, but guests love to select their choices of chocolate-dipped fruits, including frozen bananas covered with luscious chocolate coating and dipped in sprinkles, nuts, or coconut.
Fresh fruit. Without the chocolate covering. After your delectable wedding menu has been enjoyed, guests love the taste of fresh, cold pineapple, cantaloupe, strawberries, raspberries, mango and papaya for a refreshing dessert option.
Bacon-topped desserts. Bacon is a big trend at weddings, and creative dessert artists are making bacon-topped cupcakes and chocolate-cover bacon strips as a sweet and salty dessert choice.
Classic wedding desserts. Retro desserts like ambrosia, bananas flambee, and other tastes from past decades take a place of honor on dessert tables and bars, pleasing guests of all ages and serving as 'something different' that guests don't see at every wedding.
Seasonal desserts. As a way to personalize your wedding desserts, look at flavors from the season of your wedding, such as autumn pumpkin and summer peaches, to inspire your wedding dessert menu.
Late-night desserts. Late-night bites are a top wedding menu trend, so it's natural that late-night desserts can bring a breakfast flair to your guests, such as with mini cinnamon buns freshly-made and frosted.
Whichever desserts you choose, remember that presentation is everything, so plan your dessert bar and stations to include platters, tiers and bowls to bring out the best appearance of your delicious wedding desserts.