Wedding Reception Décor: How to Pick Pictures for your Family Photo Table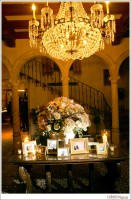 One area where wedding décor has evolved into an even more personalized and creative feature is the table of family photos. In years past, wedding couples set framed photos from their parents, grandparents' and siblings' weddings, as a tribute to the inspiring married couples in their lives, perhaps a tradition of long-lasting unions that warms the heart of all wedding guests and means so much to the family members shown in the photos.
Now, the family photos table might not have wedding photos at all. The couple may decide to skip those wedding portraits, especially if one or both sets of parents, or several siblings, are divorced or widowed. If it hasn't been too long since your parents' divorce, for instance, your mother might be saddened to see every other relative's wedding day portraits and she doesn't have a presence on the photo table at all.
Wanting to avoid hurt feelings, many wedding couples are choosing to honor not their relatives' wedding days, but the most memorable times they've spent with their loved ones, such as terrific group photos taken during family vacations, or perhaps professional family portraits taken on their favorite NJ beach or at their NJ lake house.
Family photos may include nieces and nephews who weren't alive when parents and grandparents got married, giving the little ones a special spotlight of their own.
And since you likely consider your best friends to be like family, they too can be included in on-display photos, such as group pictures from your college days, or from Spring Break getaways.
If you run into diplomacy issues when it comes to which relatives and friends to feature on the photos table – or on a grand piano in your cocktail party room, or on a fireplace mantel – consider this alternative: display photos only of the two of you from special moments of your dating days, plus your engagement portraits.
Speaking of engagement portraits, your engagement session likely included several different poses and changes of outfits, giving you a handful of spectacular images that your guests might not have seen. So make good use of those outstanding photos in this wedding day décor display.
When designing your family (or couple) photo table, keep these design trends in mind:
Frames don't have to match exactly. Choose coordinating frame styles, ones you'll want to display in your home and offices later.
Mix up larger and smaller photos to create a high-low effect, and make certain images – like your engagement portrait – stand out more.
Add flowers and votive candles to your photo display, always choosing safe candle votives that pose no risk of fire, nor damage to these important images.
If you'll display precious family photos of ancestors' wedding, consider having the originals copied and edited for better color contrast and to eliminate scratches, and frame the copy. This keeps the original safely at home, at little risk of being lost forever, and that photo will look even better to your wedding guests.
Print up photo ID cards to place by your photos, so that guests know this is an image from your grandmother's mountain home, or this is an image taken on the night you first met. These inside stories add so much depth and meaning to your display photos.
Talk to your lighting specialist about special plans to illuminate your photos table, such as with pin-lighting from above, or up lighting set behind the family photo table.
If you prefer video to framed photos, edit a slideshow of your favorite family photos and portraits and have that played on a small flat-screen television that your wedding venue can secure for safety and ease of guests' viewing.