Advantages of Evening Weddings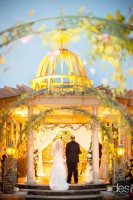 When you first start looking for the best wedding venue in NJ, one of the first decisions you'll need to make is: 'will you have a daytime or evening wedding?' In addition to availabilities and price, there are important factors regarding the look and feel of your wedding to consider:
To help you make your decision, we share some of the top advantages of evening weddings:
In the summer, daytime wedding couples get full sunshine and their events are usually over before the sky turns into magnificent sunset colors that make for stunning scenery and beautiful wedding photos at evening weddings.
Sunset and evening hours' darkness outside mean a more dramatic first impression of your beautifully-lit and candle-filled reception ballroom. A ballroom filled with daytime sunlight doesn't create the same effect.
When it's dark outside at the end of your wedding, you'll get the magical effects (and again, great photos) of guests holding sparklers to light your path to the getaway car. A dark nighttime sky is also needed for wedding fireworks, if allowed by your wedding venue.
Your wedding venue's outdoor grounds can be beautifully lit up at night, with lights in the trees and in fountains, lights lining the driveway, and other grand effects.
For a Friday night wedding, your guests will have more time after work to dress and arrive at your wedding in time for your ceremony.
When you have an evening wedding, you and your bridal party will have all day to get dressed and ready, socialize at a bride's brunch or the groom's lunch with his men, take photos and arrive in time, relaxed and ready, for the wedding. In contrast, weddings that start at noon often require the bride's makeup artist and beauty team to arrive at her house at 4am (!!) and for pre-wedding photos to be rushed.
An evening wedding can often solve sticky guest list situations. If you choose to have an adults-only reception, guests will see that the wedding lasts until the late-night hours and are less likely to pressure you to allow them to bring their small children.
Speaking of children, if you do want them to attend your wedding, weekend daytime hours are often filled with kids' sporting events that are essential for them to attend. Evening hours free up the kids' and parents' schedules to better allow all of your loved ones to attend your wedding.
Guests are more likely to dance at an evening wedding than they are at a morning or afternoon wedding, so the party hours of your reception can often be far more fun.
Interestingly, guests tend to dress more formally for an evening wedding than they do for a daytime wedding, even if your invitation states that your afternoon wedding will be formal.
Guests are more likely to stay until the end of an evening wedding, and attend the after-party, since they haven't planned anything for the hours after the usual daytime wedding's early-evening end time. They're more likely to book hotel rooms and thus be willing and able to join in the after-party fun.
If you book the afternoon wedding time slot at a top wedding venue, you may feel very aware – even when your venue's staff doesn't rush your event's timeline – that you have to clear out of your wedding venue by a certain cutoff time. The best wedding venues will not hurry your event along, but you might feel a bit anxious about when your big day needs to come to an end. At an evening wedding, there is still an end time, but you'll likely not be as concerned about it.