Guide to Planning A Wedding Ceremony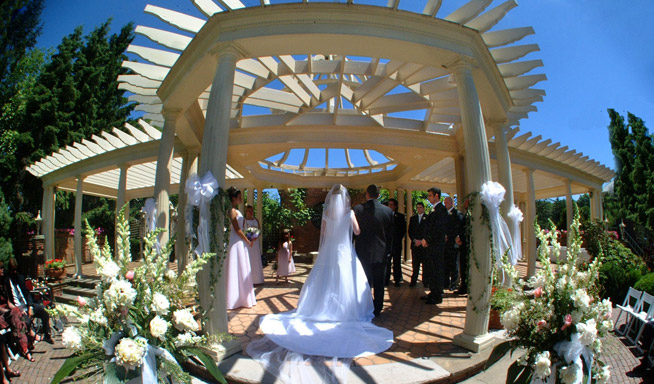 Often regarded as the most sentimental and traditional part of the wedding, your nuptials set the tone for the remainder of the celebration. Couples may choose to weave together cherished family traditions, as well as cultural and religious rituals in their own unique way. With a history of delivering flawless ceremonies, the wedding planners at The Manor reveal the key factors to consider for a beautiful and memorable wedding ceremony.

Choosing Seating Arrangements For Your Wedding Ceremony
Seating arrangements shouldn't be complicated. If you're accommodating large families on both sides, why not have three seating sections, rather than a bride's side and a groom's side? This twist on traditional seating can accommodate many family situations including half-siblings and remarriages. Creating three seating sections also allows for more guests to have second-row status and eliminates far-back seating that compromises visibility. This unique seating arrangement can eliminate the stresses about 'higher ranking' seats so that couples may focus on the ceremony rather than placating guests.
Alternatively, many weddings do away with the idea of having respective sides. Instead, some ceremonies "marry" the two sides together. A darling way to instruct guests is to include poetic signage such as "Friends of the bride, friends of the groom, sit together there is plenty of room" or "Today two families become one so pick a seat, not a side."
How To Create A Beautifully Unique Ceremony Setting
Selecting décor for the wedding ceremony grants the bride-to-be an opportunity to create the most elegant atmosphere. The Manor can help suggest which types of floral arrangements, fabric, and materials to use for your big day. Here are some common examples to seamlessly carry throughout all the main elements of your wedding from the entryway, down the aisle, and to the altar.
Altar decorations depend on the religious ceremony, which can impact the placement of your decorations. For example, you can adorn trellises and chuppahs using colorful flowers and greenery including garlands, ivy, and light-reflecting crystals to highlight the area to practice your rituals. For a larger surface, beautify the altar with crystal bowls and vases filled with roses, flowers, or flower petals. Incorporating the bride and groom's birth month flowers into the altar floral décor also adds a special element to the altar.
Aisles are commonly covered with a white aisle runner to showcase either a monogram or colorful petals dropped by flower girls. For a more elegant atmosphere, consider embedding crystals into the runner fabric. Many couples use floral nosegays or pomanders attached to the ends of each row of seats to highlight a decorative element to the aisle. Colorful seat fabric covers accented with tiny floral arrangements can also enhance colorful decorations along the aisle.
But you don't necessarily have to feature an aisle runner. On the contrary, more brides choose to omit the aisle runner, and opt for colorful flower petals or leafy greenery, flickering candles lining the sides of the aisle instead. Alternatively, you can place a large ornate floral arrangement on either side of the aisle to greet guests, or have a simple aisle runner lead the path to their seat.
Dramatic seating covers are a creative way to impress guests. Some brides choose to create a cohesive sea of bridal-white look, using white material for chair covers. Similarly, you can choose to highlight the first two honored-guest rows by using a pastel color to set them apart and add visual interest to your wedding décor. Another creative trend is segmenting five rows covered in a dark hue of one color, then the next five rows covered in a lighter hue of that same color repeated for all seating, creating 'waves' of colored row blocks.
Tips For An Outdoor Wedding Ceremony
Enjoying the picturesque outdoors while exchanging your vows is wonderfully romantic. However, there is a lot to consider for your outdoor ceremony to run smoothly, specifically preparing for inclement weather. While many outdoor venues offer an indoor location in case of rain, at the very least you should, have a tent prepared for unexpected showers or thunderstorms. In the event of harsh sun, you must protect your guests by providing shade. Additionally, fabric draping in the trees or colorful umbrellas can be incorporated to keep guests comfortable in summer heat.
It's important to check the sound quality before your ceremony. Doing so ensures the officiant, musical accompaniment, and your vows come through loud and clear. Remember to set up a speaker system properly as sound can be carried away outdoors by a simple breeze, and the guests may not be able to hear the vows or readings.
Another decorating factor to consider is to coordinate ceremony flower arrangements with the natural flowers or gardens that exist at the outdoor venue. In addition, consult with your florist to choose flowers that will hold up best for the duration of your big day.
Likewise, be mindful of breezes by choosing weightier décor items for an outdoor venue such as heavier pedestals and more sturdy floral containers.
Presenting Cultural Elements During Wedding Ceremonies
Special readings, exchanging symbolic items, or singing cultural hymns can add an important dimension to wedding ceremonies. Relatives appreciate these elements, and guests outside of the couple's heritage find them fascinating. It is important, however, to explain the meaning of these cultural symbols to guests who may not understand them so guests can fully appreciate each ritual.
Some couples ask the officiant or an honored guest to explain each ritual before performing them, to share an anecdote about what the ritual symbolizes, or reflect as much in the ceremony program. Similarly, if your ceremony is in a foreign language consider having the translation in the program so guests can follow along and feel included.
Who Can "Present This Bride"
Traditional weddings have the bride's parents, usually her father; escort her down the aisle to meet her groom and the officiant. While many brides-to-be honor this tradition of being "given away" today's brides feel more inclined to modify this ritual. For example, changing the words from "gives this bride" to "presents this woman" or "brings this woman forward".
Today, brides often have more option for who they wish to escort them down the aisle; their children, a family member, both parents, or a close friend. Moreover, the bride may choose to walk herself down the aisle alone; thus, eliminating the entire idea of being presented. Some couples may even choose to walk down the aisle together. It is entirely up to the specific couple to adopt this tradition as they see fit.
Planning Your Dream Wedding Ceremony
Your wedding ceremony is entirely yours to create, whether it be modifying traditions, adding your own readings, selecting to incorporate traditions and symbols that work best for you are a couple. For more expert advice to plan your upcoming wedding ceremony, contact New Jersey's Top wedding venue today!