Wedding Checklist: The Perfect Wedding Vows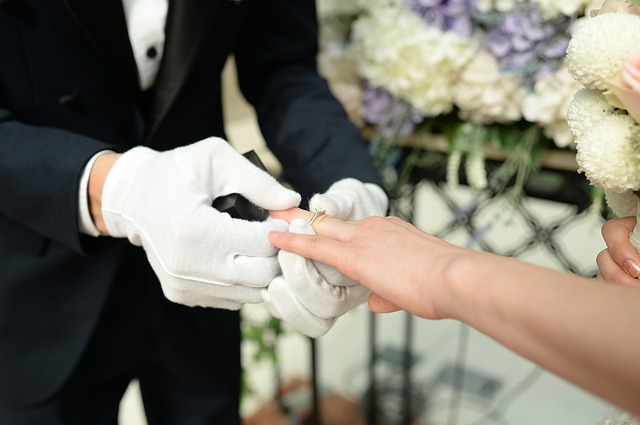 Often referred to as the "heart of the wedding," wedding vows signify a couple's everlasting love for one another as they stand before family, friends, and loved ones. While it's easy to get swept up in wedding planning, your commitment to a lifetime of love finally solidifies during this exchange. Whether you choose to focus on sentimental words and memories, poke fun and share your fun-loving partnership with your guests, or declare tear-jerking words declaring your devotion, the wedding planners at The Manor have important tips to when it comes to planning, writing and exchanging your wedding vows for your wedding ceremony.

Selecting Your Type Of Wedding Vows
Before you reminisce about memories of your first encounter with your love or jot down every detail that makes you smile, first decide how you and your partner want to express your promises to each other. Whether secular or traditional religious vows led by a wedding officiant, many scripts will help you get started before adding a personal flair to the traditional "I do" or "I will."
If you choose to write your own vows remember you have options. Some couples choose to write one set of vows together for both to repeat to one another. Alternatively, the bride and groom may each take the time to write their own vows privately. Writing separate vows allow for a romantic element of heartfelt surprise during the ceremony. For a successful vow exchange, communicate with your partner in deciding what method of exchange would best suit you as a couple.
How To Write Personal Wedding Vows
Writing your own vows is the most sentimental way to show your everlasting love for your betrothed when it comes to your nuptials. Set time aside to discuss the core values of your relationship — honesty, support, patience, kindness, loyalty, and friendship– and use those keywords to create your lifelong promises to one another. For example, "I promise to spend every day supporting your wishes, goals, and dreams." Reflect on any quotes, song lyrics, or religious scriptures that are central in your relationship. You may also develop vows around a central idea. You can even write your vows from traditional wedding vow wording. For instance, you may want to include the words love, honor in sickness and in strength, or till death do us part.
Your wedding signifies the start of your life together; so it's also important to think about the future promises to remain faithful and enrich each other's lives until death do you part. Most vows include a promise dedication, no matter the uncertainty. Also, remember it is okay to be emotional, after all that will make your vows come across most sincere. When you combine heartfelt, sentimental promises, tied with the deep love you feel for your partner, you won't see a dry eye in the audience.
Despite what most Hallmark movies depict, there's no need to memorize your vows. In fact, many couples have flash cards. Even if you memorize your vows, you may want to write out bulleted sections in case the wedding day nerves and emotions cause you to draw a blank at the altar.
Renewing Your Wedding Vows
Renewing your wedding vows is a beautiful way to reinstate your love for each other 5 years or even decades after your wedding. Renewing your wedding vows formally reminds you of the undying love and appreciation you still have for each other in a grand or intimate ceremony. Vow renewals can take place privately, on a beach, mountaintop, or even at home with a large gathering of family and friends. Further, it reaffirms that the appreciation and love you have for your spouse is stronger, than ever no matter what challenges you've experienced together along life's journey.
Many couples renew their vows in celebration of milestone anniversaries; some even use it as an opportunity to "re-do" their wedding day if the ceremony did not turn out as planned. Vow renewals are also common for military couples as it gives the opportunity to celebrate their appreciation of one another before or after a deployment. As time goes on, a couple's love will evolve and change, and you may choose to update or enhance your old vows to reflect your new lives together. Vow renewals offer that opportunity!
Wedding Vow Etiquette
There are a few important steps in vow exchange planning that you may overlook. One important step is to check with your wedding officiant that can you use personalized vows. This is important, as many religions require traditional vows in conjunction with additional vows to be read. Depending on your wedding officiant they may require a vow review prior to the ceremony. In this case, the vows will need to be prepared ahead of time.
Before you meet at the altar, practice reading your vows aloud. Take the time to do so will allow you to perfect the taking appropriate pacing and enunciation. Practice brief pausing to make eye contact with your significant other at appropriate times.
Your Upcoming Nuptials
Writing your wedding vows is one aspect of planning you will cherish many years from now. As with every element of your wedding, your vows should reflect your partnership and ultimately highlight your unique relationship. On your wedding day, it is important to be true to yourself and your partner on your wedding day. The wedding planners at The Manor can best help couples plan each aspect of the big day. Contact a top New Jersey wedding venue near you today!