How to Throw an Intimate Garden Wedding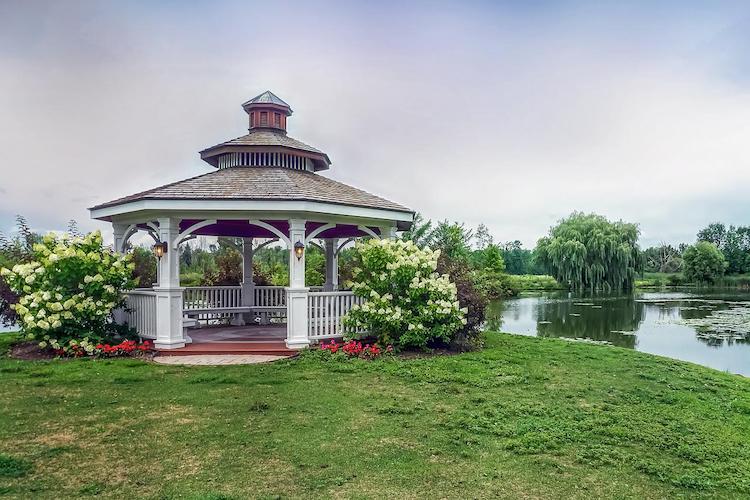 Picture this: a select group of your loved ones drenched in sunlight amidst rich greenery and serene flowers, celebrating you and your spouse's wedding nuptials. If that sounds like a charming scene, you may want to commit to an intimate garden theme for your special day.
Making this picturesque vision a reality will require a special wedding venue, breathtaking décor, and planning considerations. As you fine-tune the nitty gritty details for your intimate garden wedding, Knowles Hospitality curated a guide that will help you capture a whimsical atmosphere for your quaint special day.
Seasonal Considerations for Garden Weddings
Opting for an outdoor garden wedding will require you to monitor weather conditions as you finalize your special day. Doing so will help you avoid inclement weather, as well as choose the optimal period of the season. For example, autumn brides might want to host the celebration during the autumnal turning of the leaves, so that guests can witness an explosion of vibrant colors.
Alternatively, brides wishing to enjoy summer's longer days and cool midsummer nights may want a June or July date. Furthermore, any outdoor garden wedding held in a temperate area should probably avoid the dead of summer or winter to dodge uncomfortable weather extremes.
The Invitation Process for Garden Weddings
The guest list is the next planning step to tackle during the garden wedding planning process. The keyword here is "intimate," so keep your guest list to a relatively small selection of close family and friends. Apart from keeping up with the wedding theme, your venue may not have the capacity to host a larger crowd.
Sending out adorable invitations is the initial way to reveal your special day's theme. For instance, brides may consider designing pressed flower invitations to introduce guests to the botanical-style wedding you have planned. Lastly, remember to key your guests in on any dress guidelines to align with your outdoor garden venue. For example, guests should probably avoid stilettos or long dresses with trains, as the grass and foliage may stain the attire.
Wedding Venue Preparations
Hosting an outdoor wedding introduces a whirlwind of extra considerations. When seeking out a wedding venue, ask if a tent provision or indoor option is possible in the case of inclement weather. In terms of décor, try to avoid metal chairs, which can burn guests after sitting outside for hours. Secondly, the garden will likely need some structure, from ivy walls to hedges, although some gardens might offer brick patios to provide more organization to the space.
You should also consider temperature control and insect life in your outdoor setup. For older wedding guests, shaded sections or parasols can help ease discomfort from humid conditions. You might also want to set up different stations with a variety of drinks for guests to grab to cool down. If your wedding takes place in autumn, consider adding fire pits for a touch of warmth.
In addition, heat and bugs might also impact your food and flowers. So, choose flowers that can withstand heat and will not attract a mosquito swarm, such as marigolds, succulents, or roses. In terms of food, a caterer should help manage food temperatures and safeguard it from bugs. Overall, though, citronella candles are a good solution for hindering critters.
Garden Wedding Décor Tips
Matching the color scheme of your day with the natural environment around you is a great place to start planning your décor. Beige, blush, green, white, or brown — the possibilities are truly endless. More specifically, the intimate garden theme works perfectly with rustic and vintage touches, which pair with the natural aesthetic seen natural outdoors.
Make your wedding day "your own" amidst the blank, natural garden slate by bringing in treasured antiques from family members. From old birdcages to trunks and luggage, you get to set the rules. On the other hand, you can go for a refined approach with live violin and cello performances, glittery décor pieces, or outdoor bathroom accommodation with attendants, candles, and toiletries.
Bring Your Garden Wedding to Life with Knowles Hospitality
From start to finish, you can certainly make your intimate garden special day a reality with some thoughtful planning. As the No.1 garden wedding venue in northern New Jersey, Knowles Hospitality boasts two beautiful locations — The Manor and Pleasantdale Chateau.
With verdant gardens, woodlands, meadows, and ponds, both event halls will make the perfect spot to exchange nuptials with the love of your life. Start exploring your garden wedding options by dialing (973) 731-260 today. Our team of renowned wedding planners will get the job done.