How Long Should Your Engagement Last?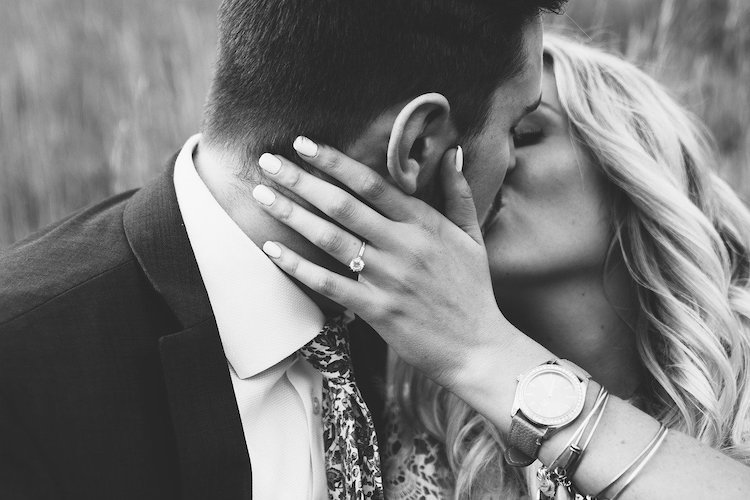 Congratulations! You finally found the one! With a beautiful new diamond ring resting comfortably on your finger, we understand that many thoughts keep crossing your mind. More specifically, you may wonder how long your engagement should last before you tie the knot. While this may seem like a simple question at the surface, the answers are endless. Simply put: there is no right or wrong answer for how long you remain engaged!
Shutterfly conducted a survey that examined 500 married women and their engagement lengths. The survey's results showed that 36% had an engagement lasting 6-12 months while 23% had engagements lasting less than six months. On the other hand, the majority of married women (41%) chose to extend their engagement period beyond 13 months. In 2021, the average length of an engagement extends to approximately 13 months. This period gives couples ample time to prepare for an unforgettable celebration.
So how do brides decide on how long an engagement period should last? Our expert wedding planners can help you finalize a decision that meets your unique case. Let's look at some reasons why you might opt for a longer or shorter engagement.
Reasons for a Longer Engagement
We get it – you and your fiancé are in a rush to start your new lives together. Still, several compelling reasons may convince you to wait before saying, "I Do." Below are some factors that might go into the decision for a longer engagement period.
1) More Time for Flawless Wedding Planning
Several critical factors in wedding planning require your utmost attention. Choosing an incredible venue, picking the perfect dress, and designing decorations isn't something that you can resolve overnight. On the contrary, it can take weeks of time and dedication. So if you want a wedding that looks straight out of a fairytale, consider allocating enough time to perfect each element that goes into your special day.
2) Working within Your Budget
As you get caught up in the exciting wedding planning process, you may forget that prices and fees can add up quickly. The more time spent planning, the more time available for budgeting and saving. Over time, you will begin to understand what is important to you and needs to be a part of your big day, and what to avoid to save on cost. You may even get a better price at your choice of venue for booking more than a year in advance!
3) Limit the Crunch Time Stress & Enjoy the Process!
Overall, the more time you have to plan will alleviate the stress of getting things done ASAP. Time for research and consideration for each element that goes into your big day will likely take away the pressure of creating a perfect wedding. Wedding planning can become a very stressful and overwhelming thing. Trying to rush the process will only cause these feelings to intensify! So rather than rushing to check off everything on your list, couples can take time to appreciate a sentimental time in their lives. The more time spent planning, the more time you have to be a fiancé.
Reasons for a Shorter Engagement
Keep in mind that a longer engagement doesn't work for every couple. Some may opt to walk down the aisle much sooner rather than later. Here are some benefits to consider before choosing this route!
1) Chances to Save Money
While a longer engagement allows for ample time to carefully pick out each detail and its price, a shorter planning time might present the opportunity for a last-minute vendor deal. Venues often offer discounts for days on which they have cancelations or no bookings. Wedding planners will likely cost you thousands of dollars. A shorter engagement will limit the need for extra services, lengthy meetings, and pounding headaches.
2) Keeping it Small
Those with a short guest list for an intimate wedding fantasy don't need to spend time waiting! Maybe you just can't wait to call your fiancé your husband or wife. You may be looking to save money, follow COVID precautions, or simply want to celebrate with just your close-knit crew. If you want to keep the extravaganza smaller, you might as well go ahead and unite together in marriage with your loved ones sooner than later.
3) Less Time to Worry
Eliminate the "what if" scenarios that come with the long waiting and planning. With a shorter planning period, you simply won't have time to sweat the small stuff. A strict timeline will show you what's important and what doesn't deserve the stress. Will it rain? Who deserves a plus one? What if the dress doesn't ship in time? A shorter engagement will lessen the worry of the unknown, very important future. The shorter time will keep you focused on what truly matters for your wedding and leave you at ease.
4) Focusing on the Marriage, Not the Wedding
Those who spend a year or longer sometimes lose the meaning of what they are planning. The long period of stress and problems that come with intense planning might cause you to lose sight of what you're really planning for. Forget the small details like flowers and decor; you're preparing to spend the rest of your life with your best friend! A shorter planning process will keep you focused on the true meaning of the event – marrying your person.
Ultimately, It's Up to You!
Each bride and groom decide upon their engagement time and planning period on a completely individualized level. When deciding upon how long your engagement should last and the elements that should be included in the celebration, consider a few facts from a report conducted by Bride's Magazine:
72% of brides said they would have spent more time choosing the reception entertainment
Almost 100% said they would have spent more of their budget on entertainment
Nearly one-third of engaged couples use a wedding consultant
Ultimately, how long you spend engaged and planning your wedding is completely up to you. There is no "one-size-fits-all" answer. It all depends on your budget, personality, and values. Be sure not to get caught up in the planning stress that comes with trying to create the perfect day. Finally, never forget the true meaning behind an engagement – getting to spend the rest of your life with your soulmate. Make your fairytale wedding come to life by connecting with the wedding planning crew at Knowles Hospitality.