How to Plan a Destination Wedding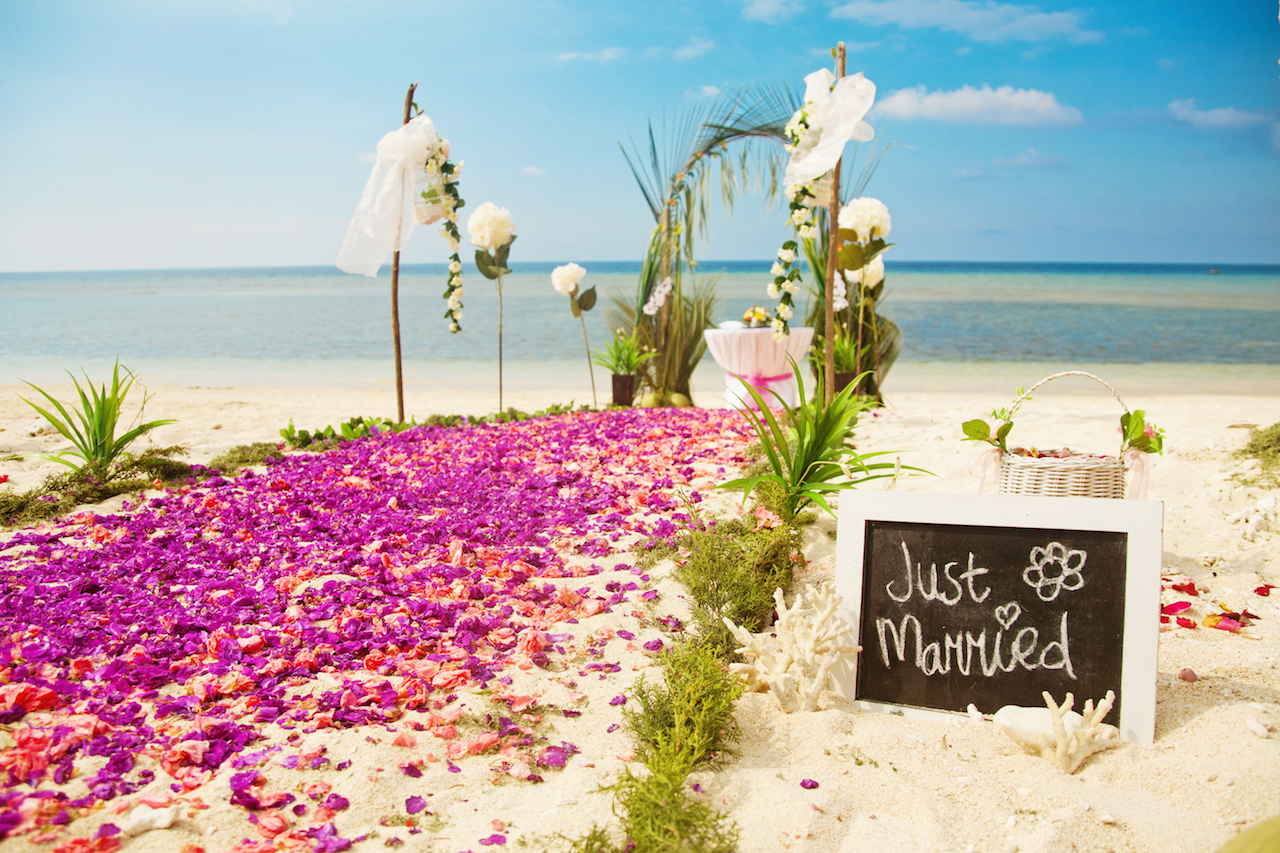 Today couples have more wedding venue and ceremony options outside the traditional chapel. Destination weddings allow couples to pack their bags, and get married in a dream location.  From tying the knot in the warm sand, whisked away in the mountains, historical landmark, or in the heart of a big city, a destination wedding can feel like the ultimate bliss as well as a honeymoon in one. With the many exotic options to choose from, every couple will find a destination that best suits their taste. To plan a dream wedding in a getaway location, couples should consider important logistics to ensure your big day will be everything you hoped for. Sit back and grab your plane ticket, the Manor has gathered advice from far and wide to advise you how to plan a destination wedding.
What Are the Benefits of Having a Destination Wedding?
Maybe the location holds significant or perhaps it is where they met? Couples who opt to have destination weddings get to enjoy their wedding and a honeymoon. A destination wedding is a perfect option for couples who view the world as their playground or have a taste for adventure. A getaway wedding is a reason to go on a vacation as guests can unwind, reunite and celebrate while providing a fun and exciting element. It addition a mini getaway allows the couple to spend quality time with their guests, more so than a traditional 5-hour wedding. Likewise, guests embrace an extra day or two to make the most of a vacation.
Most resorts offer various types of customizable wedding packages, by having options laid out; couples can make a decision right at the site location. The wedding venue handles aspects such as cuisine and floral arrangements, so couples can relax and enjoy their time together. Opting for a destination wedding downplays the décor selection because the epic scenery provides to wedding focal point. In addition, the hotel welcomes more business and acts as a travel agent offering room block discounts and even airfare for larger groups of travelers for your big day.
How To Choose The Location
When researching ideal locations couples should consider factors such the climate, the price of the venue, the hotel, and airfare. Climate can play a big part in weather, especially if dream locations have a rainy season; it is best to take the destination's climate into consideration. Likewise, inquire with the venue about direct or harsh sunlight during peak hours in inland areas.
For tropical wedding locations, popular hot spots include islands such as Anguilla, Turks and Caicos, and Barbados. Asian or Polynesian-themed weddings are popular in locations such as Thailand, Bora Bora, the Philippines, Hawaii, and Cambodia. These locations offer a handful of local activities and interesting culture that will put a twist on any destination wedding. If couples are looking for culture, then the European cities such as Paris or Spain offer both a moderate climate and worldly cuisine.
Consider Your Guests
Whether you wish to jet set as a couple, wed amongst immediate family or have a wedding of 200, a destination wedding is a time and expense commitment for your guests. Confirming attendance for a destination wedding means that guests have dedicated a greater monetary expense between a flight, hotel reservations, and wedding gift. It is a nice gesture to schedule a group excursion, welcome party or morning-after brunch during the wedding weekend. Also, be sure to have a list of activity options or map of restaurants for guests between wedding-related events; this is a getaway for guests to make the most of.
Choosing the Time of Year
The time of the year plays a great a role in choosing a destination wedding. Peak tourist season runs from December through March, and can affect your wedding budget. In the Caribbean, peak season means the best weather; but it also equals more visitors and higher costs for hotels and airfare. Mountainside venue locations offer a lower price in the spring and fall seasons. Time of year can also impact your wedding date, as certain months are in higher demand. Thus, planning 1-2 years in advance will ensure availability for large wedding parties, especially if the couple wants guests to stay at the same hotel. Make sure to consider annual weather patterns, such as hurricane season in the Caribbean or mud season in the Mediterranean.
The Price of a Destination Wedding
Destination weddings can be less expense for the bride and groom.  The average cost for a destination wedding is $35,000 for 100 people as opposed to a traditional wedding costing upwards of $65,000 for the same number of people. The only expenses couples handle include airfare, hotel room, venue, and wedding packages. Couples can save more money by making their wedding and honeymoon a mini-moon.
Destination weddings allow you to keep a small guest list, as travel expenses for guests can climb up to $1500 per person. The average amount of destination wedding attendees averages between 35 to 50. In addition, for locations outside the continental U.S, couples can expect their guest list to dwindle down further guests may have to obtain a passport.
Pack Your Bags and Get Married!
The sheer thought of arriving at a dream getaway for a weekend of bliss and happiness welcoming next chapter in two people's lives is enough for couples to consider a destination wedding. Whether dancing the night away with your soul mate in Puerto Rico or a beautiful evening sharing stories with family in the Sicilian mountains, your destination wedding creates everlasting memories. A destination wedding provides a great escape to a romantic location, creates a family and friend reunion, and the perfect picturesque backdrop to exchange vows with your love. The Manor offers insight and advice to planning the perfect destination wedding. Contact our wedding planners today to plan your happily ever after away.