How to Plan Your Wedding Décor on a Budget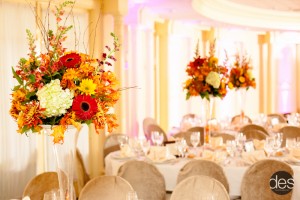 Every wedding couple wants their wedding ceremony site and wedding reception venue to be breathtakingly beautiful, and – inspired by wedding décor images on Pinterest, celebrity wedding planners and reality show weddings – they dream of gorgeous, ornately-designed, luxury wedding décor ideas. You may have your own vision of wedding gardens bursting with blooms, and an illuminated, stunning wedding ballroom that takes your breath away.
If you're wedding planning on a budget, you're likely looking for ways to plan wedding décor for less, and we have some top tips for budget-friendly wedding decorations:
First and foremost, choose a wedding venue that is so stunning on its own that you won't need to add very much décor to it. When your wedding venue has gorgeous architecture, beautiful windows overlooking manicured grounds and a beautiful NJ wedding garden, gorgeous chandeliers drawing the eye to a stunning ceiling, and an elegant style all its own, you won't need to spend a fortune on so many wedding flowers, arches and other elements that are needed to transform a blank, basic, windowless ballroom or a plain lawn area with no landscaping. Your wedding venue's expert landscaping designers have done the work for you, and the venue's own details need not be hidden by endless fabrics and flowers to make a big visual impact.
Use your wedding venue's china, flatware, stemware, and table linens that are included in your package price, rather than spending money on rented tabletop items. A top 2015 wedding trend is a return to classic elegance, which means that a simple, unadorned china pattern and classic-styled drinkware are right on trend, and these classic styles are often featured in the best NJ wedding venues' collections available to you at no extra charge. If you'd like a bit of extra shimmer to your tabletops, you can always add a rented or DIY wide table runner to add a touch of color. Keep in mind that the effect of tabletop design in your wedding ballroom is cumulative – when you design a single guest table with classically-elegant china, glasses, flatware and linens, then all of your guest tables make an even bigger impression in your wedding ballroom.
Follow the top wedding trend of alternating décor on guest tables in your wedding ballroom. Thanks to the artistry of top wedding planners in NJ and top wedding designers on television, one of the prettiest wedding décor looks is also an excellent wedding budget tip: not every guest table in your wedding ballroom has to be identical. From table to table, alternate some that have a colorful table runner and some that either do not or that have a runner in a neutral shade (less expensive to rent,) and you'll get tremendous wedding savings from alternating high and low floral centerpieces from table to table as well. Depending on your floral centerpiece choices, you can save 20 percent to 50 percent on your wedding centerpieces with this plan alone. Pillar candles, too, can be alternated in height table-to-table for a pretty, trendy look.
Use in-season, locally-grown flowers for all your floral décor. The top NJ wedding floral designers work magic with in-season, local flowers – many of which come from sustainable resources and local NJ farms and NJ farmer's markets – to design wedding floral pieces that look twice as expensive as they are, if not more.
Add height to floral centerpieces inexpensively by including flowering branches to your arrangements. Especially in a wedding venue with a tall ceiling, taller centerpieces look beautiful, drawing the eye upward to appreciate the ballroom's ceiling and chandeliers.
Ask yourself, "What would reflect candlelight?" It's an inexpensive way to make all your wedding décor look more glamorous on a budget. From wine glasses on your tabletop to strings of mini crystals in your floral centerpieces to a shimmery fabric tablecloth or runner, all of these budget-friendly décor pieces reflect the lighting in your ballroom for that luxurious glow of a dream wedding setting.
Get glass vases or vessels from your local craft store, using a store coupon or app that gives you 20% off your entire purchase for big savings and again, glass vases that reflect light in your ballroom.
Ask your wedding coordinator and floral designer about any leftover vessels, vases or décor items that they have in their storerooms, that you may be able to buy at a big discount for your wedding décor.
For larger wedding décor pieces, like trendy window frames and tables, follow flea market flip show ideas to DIY a décor piece for your wedding gardens at your outdoor wedding.
If you know a crafty friend who is very talented, you might ask that person to make a décor piece, and have that décor item be his or her wedding gift to you, making it a wedding freebie that looks like you spent a lot for it.
Specialty lighting that transforms a wedding ballroom might be included in your deejay's or band's package, or if you'd like to hire a specialty wedding lighting company, stick with their cheaper, basic lighting effects instead of ordering a custom lighting design like your names projected onto the ballroom dance floor.
Have your floral designer use any extra flowers or cuttings from floral design pieces like your garden wedding arch in bud vases to add little décor touches, as wedding freebies, to your family photo table, guest book table and other spots in your wedding venue.
Have your floral designer provide tall glass vases to hold your bridesmaids' bouquets, and those too become budget-friendly wedding décor pieces.