Wedding Venue Décor Tips: The Approach to your Venue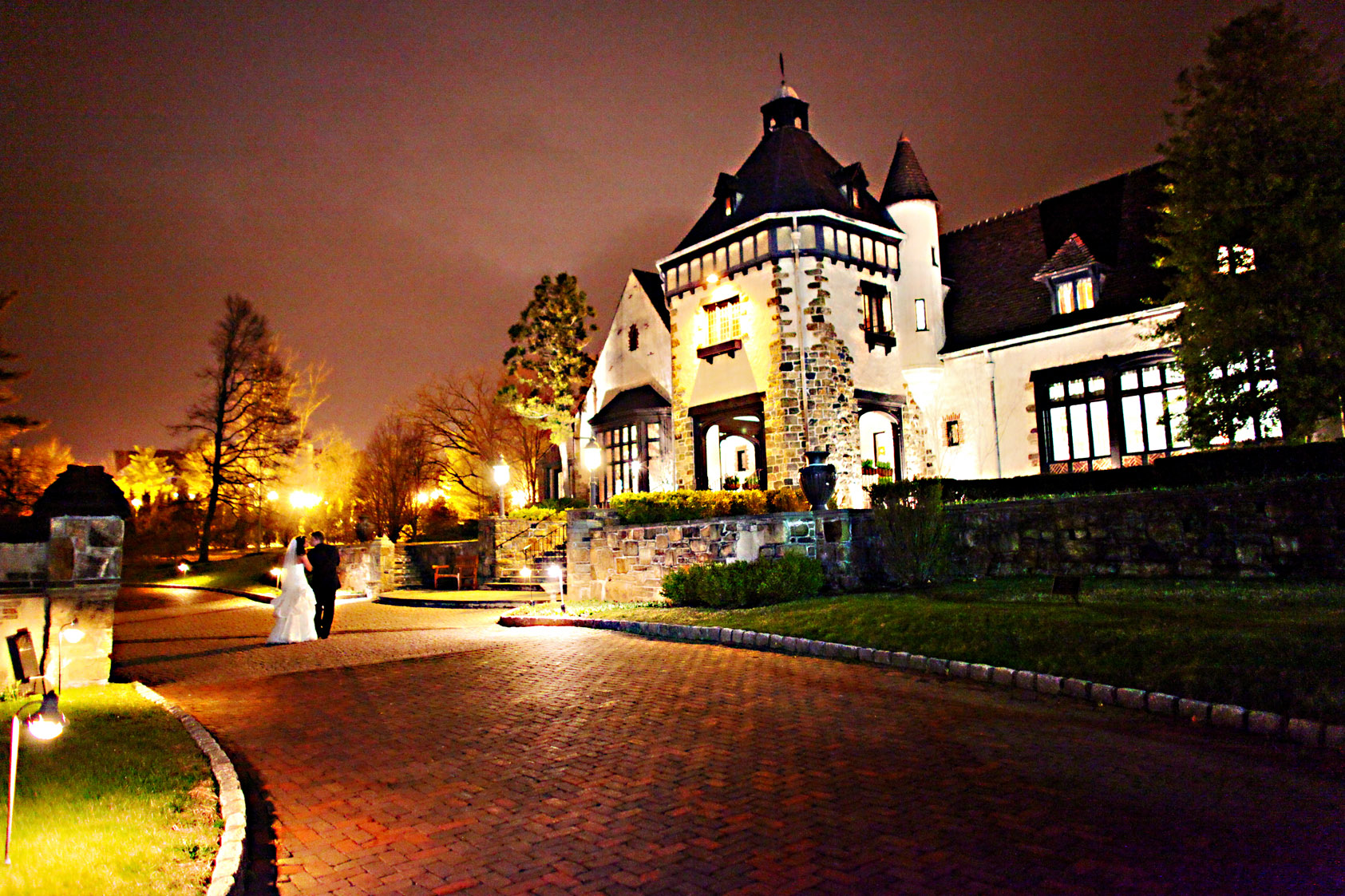 You've chosen your wedding venue in part because it's beautiful inside and out, gorgeously decorated, landscaped and lit to impress your every wedding guest from the moment they first arrive at your wedding location for your big day.
As stunning as the best wedding location may be, you may wish to add your own personal décor touches to the approach to your venue. Perhaps you've been inspired by wedding signs on Pinterest. Perhaps you attended a friend's wedding where the venue's driveway was illuminated with thousands of tiny lights for a magical effect. Your goal is to create a beautiful approach to where your wedding day begins, making a fantastic First Impression on all, and creating the most dazzling wedding photography opportunities.
First, before you fall in love with any wedding décor ideas for the outside of your NJ wedding venue, before you purchase any wedding decorations or book a special event lighting company, it's very important to talk with your wedding venue manager beforehand to get permission for any venue décor items you have in mind.
Here are some of the top ways that you might wish to decorate the approach to your venue, with permission granted, of course:

Lighting. If you'll hold an evening wedding, and plan for your wedding's start time to occur at sundown or in the evening hours when the sun has set, lighting the drive up to your venue creates a beautiful scene. Tiny lights in the trees and strung to arch along the driveway, outdoor lighting effects to display your initials on the driveway, clusters of glowing lanterns along the drive, and other lighting décor creates a dramatic, styled look for the approach to your wedding venue.
Garlands and florals in the trees. Again, with your wedding venue's permission, greenery garlands and floral garlands may be draped from the trees lining your venue's approach and paths, and a top trend in outdoor floral décor is spiral-wrapping floral garlands around the trunks of each tree. Garlands may be strung over the driveway to create a floral canopy under which guests will drive, and the effect can also be created over walking paths to and from your venue's wedding gardens.
Signs. Wedding signs lining your venue's driveway, or pathways through your NJ wedding gardens, create fun and fabulous messaging as a top personalized wedding idea. Your signs might be simple welcomes to your big day, or you might use a touch of humor to stay true to your fun-loving personalities. You'll see plenty of wedding venue signs Pinterest boards for inspiration, and a perk is that you can then bring these signs home to keep or display as daily reminders of your big day.
Potted trees and florals. Add some extra greenery and blooms to your wedding approach, by placing pretty potted trees and tall flowering plants along the walkway closest to your wedding venue's entrance. This 'portable garden' creates a lush and lovely welcome, and after guests arrive, these plants may be moved to another spot in your wedding venue if you'd like, or brought back to your home to become part of your plant décor.
Daytime wedding décor. If your wedding will take place in the afternoon, in full sun, your NJ wedding venue approach can still look wonderful even without nighttime lighting effects. Florals and crystals may be hung from your wedding venue's trees to catch the sun and sparkle, floral garlands can be hung from trees and again be spiral-wrapped around them, and one big wedding décor trend for 2016 is setting out tall metal lanterns along with florals. Even if your wedding timing has your guests' departure occurring in daylight, such as a 5pm end time in summer as some NJ weddings are planned, metallic décor is a top wedding décor trend of 2016 that works equally well in daytime. And, again, you get to take those beautiful lanterns home for your own home décor.
Talk with your NJ wedding coordinator for even more outdoor wedding décor ideas and inspiration for your wedding venue approach, and again, work with your venue's manager for full permission and guidelines for any décor elements you'd like to use.